Hi! This is a(nother) wine blog. I started writing about wine because I simply wanted to learn more. I love the writing, research, learning, and sipping. I love the stories behind each bottle- the history, geography, and science lessons they contain, and the people it connects us to. I was, and still am at times, a reluctant social media participant, but I've learned so much from other wine lovers and writers (wine friends). There are so many fascinating details and so much to appreciate in regards to wine and winemaking… I'm constantly learning something new!
"Anyone who tries to make you believe that he knows all about wines is obviously a fake."
~Leon Adams, The Commonsense Book of Wine
My background is in dentistry, with an applied science degree in dental hygiene (sigh, if only I had focused on writing sooner! I could've avoided a lot of biofilm). I've been enjoying wine for almost twenty years, and I'm still fascinated by the olfactory senses, the transformation of taste buds, and how much a bottle changes and evolves with each second. It's an exciting topic to geek out over.
All of the pictures are taken with my iPhone or Nikon camera- although some cartoon or random amusing images may be borrowed and added to posts.
Thank you for visiting/reading and I hope you'll find new wines to love through this site. Share them with friends and be happy.
Cheers and Na zdrowie! (To your health, in Polish;)
Misty
Find me on Twitter:   Misty@RedWineCats  Or Instagram:  __MistyC__ : Or via email: Misty@RedWineCats.com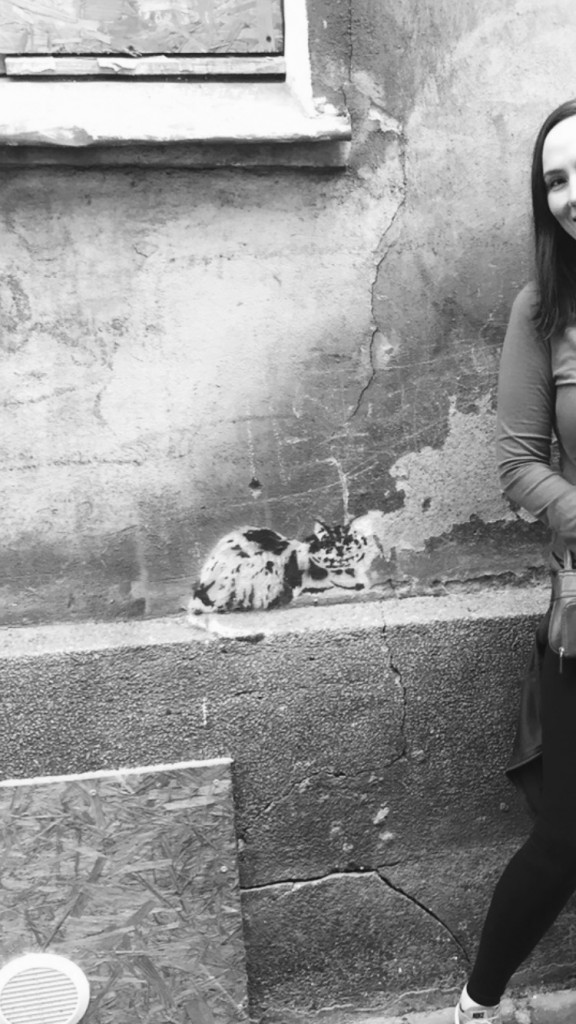 Random cat art in Poznan (pictured above).  I think it's a wine cat…