Priorat, I do love you. 
And, I miss you. Your wine was soul hugging. Your rolling green hills, with perfectly terraced vineyards was like driving through a painting… and, I wanted to stay forever (except for the summer, which I hear gets ridiculously hot).
Tarragona.
Taking the C-32 from Barcelona to Falset (so Californians), Tarragona was on the way—and being this close to a UNESCO World Heritage site, we had to stop. It's a gorgeous and immaculate coastal city, known for its Roman ruins, convenient day drive from Barcelona, and stunning views of the sea. The ruins were built, actually carved out of the landscape in 218 B.C., and once held up to 14,000 people. It's impossible to imagine living during those times. Gladiators fighting to the death, public hangings, horrific animal cruelty!? It wasn't until the early 20th century that we had luxurious, household electrification. If you contracted syphilis, sorry, but if bloodletting didn't work, you would've been given Mercury compounds with side effects including but not limited to: extensive damage to skin and mucous membranes, kidney and brain damage, or death— because penicillin wouldn't be able to cure you until 1928. So, it's truly amazing what people were able to build and accomplish during these times without modern equipment or medicine. And, I bet not one of them took a sun-kissed selfie, showing off their humble day's work with an incredible view on social media.
Walking through History.
Arizona was founded on February 14, 1912. Growing up in Phoenix, if a building was said to be one hundred years old, it was really old. I grew up around new stucco—dulls the senses, but holds up well in extreme heat. One might argue that it doesn't compare to an early 12th century Romanesque and Gothic cathedral, but it certainly shines with functionality.
Walking around buildings and historical sites dating back over 2,000 years was mind-boggling. I was, and still am, overwhelmed by the history. Every stone, every random, cobbled street, was just as awe-inspiring (if not more) than any tourist attraction.
Priorat in October.
After getting sidetracked in Tarragona for a couple of hours, we made it to Falset, home base for Priorat wine country. Driving in mid-October is ideal. Billowy clouds cast shadows across the hills, sun is ample, and even if you get a day of rain, more than likely you'll get plenty of sunshine the very next day. Tourist traffic is low, and roads are shared with only a handful of other cars—including tractors hauling precious grape loot, busy with harvest season.
Red is King in Priorat.
The most widely planted grape is Garnatxa, followed closely by Carinyena. Other varietals, including Cabernet, Syrah, and Merlot also grow here and are mainly used in blends. Tempranillo may be king in Rioja, but in Priorat, Garnatxa rules—the smooth, medium-full bodied red wine grape known for hints of licorice and velvety, ripe red fruits.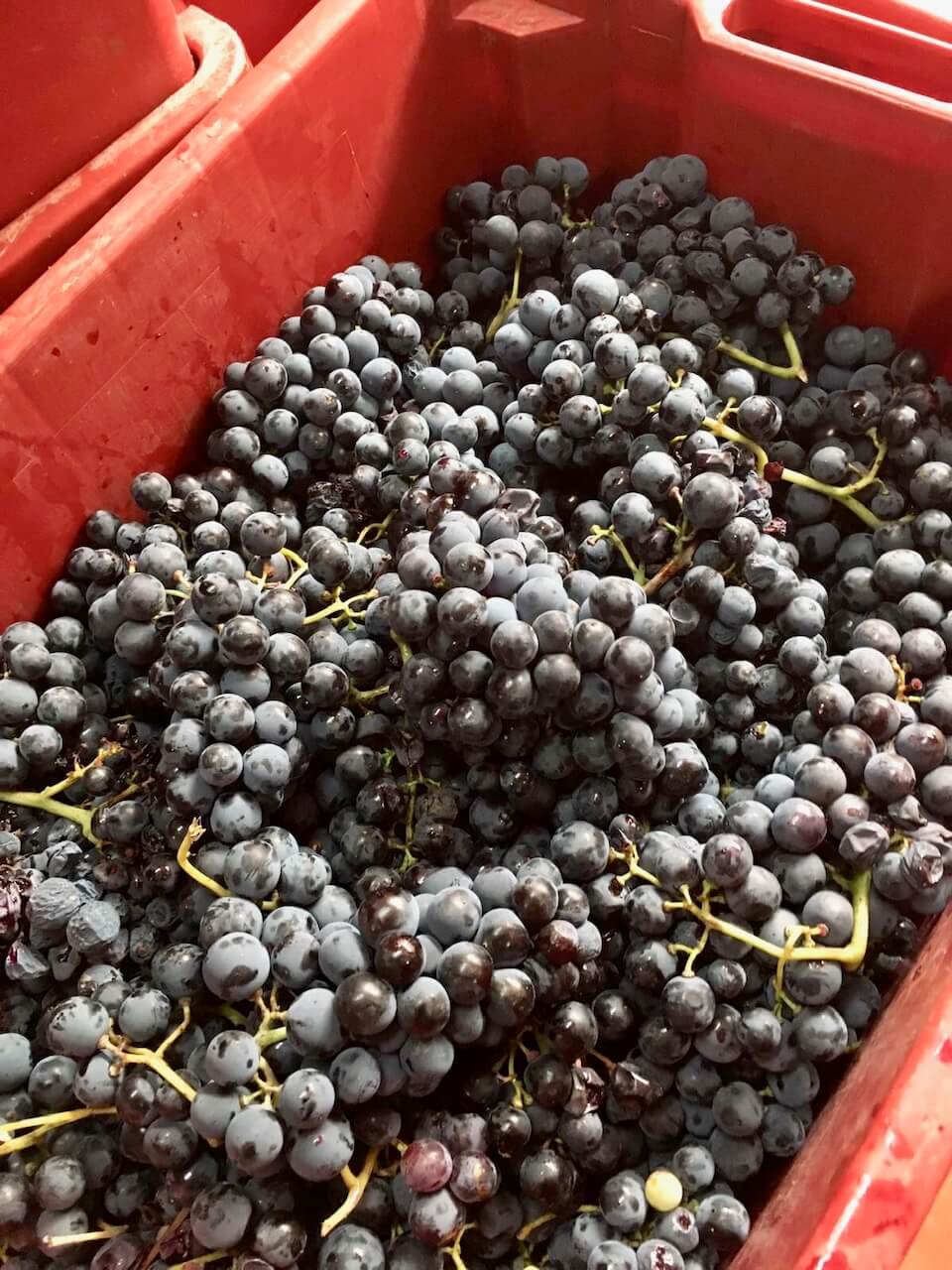 Llicorella = Foundation for Magical Wine.
Priorat's DOQ (Denominació d'Origen Qualificada) boasts the highest qualification level for a wine region in Spain. The terrain is special. Cold winters, long, hot summers, mixed elevations, and low yields make for magical wine growing. From their unique terroir, llicorella (slate and quartz soil), comes big red wines. They'll make you want to quit your job and move to Falset—to just sit around writing poetry (or wordy blog posts), reading books, listening to your lover play acoustic guitar, all while sipping these hauntingly delicious wines all day, every day for eternity.
T'estimo Molt = I love you very much (in Catalan).
Priorat is located in the south of Catalunya, in the province of Tarragona (~2 hours from Barcelona). Ten villages are a part of the Priorat wine region, but with limited time, we only visited Falset, Gratallops, and Porrera.
Priorat wines are worth every penny.
Once you experience driving around the winding roads and steep terraced vineyards, you can't help but feel each winery, winemaker, vineyard worker, and every single bottle of wine deserves respect. Not only respect, but deserving of a respectable price point. It's a lot of work making these wines we so casually guzzle taste. Priorat wines may be considered expensive, but they're worth it.
In Catalan, Grenache (Garnacha) is spelled Garnatxa. Carignan, (Cariñena) is Carinyena.
Alcohol levels vary in all wine, and most red wine from the U.S. will be between 7% and 13.5% ABV. Anything above 14% gets taxed at a higher rate, and is considered a dessert or fortified wine (Port is 20% on average). In Priorat, it's normal for wine to be between 14% and 20%. Summers are hot and dry, making it ideal ripening weather for Garnatxa and Carinyena. Warmer climate also means higher sugar and alcohol levels.
Three Excellent Wineries to Visit.
Without going into extreme detail and turning this blog post into a novella, I'd like to give special mention to three wineries we visited. If you visit this region, I highly recommend them. Although, with over 100+ wineries, one should try to visit and support them all (right?).
Celler Cecilio.
First stop in Gratallops was Celler Cecilio. Although we don't speak Catalan, we were able to communicate (Google translate helps… a little) well enough to do a tasting of three wines, a quick tour of their vintage wine museum to the back of the tasting room, and were even given a taste of their house Vermut (who knew I liked Vermut!? It was excellent). We felt very welcome and I left feeling as if I wanted to be adopted into their wine family and live there forever.
Cecilio negre was a stand out, made of 60% Grenache, 20% Carignan, and 20% Syrah.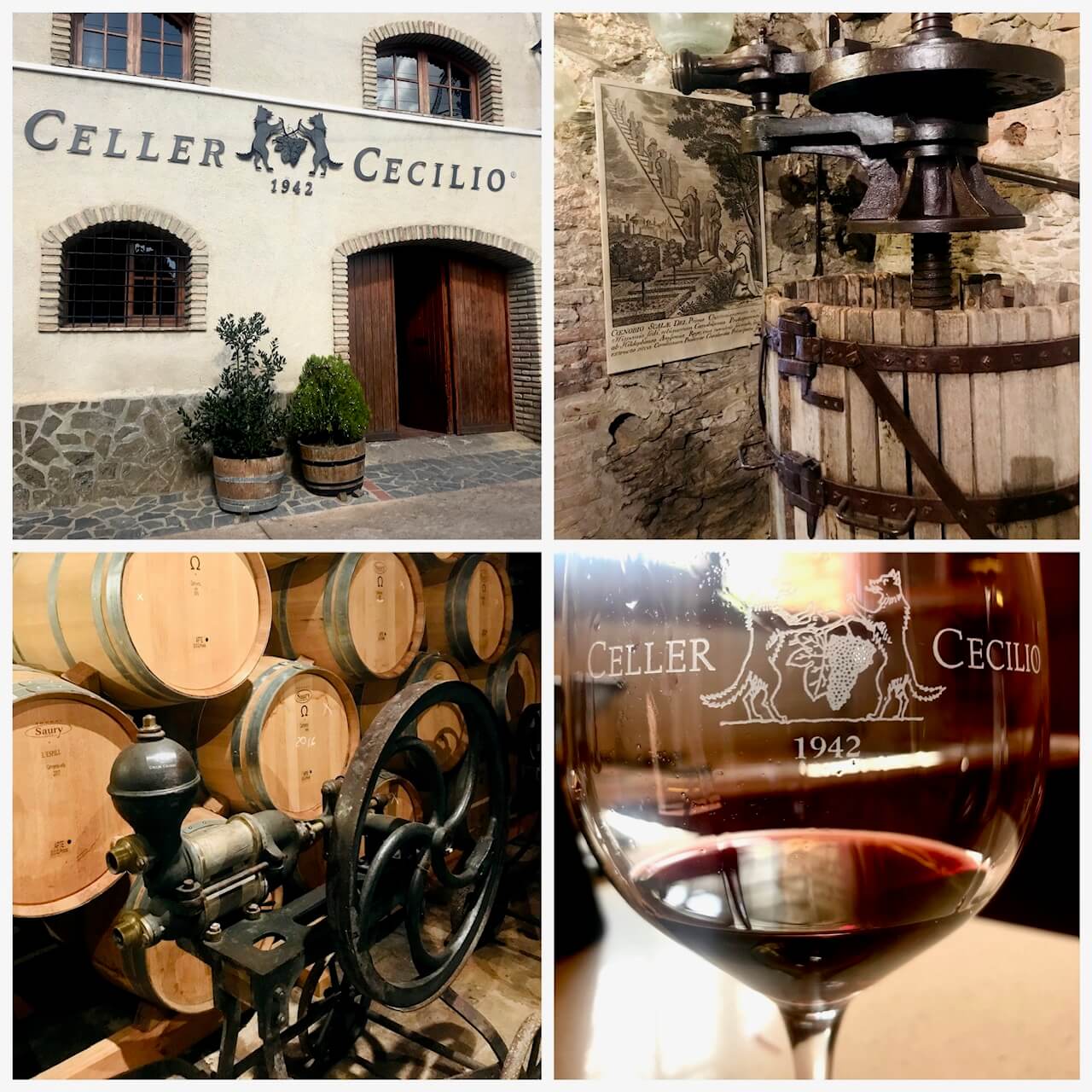 Igneus.
Igneus was super responsive via email. Because it was tourist off-season and everyone was working, we thought we'd try to reach out to another winery close by to see if they were open before we drove. Cesc replied right away and was such a nice guy (and his English was great)! Vineyards are certified organic, and their modern tasting room was stylish. Easy parking right outside is a plus. Would love to go back, try each vintage, and learn more.
Igneus FA 112 was our favorite. A blend of 58% Cariñena, 24% Cabernet Sauvignon, and 18% Grenache. FA refers to Fusta Allier, Catalan for "Allier Wood."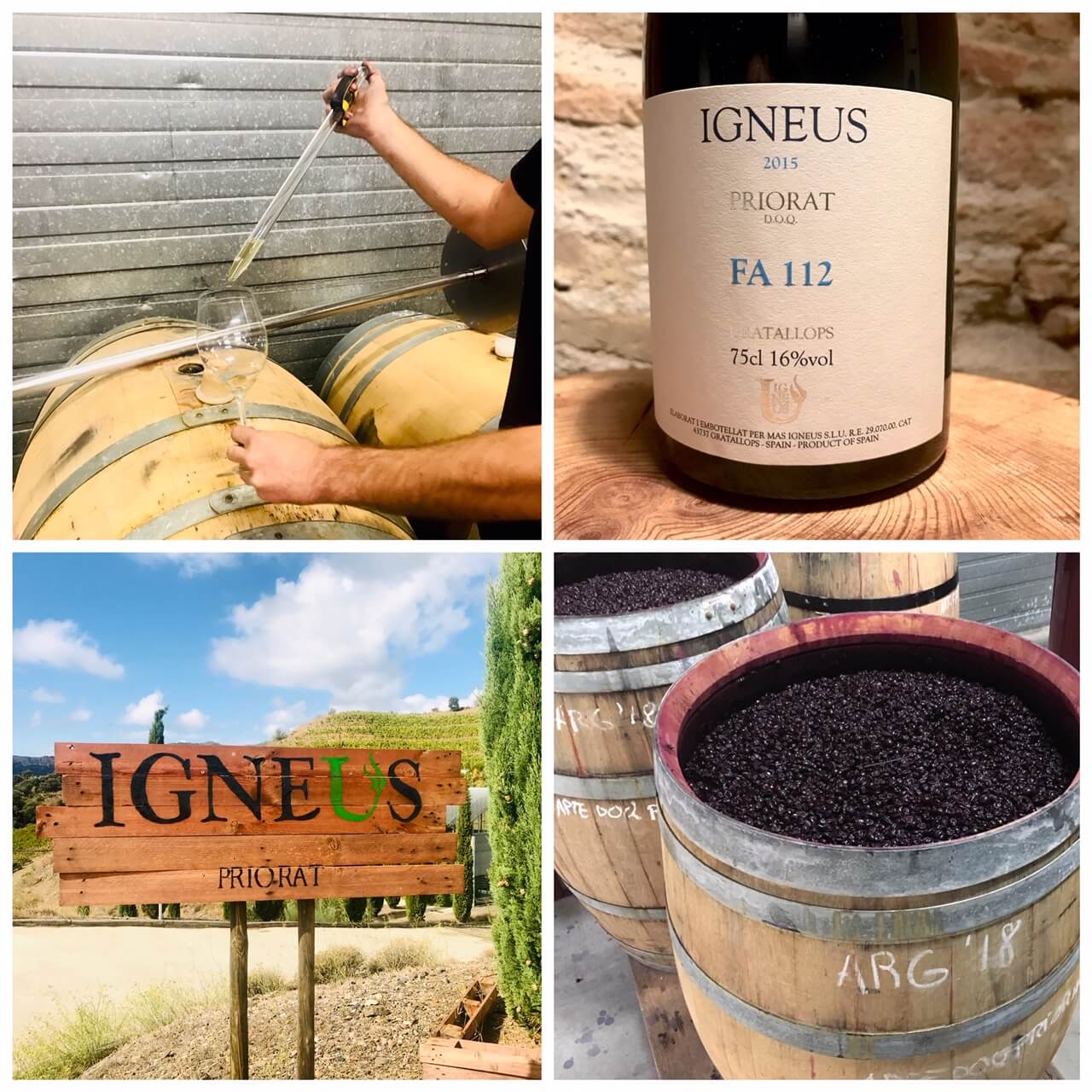 Clos Dominic.
Blink, and you might miss the sign to this small, family-owned winery in Porrera. We happened to walk by and got lucky enough to be welcomed in. We followed Dominic, the mother of the winemaker (who is her daughter and was pregnant at the time) down into their ultra humid, but earthy cool tasting room. Super friendly, her English and wines were excellent, and she joked about her next grandchild being put to work in the winery.
Clos Dominic's 2016 Clos Petó was wonderful. A blend of Carignan, Grenache, and Cabernet Sauvignon. We only wish we could've brought more than one bottle home with us.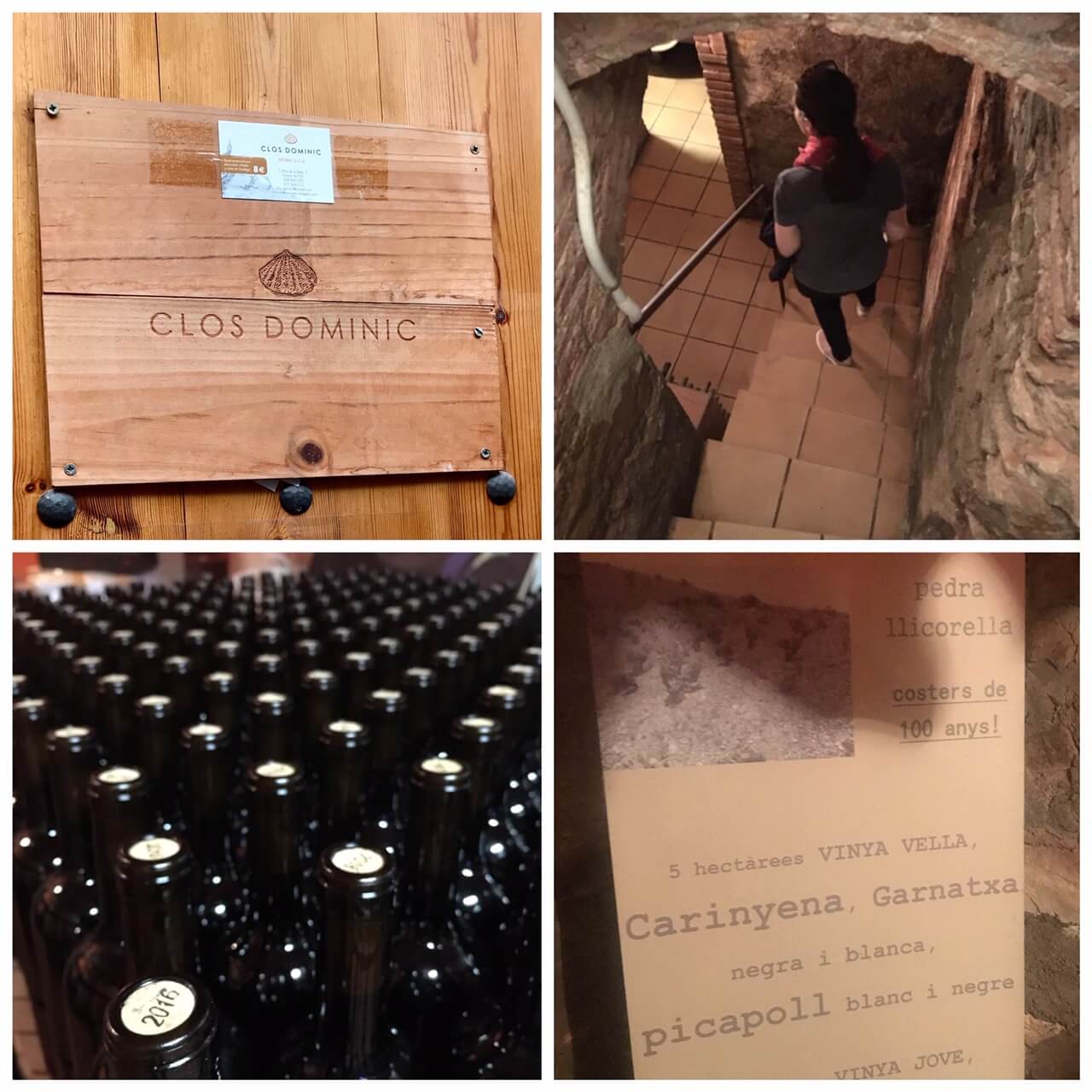 Planning a visit to Priorat? Get this book!
If I had planned properly, I would've purchased Miguel Hudin's Priorat wine book ahead of time. Luckily, Hotel Lotus in Falset had a copy, and I was able to flip through it while sipping Priorat wine on the patio. The author lives in the region, and has first-hand knowledge and experience. He also holds the Certified Sommelier title from the Court of Master Sommeliers, so he may know a thing or two about the subject. This book is detailed, heavily researched, and full of Priorat wine geekery facts.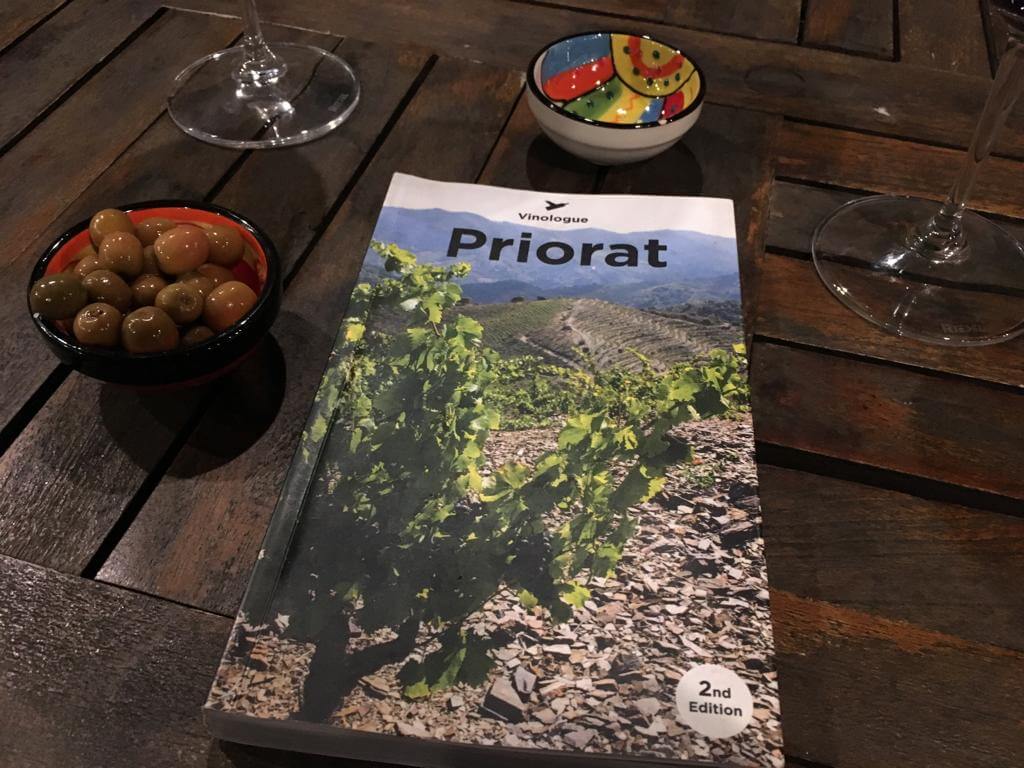 Last, but certainly not least… Cats I met in Catalunya!
Visiting a new country for the first time, you don't know what to expect. Being greeted by a friendly Spanish cat while wandering down a random street was just one of the happy highlights from this trip (and made me homesick for my own cats). We stayed in Barcelona, Valencia, Cardedeu, Girona, Falset, Cabrils, Capcanes, and back to Barcelona, and not once did I see a stray animal. No stray dogs, except for a few on leashes, and those were gorgeous German Shepherds. Not one stray cat. The few who said hello were obviously someone's sweet family member who happened to be outside for some fresh air. As an animal lover, I was worried I'd run across an abandoned cat and have to find a way to get it safely back to Arizona with me. So, crisis averted!
"He who knows how to taste does not drink wine but savours secrets" ~Salvador Dalì