Berryessa Gap Winery hails from Winters, California. I hate to admit I hadn't heard of Winters or Yolo County? And being so close to Napa and Sonoma? They're currently in the process of establishing the Winters California AVA ("Approved Viticulture Area"), and I'm looking forward to trying more from this area. This is what's so great about trying new wines, you get to try beautiful, unique wines off the beaten path, and get a geography lesson too!
Summers are hot and dry in Winters (sounds a lot like Arizona) with an average temperature of 94°F (lucky… try relentless 110+ all dang summer;). Lake Berryessa provides the much needed cooling winds for the grapevines at Coble Ranch Vineyards. This great lake is also the inspiration behind the winery's name, where there's a literal gap between the hills, a local visual landmark you can see for miles.
"WE ARE IMMIGRANTS, PIONEERS, FARMERS AND ENTREPRENEURS" ~Berryessa Gap Winery
Coble Ranch Vineyards are approximately 20 years old and contain different types of soil—varying from clay to alluvium, with large boulders. They grow several varietals, both red and white, including these important summer staples: Rosé, Chardonnay, Sauvignon Blanc, and even a natural, sulfite-free Rosé made with Tempranillo. All are excellent and should be consumed any time of year.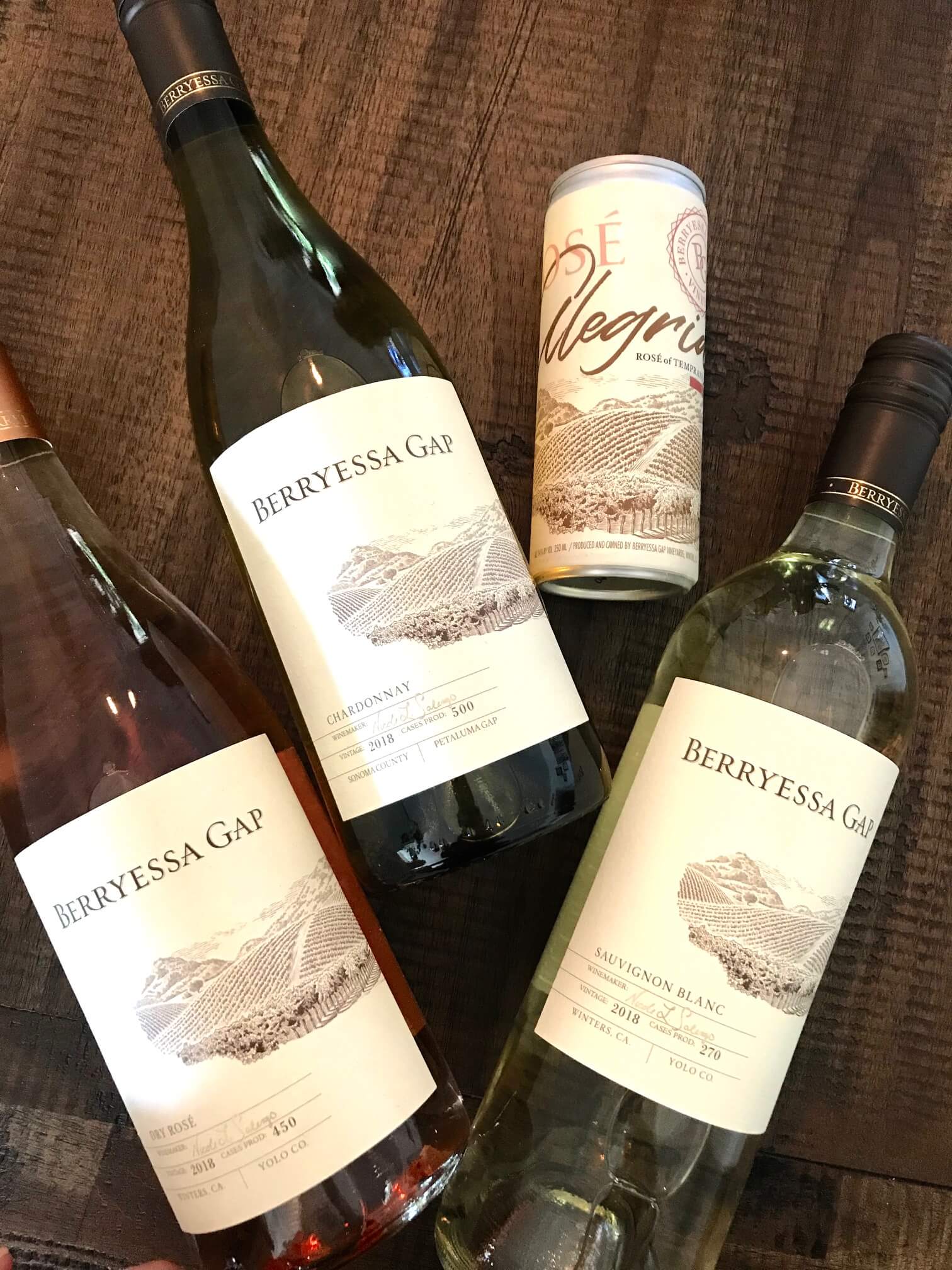 Rosé 2018 ($19) Made with three different varieties grown and harvested from Coble Ranch: Zinfandel 33%, Grenache 33%, and Barbera 33%. And, I 100% liked it. Limited contact with the skins from these red wine grapes made for such a pretty pale, clear, coppery peach color. Full flavored, juicy fruit comes at you right away. Fruity, but not "sweet" or jammy. It's fruity fresh, in such a delicious, refreshing way. Yes, fruity fresh… followed by just the right amount of bright acidity, low tannins, and just a simply nice finish.
Chardonnay 2018 ($27) 100% Chardonnay aged and fermented in new and neutral French oak barrels. Grapes were harvested from the Antonio Mountain Vineyard in Sonoma County. After fermentation, it was aged in stainless steel for five months, where sur lies were stirred in for more structure and body. I normally prefer stainless steel over oaked Chardonnay, but this one seemed to incorporate the best of both. Beautiful nose with subtle fruits like apple, pineapple, lemon, and even some almond. Not "oaky" at all. It's definitely a lighter, zippier style. Berryessa suggests a pairing of herb-crusted halibut and grilled artichokes and I say Yessss.
Sauvignon Blanc ($24) 100% Sauvignon Blanc harvested on three separate days on Coble Ranch. Terrior is interesting! One block contributes minerality, while the other block provides aromatic flavors and acidity. And Sauvignon Blanc needs that acid! Fermented in stainless steel and also stirred with sur lies to enhance the body, its green aromas take you to early summer, when Spring has showered you with everything in bloom and it's not too hot yet. Green apple, green herbs, green with envy if you don't get to try this—all with limey (lime, as in the fruit, not the derogatory slang for an 'ol British sailor), mouthwatering acidity. Serve chilled with a green salad or green, grilled vegetables. Green is good.
Tempranillo Rosé Alegría ($19/4 pack) Rosé made using Saignée ("sohn-yay") juice from 100% Tempranillo grapes. Saignée rosé is usually deeper and bigger than other (deeper color, fuller body, and perhaps even alcohol), traditional rosé wines. This one is amazingly natural, with no added sulfites! Full of red fruit, jam, and low tannins, these cans are smaller than other wines in a can you may see on a shelf. It's a single serving of 250ml, meant to be chilled and enjoyed straight from the can (if Berryessa Gap's winemaker Nicole Salengo drinks it that way, so "can" you!). If you're outdoorsy, or just want an easy-drinking glass of wine on the patio, stock up on this for summer.
Random/weird/unrelated to wine fact: One of the infamous Zodiac murders took place at Berryessa Lake in 1969.
Thank you to Robert of The Larsen Projekt for these wonderful wine samples. I highly recommend them. Please visit Berryessa Gap Winery's website to learn more about their history and other wines they produce. They also have two tasting rooms! Cheers!