Breaking Bread. Unfiltered and Unfined.
Breaking Bread is a new project by winemaker Erik Miller of Kokomo Winery in Dry Creek Valley, California. The first two wines being released, which I was so happy to be able to sample, are two of my favorite grapes: Grenache and Zinfandel. And, forget what you think you know about these varietals. These are so uniquely different, you won't be able to compare them to a Grenache or Zinfandel you may have tried in the past.
Winemaking that highlights the purity of the fruit.
Whole-cluster fermentation (no need to even destem the grapes!), all native yeasts and bacteria are used, and no sulfur is added throughout fermentation. Grapes are picked a little early, when their acidity is higher, making for sips that sparkle at the tip of your tongue. I'm loving this low intervention, hands-off style of wine. You can pair them with so many dishes and they're meant to be served cooler (~50°F) than other red wines.
"The term "breaking bread" invokes an experience of friends getting together and sharing good food in good company. Our style of wine is best enjoyed with food, which we believe enhances the experience." ~Breaking Bread Wines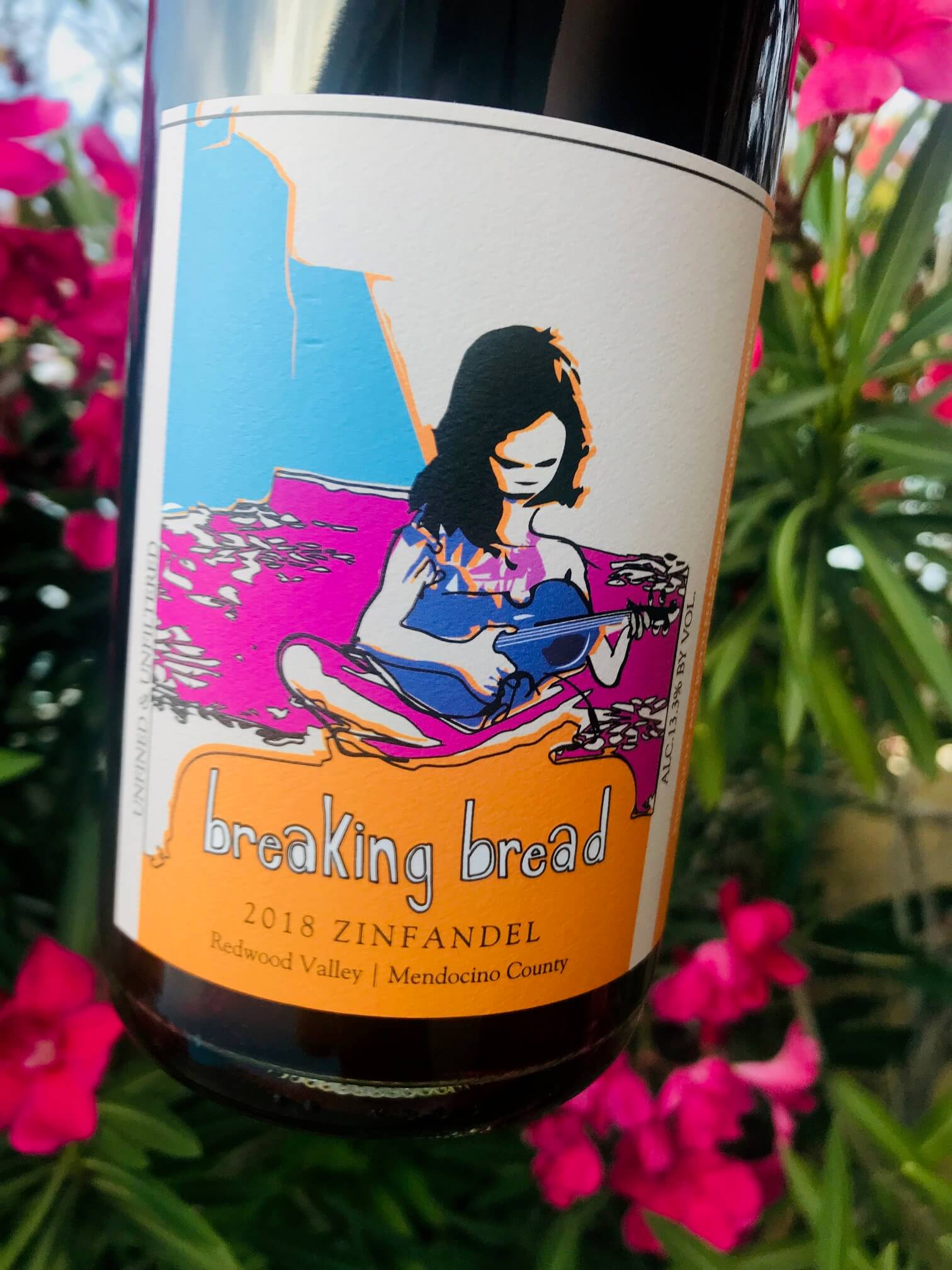 Zinfandel 2018 ($24). First pour had a subtle effervescence and nice acidity at the tip of the tongue. Hazy garnet in the glass, solid medium body, and medium tannins. I wasn't expecting to have much tannin here, so I was pleasantly surprised as well as the overall texture. Dried cherry is dominant, with a fresh finish. It's such a nice, lighter style of Zinfandel, but you don't feel you're missing out on the body or fruit. As Lloyd would say, "I like it a lot."
100% Zinfandel
100% whole cluster in open top fermenters
100% Neutral French Oak for 7 months
13.3% Alcohol
Harvested in October 2018 from Alvin Tollini farms planted in 1972 and dry farmed
"The goal is a very hands-off approach to winemaking that highlights the purity of the fruit, and deliciousness of a lighter-bodied red wine." ~Breaking Bread Wines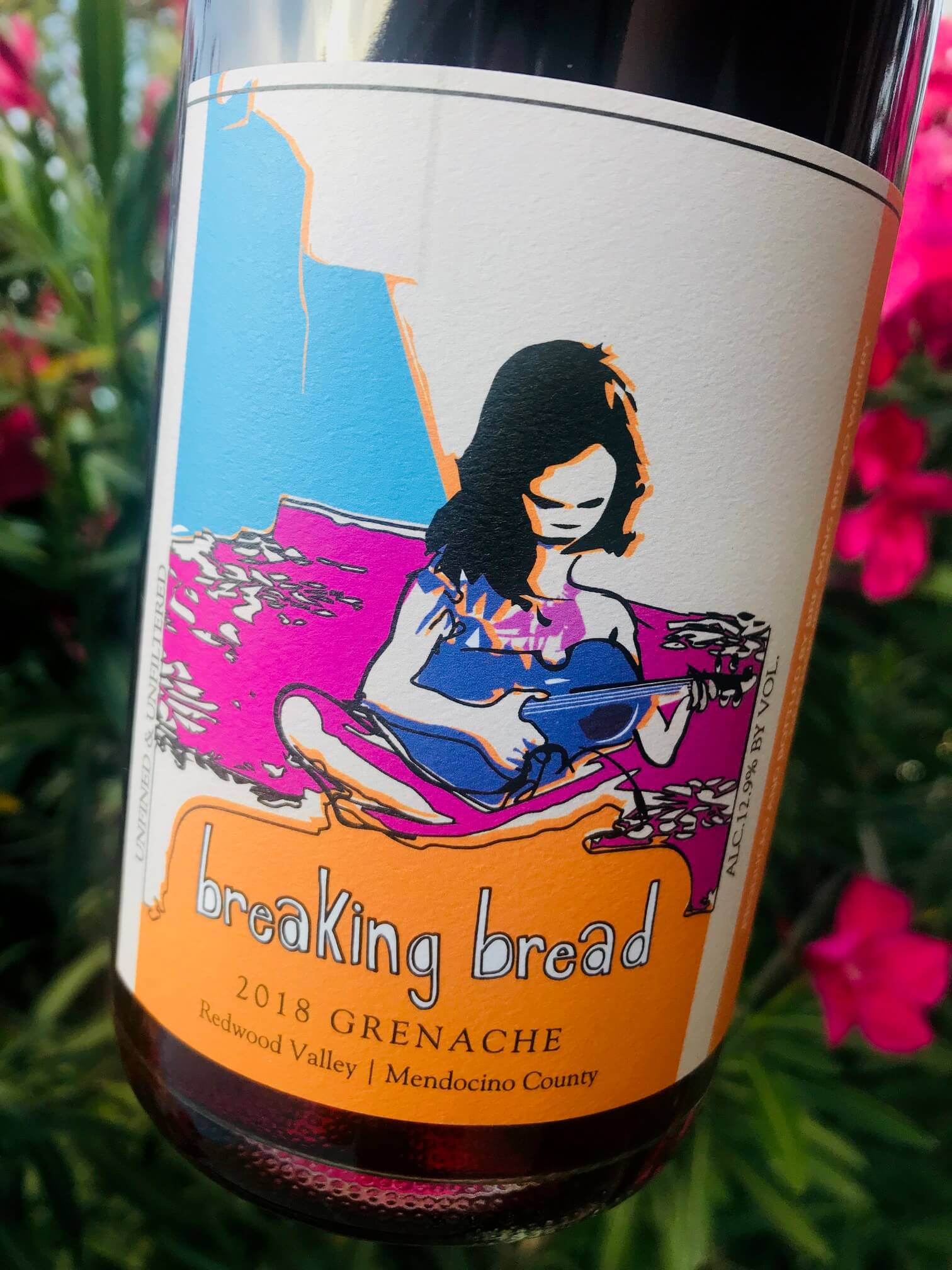 Grenache 2018 ($24). This is the most acidic Grenache I've ever tried. Crunchy acidity and tart cranberry are at the forefront. It's zippy, but not in a make your face pucker in a bad way. It sort of reminded me of a New Zealand Sauvignon Blanc I tried that was so full of tart lime it confused me. I wanted more balance, but at the same time I really liked it because of how different and bright it was. You'll be forced to keep sipping this. Keep swirling and sipping. It could become your new favorite summer red. Both of these wines could pair with so many foods! Thinking a complex dish like freshly baked bread with some goat cheese for this one.
100% Grenache
100% whole cluster in open top fermenters
100% Neutral French Oak for 7 months
12.9% Alcohol
Harvested in October 2018 from Alvin Tollini farms planted in 2002 and dry farmed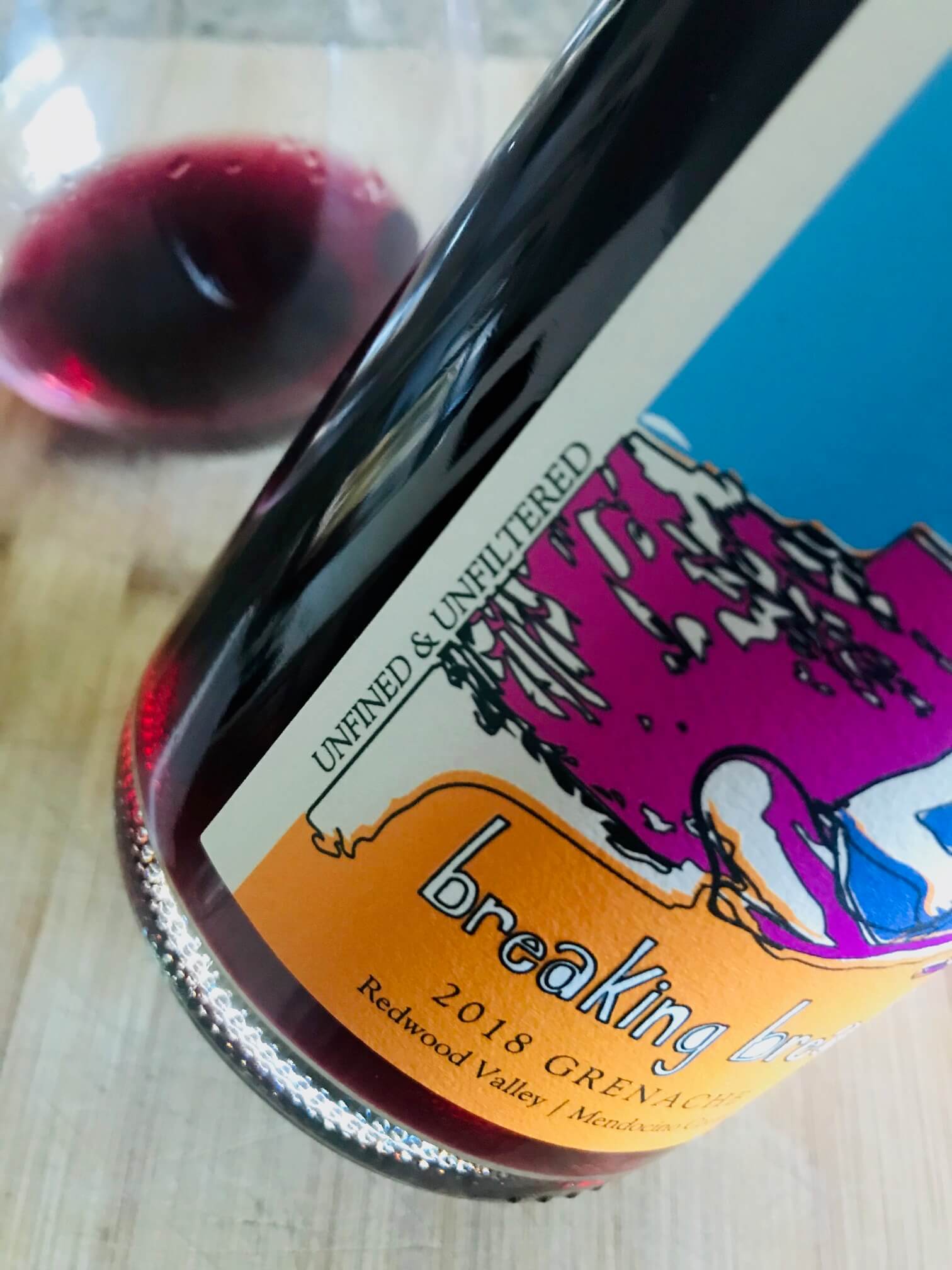 Not just a pretty label.
Winemaker and owner Erik Miller started Kokomo Winery in Sonoma's Dry Creek Valley in 2004. Breaking Bread is his new brand, and the happy label art is from his longtime designer Dan Golly. Dan's oldest daughter hand-drew the font for the logo, and his youngest daughter is the model for the girl holding the fiddle. How sweet is that!? The overall look and feel of this bottle can be described simply as happy, along with the little baguette that came with the shipping literally made me smile. These are truly happy wines. Made with minimal intervention, they're bright and cheery with clear glass bottles and no capsule—creating a clean aesthetic as well. Please visit Erik Miller's websites to learn more about both Breaking Bread and Kokomo wines and order a few bottles if you can!
 "A loaf of bread, a jug of wine, and thou" ~Omar Khayyam