Lodi is the Zinfandel Capital of the World.
Don't let the statement above mislead you. Of course there's an abundance of great Zinfandel grown and produced in Lodi ("Load-eye"), but did you know it's also home to over 100 different varietals? Grapes have been growing in Lodi, California since the 1800's and today there are over 85 wineries—with 4th and even 5th generation families passionately tending the vines and creating wow-worthy wines.
"Lodi is considered the Zin capital of the world because our vineyards produce about 40 percent of the premium Zinfandel in California and because Lodi Zin has unique characteristics that appeal to aficionados and everyday wine drinkers alike." ~Visit Lodi
You can taste a world of wine in Lodi.
Many wine lovers associate Lodi with Zinfandel, and for good reason. But, you can literally taste a world of wine within 100,000 acres—from the popular Spanish red grape Tempranillo, to a lesser-known German white grape like Kerner.
We tasted and chatted about six stellar wines from Lodi.
Thanks to Snooth, a community for wine lovers, I was able to sample six wonderful Lodi wines and participate in the live wine chat: A Virtual Sip of Lodi. The wine discussion was hosted by Leslie Sbrocco, an author, speaker, consultant, and television host, along with Stuart Spencer, Executive Director of the Lodi Winegrape Commission and owner/winemaker of St. Amant Winery, and Adam Mettler, Director of Wine Operations/Lead Winemaker of Michael David Winery and winemaker for Mettler Family Vineyards. They all wear many hats! Adam was also named winemaker of the year in 2016 by Wine Enthusiast Magazine! You can still view the chat via Snooth's website to learn more, anytime.
Acquiesce Winery & Vineyards 2018 Ingénue ($32)
Ingénue, meaning "an innocent or novice" is a truly unique blend of 35% Clairette Blanche, 35% Grenache Blanc, 20% Bourboulenc, and 10% Picpoul Blanc. Being Lodi's only white wine dedicated winery, they have outdone themselves with this blend. Not only is it an elegant bottle, the wine is full of texture and balance. Herbal, citrus, and floral notes all came together with balanced acidity. It's one of those wines you keep going back to because of how wonderfully different it is. This wine is not yet released, so watch for it this summer and visit Acquiesce Winery to learn more.
Will be available for purchase July 12, 2019
350 Cases Produced
13% ABV
Estate Grown, Produced, & Bottled
Certified Sustainable
 "Acquisece Ingenue has billowing tropical fruit, ripe white peach, melon, honeysuckle and a bit of wet stone aromas with pineapple, guava, ripe white peach mixed citrus and honey flavors with an appealing bit of minerality." ~Martin D. Redmond
m2 Wines 2018 Vermentino ($20)
Vermentino is an Italian white varietal grown mainly in Sardinia. Known for higher acid and even almond notes, I felt this was somewhat similar to Sauvignon Blanc, in that I got a lot of mouth watering acidity and lime. Lighter in body, fermented and aged in stainless steel, it's light, and would make a perfect summer sipper. There's also a photo of a cat when you click the link to "visit us" on m2's website, but there's no information on this cat. Anyone?
"m2 Wines creates small-lot, artisanal wines that express the character of the vineyards we source and the nuance of their fruit." ~m2 Wines
251 Cases Produced
12.3% ABV
Released April 1, 2019
Certified Lodi Rules/Sustainable
"Singing in the glass! Like a sunny day at the beach. Bright, expressive notes of lime spritz, white flowers, clementine peel, zingy lime acidity! ~Frank Morgan
Lange Twins Family Winery & Vineyards 2018 Aglianico Rosé ($20)
Aglianico is another Italian varietal, known for high acidity and tannins. I love Aglianico, and this was my first time trying a rosé from this delicious red grape. Medium body, notes of strawberry and perfectly dry—with just a nice balance of fresh red fruit and acid. Great price for the quality of this rosé.
"We respect the land where our vineyards grow – it gives our family roots, a sense of place, and a connection to nature. It gives our wine an identity, a foundation, and individuality. ~ Lange Twins Family Winery
Estate Grown
13% ABV
Certified Sustainable
"Love this Lange Twins Rose – strawberry rhubarb on the nose with zesty citrus on the palate. Lean and crisp." ~Michelle Williams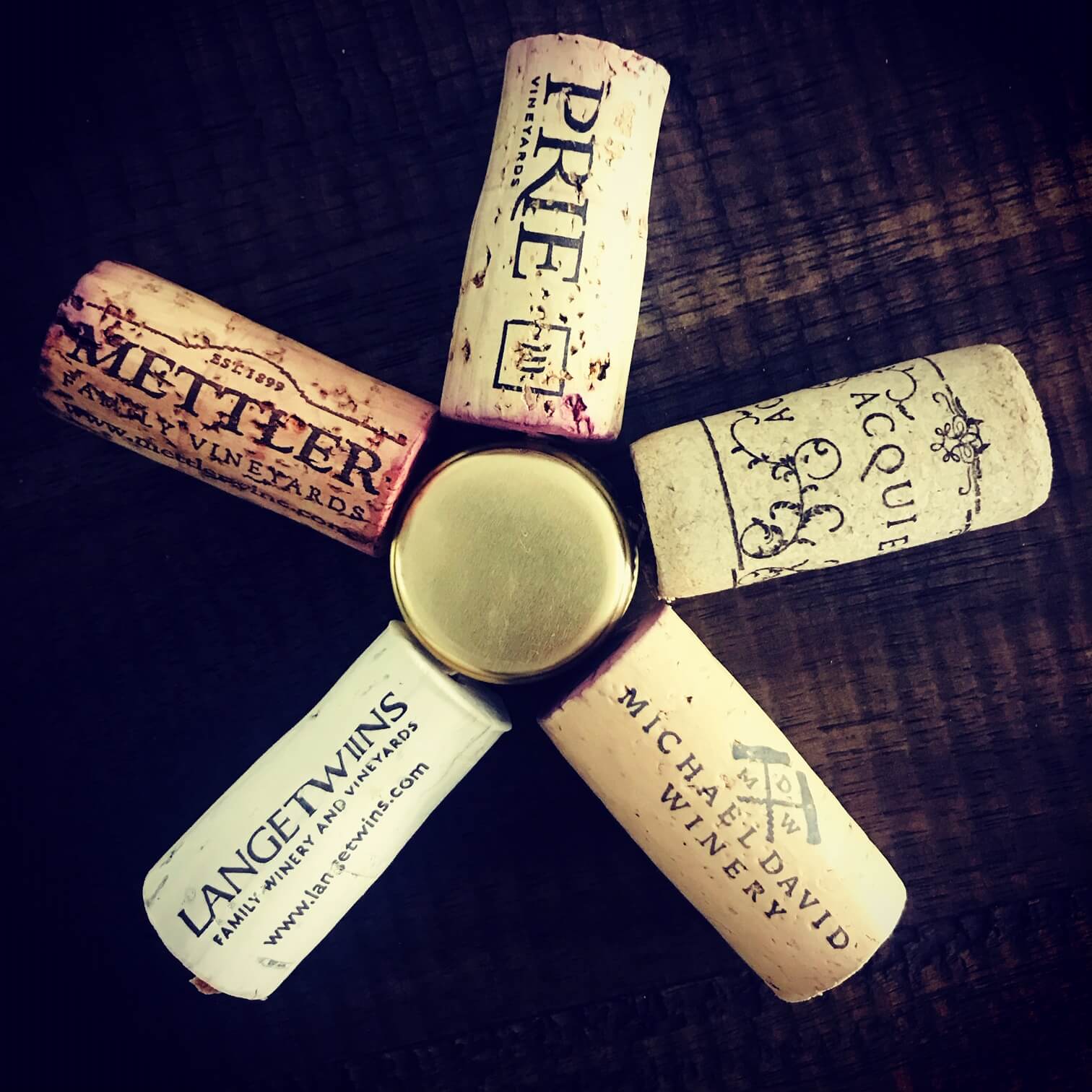 Prie Vineyards 2016 Carignane ($31)
Carignane, or Carignan, as it's referred to in the U.S., is called Carignano in Italy, and Cariñena or Mazuelo in Spain (Samsó in Catalonia). Whatever you want to call it, it's a delicious red wine grape with great acidity. This was deep violet in the glass, with medium tannins, and full of black cherry and cranberry. Prie Vineyards also produces another Spanish varietal, Mencia, along with a Zinfandel and Cab Franc blend called Incorrigible. They also have a winery cat called Muse the Pirate Cat, who provides balance. I'd buy wine from them just for that. Seek them out if you can!
"At PRIE, we let our geek shine. To live, to learn, explore, challenge perceptions, to be. This passion is in all things wine and vineyard." ~PRIE Vineyards
100% Old Vine Carignane
14.4% ABV
Released May 2019
Purchase their wine to support Must the Pirate Cat
"Very holistic approach to farming with farm management, pest control, soil, human consideration. Lodi wine commitment to sustainable growth." ~SAHMmelier 
Mettler Family Vineyards 2016 Pinotage ($24.99)
Pinotage!? I was so surprised to see this varietal in the lineup. This South African grape is a cross between Pinot Noir and Cinsaut. Of all the wines we tasted, this one intrigued me the most. It had a full body, but a surprisingly lighter mouthfeel. Rich berries, plums, spice, and earth, all come after an unusual aroma of baking spices. After the chat I poured myself a full glass of this. The Mettler family has over 100 years and six generations of farming in Lodi. With only four acres of Pinotage, they created this unique, humbly priced, beautiful wine.
Estate Grown
Certified Sustainable
14.9% ABV
They have winery dogs (Duke & Dash)
"The Pinotage rocks and is an amazing wine!" ~Cliff Brown
Michael David Winery Inkblot Cabernet Franc ($35)
Even if you're not familiar with any of the other five producers, you'll probably know Michael David wines. In almost every grocery store you'll see their popular Petite Petit with the elephants and circus themed label. This is their first Cab Franc, a truly decadent, rich, smoky red made with 85% Cabernet Franc, 8% Cabernet Sauvignon, and 7% Petite Sirah. Full body, rich prune, blueberry, and some tobacco saturate your taste buds.
Certified Sustainable
15% ABV
"Heck yeah! This is my favorite!" ~Lori Budd
*Lori is a winemaker & award winning Cab Franc producer at Dracaena Wines… so, she may be biased;)
Looking forward to learning about new wines, winemakers, and regions via Snooth! Cheers.