Michigan wine country is bigger and better than you might've thought (or maybe that was just me!?). Yes, that Michigan, the nation's automotive capitol and home to "Motor City". Being from Arizona, many people from other parts of the country can't believe we have some amazing, quality wine coming from the desert. So, just like the southwest isn't all cacti, scorpions, and scorching heat, this midwestern state isn't all Detroit, peninsulas, and cars.
I recently participated in a wine discussion with two wineries, Modales Wines and Chateau Chantal. Hosted by the Pink Society and Michigan Wine Collaborative, the chat was all about highlighting this great lake state's complex and growing wine industry for Michigan Wine Month.
May is Michigan Wine Month!
I had heard good things from the Twitter and Instagram wine community about Michigan wines, but I had no idea they had over 160 wineries and five AVA's. Needless to say, I was pretty excited to learn more about this region and these two Michigan wineries.
Chateau Chantal
Chateau Chantal, the "Winery on the Hill", is a 65 acre estate on the Old Mission Peninsula wine trail, just north of Traverse City. They originally opened in 1993, but expanded in 2003, turning into a 12 room B&B. They offer wine tastings year round, as well as wine dinners and yoga retreats. But, it's probably the view (and 30+ different wines) that lures people in.
During the wine chat, Marie-Chantal Dalese, the President and CEO of Chateau Chantal created some great videos with the Q&A sessions, if you'd like to learn more you can find them on Twitter @ChateauChantal or visit their website to see some more gorgeous photos.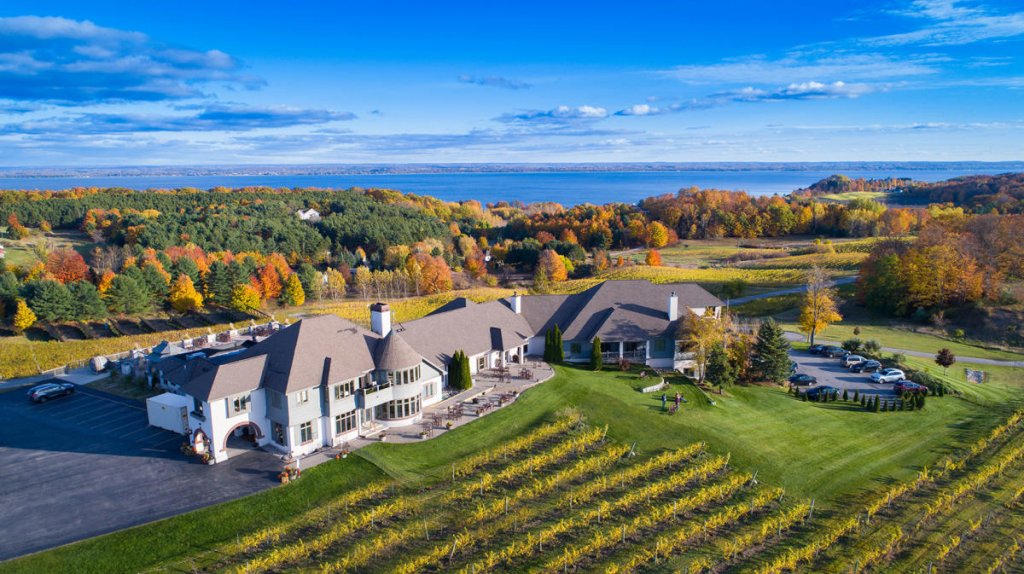 Chateau Chantal 2018 Amour Rosé
The Amour rosé was juicy, not too sweet, and extremely drinkable. Red ripe fruits, watermelon, strawberry, and pretty pink in the glass, it had just a touch of citrus. Dezel of My Vine Spot recommended pairing it with dry-rubbed smoked wings or baby-backs in a KC style sauce. Those sweet and spicy elements sound perfect together.
100% Gamay
Old Mission Peninsula Appellation
12.6% ABV
Soaked on the skins for one day before Saignee
Stainless steel fermented
Chateau Chantal Celebrate! Old Mission Peninsula Champagne
Champagne and sparkling wines are generally associated with celebrations (New Year's Eve toasts, anniversaries, etc.), but they should be enjoyed all the time (especially for quality at this price point!). Celebrate is a semi-sweet sparkler that is really delicious, a crowd pleaser for sure, and meant for any day to be celebrated. Try it with popcorn on a random Tuesday! I had grilled shrimp and a salad with chopped pears and goat cheese, and it paired great with that too. Now, I just need to go visit and stay at Chateau Chantal's B&B, take in those views, and try all of their wine.
63% Riesling, 34% Chardonnay, 5% Gamay
600 cases produced
11.5% ABV
Stainless fermentation, secondary Charmot style
$16
Modales
Modales is a small lot winery, creating small batch, handcrafted, estate grown wines. Located just a few miles from Lake Michigan in Fennville, they use little intervention, allowing their wines to express a more natural sense of place.
Modales means "manners" in Spanish.
One might assume only cool climate loving grapes can thrive here, but they're growing several varietals on their 25 acre estate, including some incredible reds. Cabernet Franc is cold resistant, and unique grapes like Chambourcin (French-American hybrid) are known for being very disease resistant.
"The lake is important to us… during our really cold winters it actually acts as a heater. When the breeze blows off the lake, it's above freezing, that heats up the vineyards and prevents us from losing too many vines (as long as the wind works with us)" ~Andrew Backlin
Winemaker Andrew Backlin is from California, and previously worked with Steele Wines and Duckhorn. He loves Riesling and nervy whites in general, and found it was hard to make them in California without having to add acid. During the chat he also discussed some of the challenges of Michigan's winter (which can get down to -17°F) and the influence Lake Michigan has not only on the vineyards, but tourism as well.
Modales Cabernet Franc 2016
Tart acidity on the first sip, this Cab Franc opened up so nicely. Dark fruit, raspberry, black cherry, spices, and black pepper all worked well with just a touch of musty earth. Brickish deep garnet in the glass, medium body and tannins, this would work with so many dishes, similar to Pinot Noir.
80% Cabernet Franc, 20% Cabernet Sauvignon
Neutral French & European Oak with 10% New Barrel
Minimal Intervention
13% ABV
$24
Per Andrew, the spice notes come directly from the fruit expressing itself and not the barrel element. The 2016 was sterile filtered, but they now bottle all dry reds unfined and unfiltered. Just more reason to try their new vintages.
"Cab Franc is fun in Michigan. It's very cold tolerant, and being that we are a cooler climate we can open up the fruit zone and let sunlight in to get rid of the green flavors… where if you did that in California, you would get sunburn on the berries." ~Andrew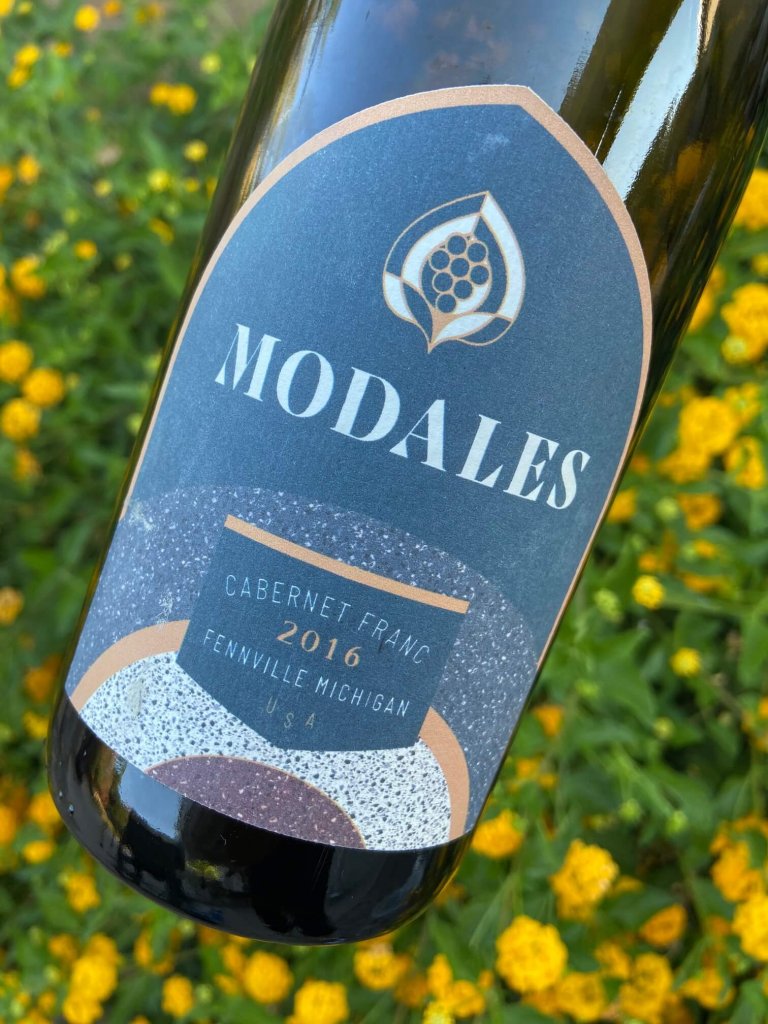 "We are stepping up our red wine game every vintage and can't wait for you to see the transformation the industry is experiencing." ~Andrew, Modales Wines
I was also able to sample the Modales Pinot Gris, which had some wonderful aromatics. Tropical aromas with flavors of green apple and great acidity. I would absolutely seek out these wines again, and my overall impression with these samples is that I'm already impressed with Michigan wine. I've added links to both wineries above, including the Michigan Wine Collaborative, please visit and support them if you can.
Weather Challenges
Michigan faces unique, and often unpredictable weather challenges in the vineyard. Extremely cold winters at or below freezing, wineries must utilize fire and wind machines to combat the cold or even mound up soil over the vines for the winter. Humidity can be just as much of an issue as the cold!

"We are like super sick of the polar vortex visits"

~Michigan Wine Collaborative via Twitter when asked about the unpredictability of weather in Michigan wine country.
45th Parallel
Michigan grows more than 13,000 acres of grapes, but only ~3,000 is dedicated to wine grapes (vitis vinifera). The 45th Parallel sits halfway between the North Pole and the equator (most wine grapes are grown between the 30th and 50th parallels). Michigan's wine country sits at the 45th, same as other famous winemaking and grape growing regions like Bordeaux and Burgundy in France, Willamette Valley in Oregon, and Piedmont in Italy.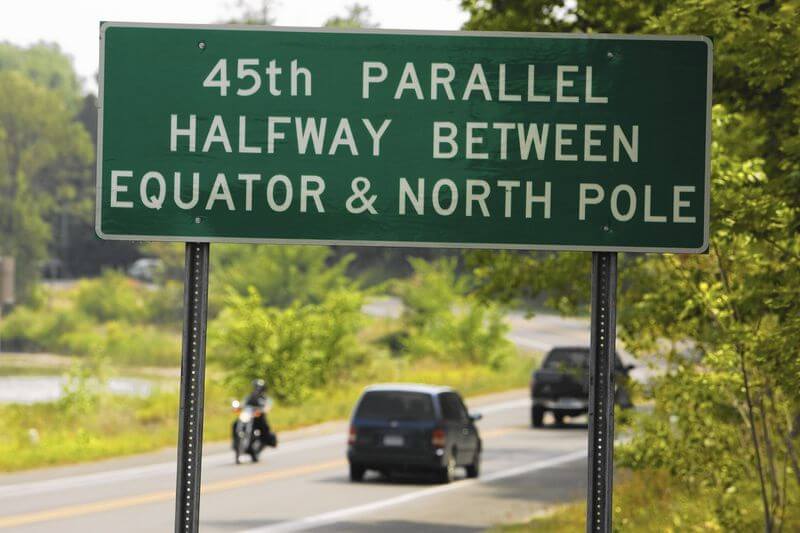 Thanks to the #PinkSociety, the Michigan Wine Collaborative, Marie-Chantal Dalese of Chateau Chantal, and Andrew, winemaker for Modales, for the samples and informative wine discussion on all things Michigan wine. Hopefully by the next Michigan Wine Month, I will have been able to visit in person, so I'll be sure to post about it! Cheers.