Murrieta's Well is rich in history. Nestled in Livermore Valley, it's one of California's oldest wine estates.
A brief history timeline
1884: Louis Mel fell in love with the property, purchasing it for he and his wife
1940: Louis sold it to his friend Ernest Wente (of Wente Vineyards)
1990: Phillip Wente & Sergio Traverso partnered & revived the winery, naming it Murietta's Well
Today: I'm sampling four of their current releases and very happy about it!
"Our vineyard was started with cuttings from the famed Chateau d'Yquem and Chateau Margaux vineyards in France; today it continues to produce the highest quality fruit. We are proud of our heritage and believe our wines truly reflect the sense of place we love so much." ~Murrieta's Well
Legend of Murrieta
Murrieta's Well is named after local legend and "Robin Hood of the West," Joaquin Murrieta. Arriving in California from Mexico during the Gold Rush era, Murrieta was either (depending on what story you read) a Zorro type hero and humanitarian, or thief and desperado. According to Heather Everett, Sr. Storyteller at Murietta's Well, he was one of the first to discover the artesian well located on their estate. He watered his horses there and legend has it, he claimed it was the best water in the country. Their name pays homage to his spirit of exploration and his vision to recognize the unique qualities of their estate.
Perhaps he was a brave explorer looking for a new life and home for his family and was forced into a lawless existence. Whatever the true circumstances of his life were, he certainly left a lasting impression. Tales of revenge, bounties, outlaws, posses, his head (or was it?) preserved in a jar of brandy (or whiskey)… maybe his ghost still rides across the Sachau Vineyard today.
The Wines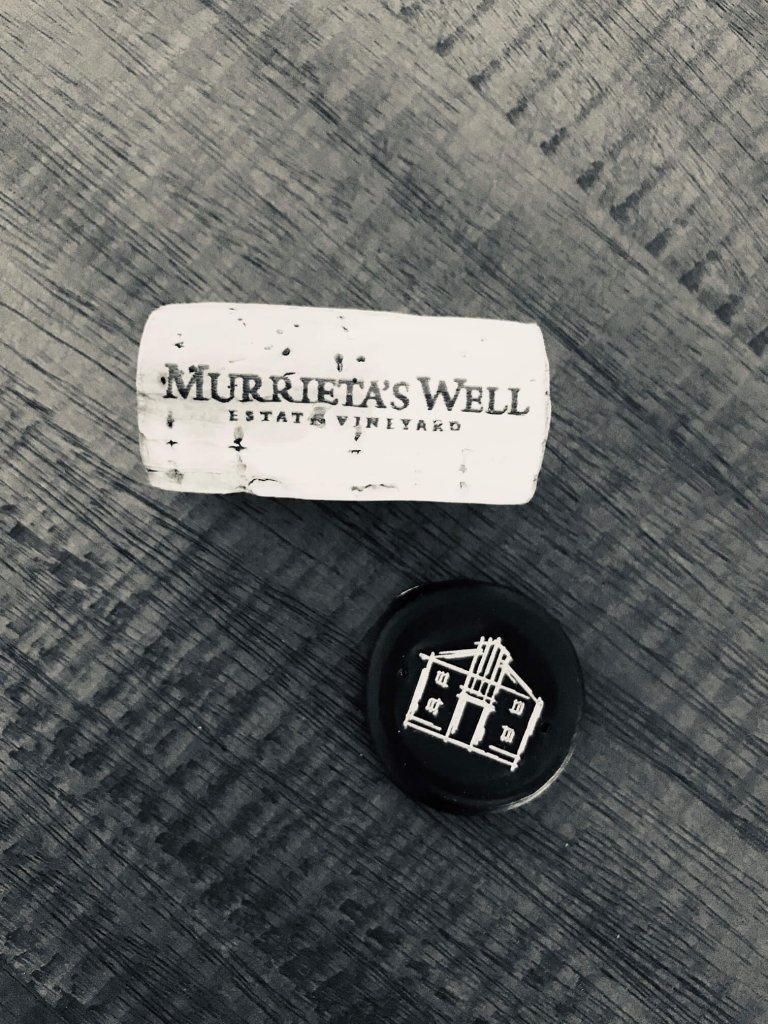 The Spur is a red blend of 64% Cabernet Sauvignon, 14% Petite Sirah, 13% Merlot, and 9% Petit Verdot.
As Daffy Duck exclaimed when he jumped into a treasure trunk of gold, "I'm rich!" The Spur is rich in saturating flavor, and the bottle is a heavyweight. As you're refilling glasses, you'll assume there's a lot more wine left, as the bottle is literally heavy. You'll gasp, "it can't be empty already!?" as the last few precious drops stain the glass like empty wine tears.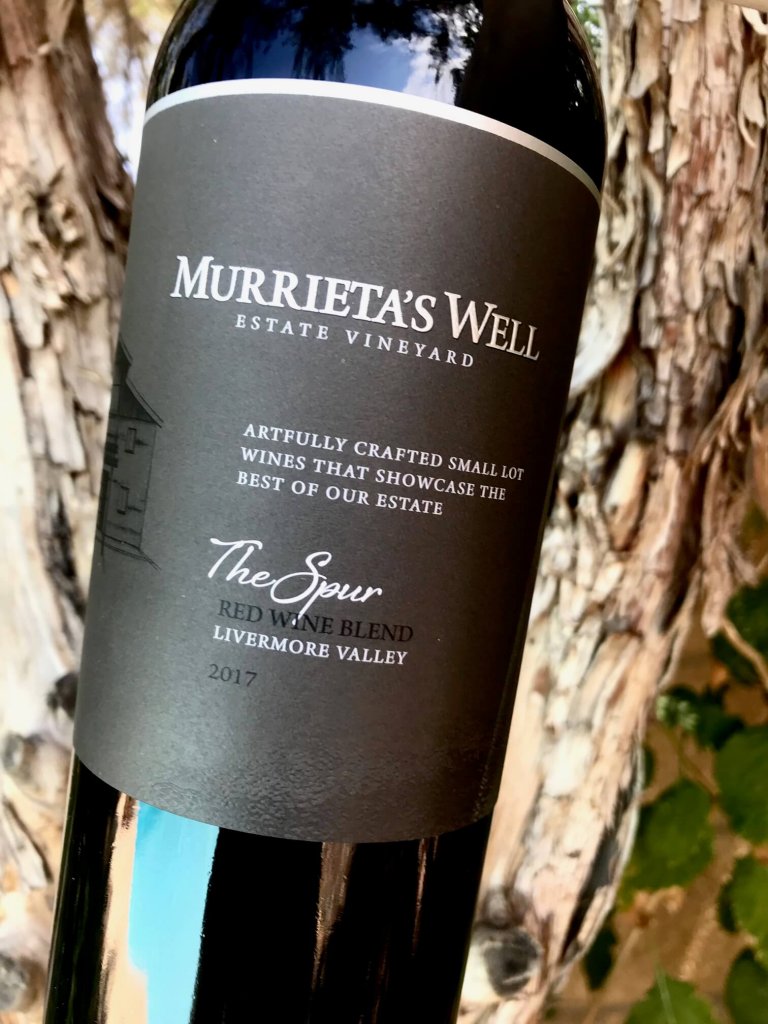 Opinions differ in regards to heavy weight wine bottles. Thicker glass does make a bottle stronger, for sparkling wine it's necessary, but it's also more expensive for shipping. Overall, it does not indicate the wine will taste or or be better. However, it does give most consumers the feel of solid quality and a touch of luxury.
Full-body, decadent dark fruit with moderate tannins — all without the heavy feel. Loved the acidity, as without it this could have easily been jammy. It even looks like opaque wine stew in the glass. The aroma had an interesting sour note at first, but wonderful flavors of blackberry and spices. Per winemaker Robbie Meyer's Tasting Notes, The Spur can be enjoyed through 2025, so now I need another one for later.
Dry Rosé
First of all, the label is smart, taking the guesswork out for consumers who want a dry vs. sweet rosé. Blend of 42% Counoise, 33% Grenache, and 25% Mourvedre, the 2018 Dry Rosé has a fragrant nose of wild flowers and wet green herbs (I opened it at ~54°F). Solid medium body with unripe strawberry, nectarine, and nice acidity. Most rosé's are thought of as light summer wines, but this one is substantial enough to hold up to meatier dishes and enjoyed year round. *I tried it again the next day after being in the refrigerator overnight and the aromas became muted, so don't drink it too cold!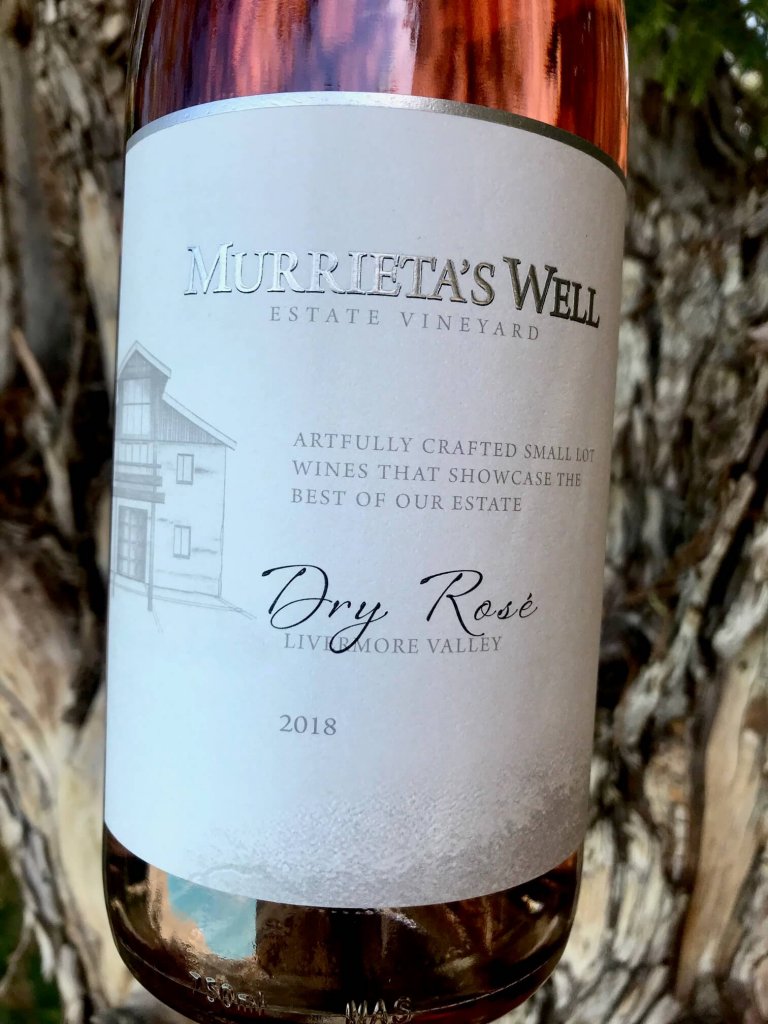 "All of our wines are 100 percent estate-grown. We are known for our Bordeaux-Style blends, including the Spur, which recently received 90 points from Wine & Spirits magazine." ~Murrieta's Well
Small Lot Merlot
Small Lot maybe, but HUGE in delicious. Only 35 barrels were produced of this 95% Merlot, 5% Cabernet Sauvignon 2016 Merlot. Sourced from their Sachau Vineyard, hand sorted and fermented separately in stainless steel, then blended together and aged for 18 months in French Oak, I was expecting this to be silky goodness. And, it was, with deep black cherry, vanilla, and lavender infused cocoa. There was more acidity than I expected there to be, but it had a textured, wonderful balance. This bottle (also a heavy hitter) was a true treat.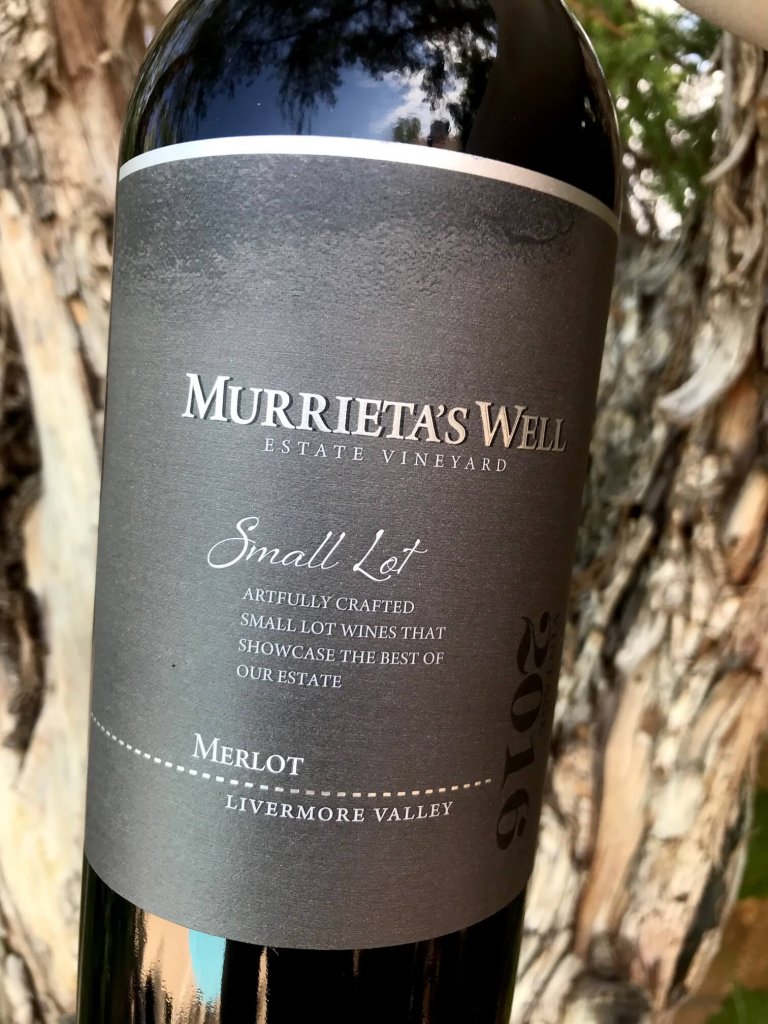 The 2016 vintage had a bit more available ground water than the past few vintages in Livermore Valley thanks to moderate rains in the winter. We saw nice growth canopies that provided excellent fruit development and the warm growing season provided the perfect conditions to achieve optimal fruit expression. ~Murrieta's Well
Dry Orange Muscat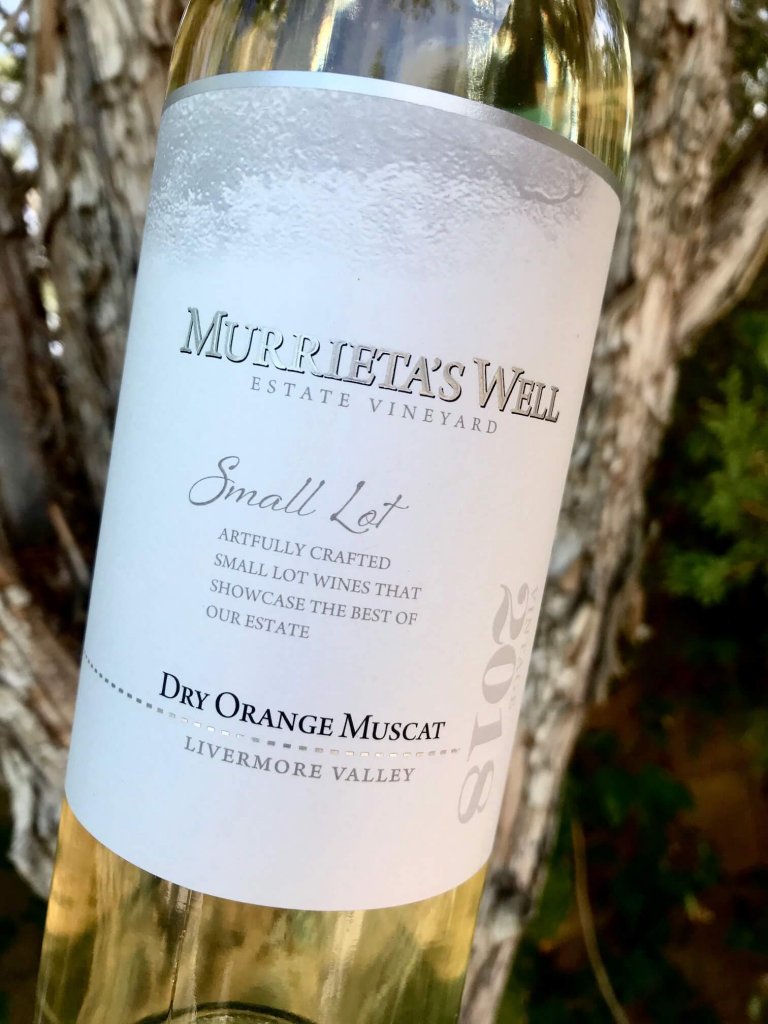 Muscat is a grape I don't often seek out, as it's normally associated with sweeter styles. But, a dry orange version? Let's just say my inner wine geek was pretty excited to try this. The 2018 Small Lot, Dry Orange Muscat was cold fermented in stainless steel. Aromas were a gorgeous, fragrant mix of orange blossoms and ripe kiwi. Pale, ultra clear pineapple in the glass with a light-medium body, its fruitiness almost gave the impression of subtle sweetness. Beautiful bottle. I'm a fan.
Orange wine is a style of white wine, where an "orange" color can be created by leaving grape skins and seeds in contact with the juice for a desired period of time.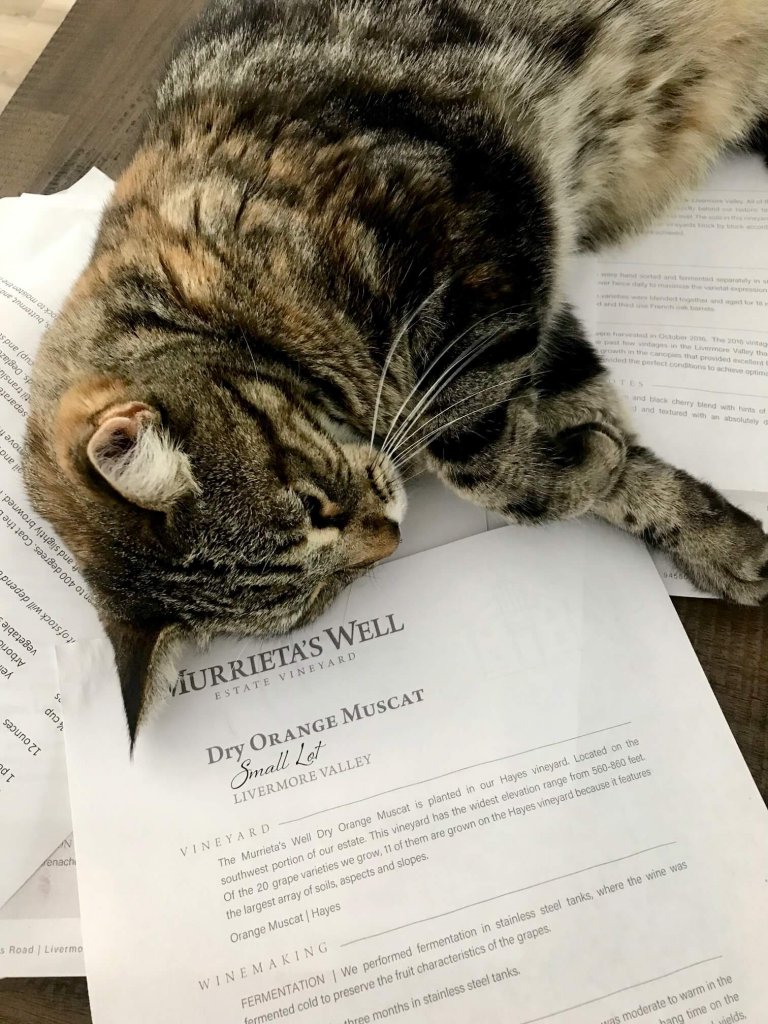 Virtual Tasting
I participated with other wine geeks/writers/bloggers in a virtual wine tasting, "A Taste of Murrieta's Well" thanks to Snooth, featuring winemaker Robbie Meyer. Next year will be their 30th anniversary, and their wines range from $26-$80. Located off the beaten path on 3005 Mines Road, in
Livermore, California, their tasting room is open Wednesday-Sunday. I'm a fan.
"Making wine is a beautiful experience. There is nothing quite like growing fruit in the vineyard, caring for it in the winery and crafting it into something people can enjoy in many ways. I believe in creating wines that are exceptionally pleasing and intriguing at the same time." ~Winemaker, Robbie Meyer