Orsi Wines, Italian Roots in California Soil
Orsi Family Vineyards is a small production, boutique winery in Sonoma County, California. They've been growing grapes since 1992 and produce unique, rare varietals native to Italy. If you're a wine lover, you've probably heard of Sangiovese. But, what about Fiano? Or Biancolella d'Ischia? The beauty of learning about wine is discovering new varietals to love and the people behind the labels. Let's take a trip to Italy…
"Our wines are an expression of Italy, a connection born from the roots of our heritage, planted in Sonoma County soil, and bottled for your enjoyment so that you might experience a bit of Italy all your own." ~Orsi Wines
Biancolella d'Ischia 2018 ($26) A white grape varietal native to the island of Ischia, Biancolella means "little white one". The volcanic island in the Gulf of Naples is known for its mineral-rich thermal waters, and is also the birthplace of Filomena, the Orsi family's paternal grandmother.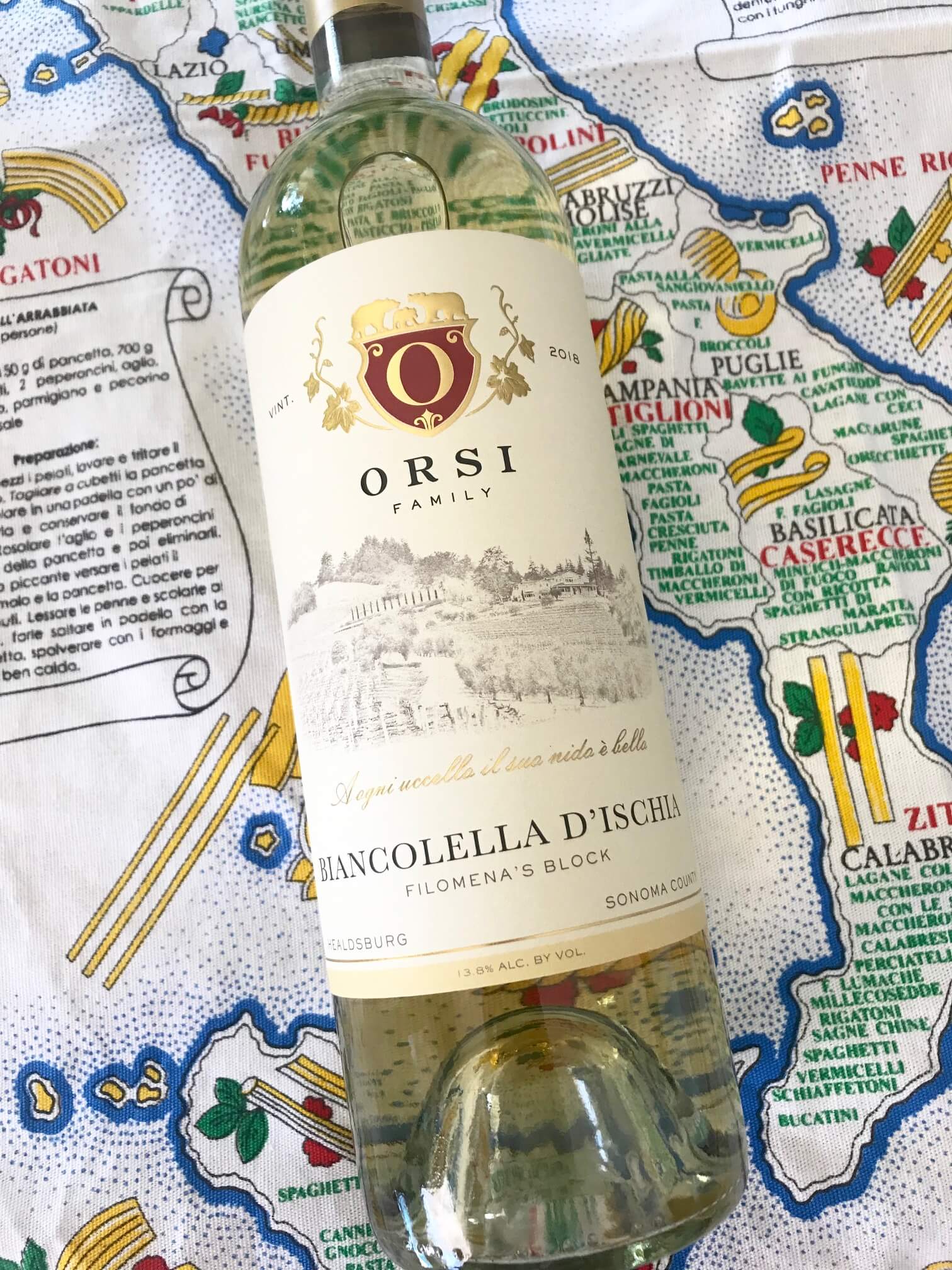 The Orsi family grows less than one acre of Biancolella in Dry Creek Valley (the only planting of this grape in California) and only 90 cases were made. Notes of stone fruit, a bit of citrus, almond, and salinity work in harmony. It's a crisp, dry white wine that drinks well on its own. If you have a wine connoisseur in your life, this would make a great gift. Low production, lesser-known varietal, and winery direct—any wine geek would be excited to try it (yes, I am speaking for myself).
"There were no cuttings available, but there were three vines being studied at Davis (University of California, Davis) for disease resistance. Our nursery started talking to Davis, and it turned out they had enough cuttings to provide us. If you like Biancolella, your only choice is ours!" ~Orsi Wines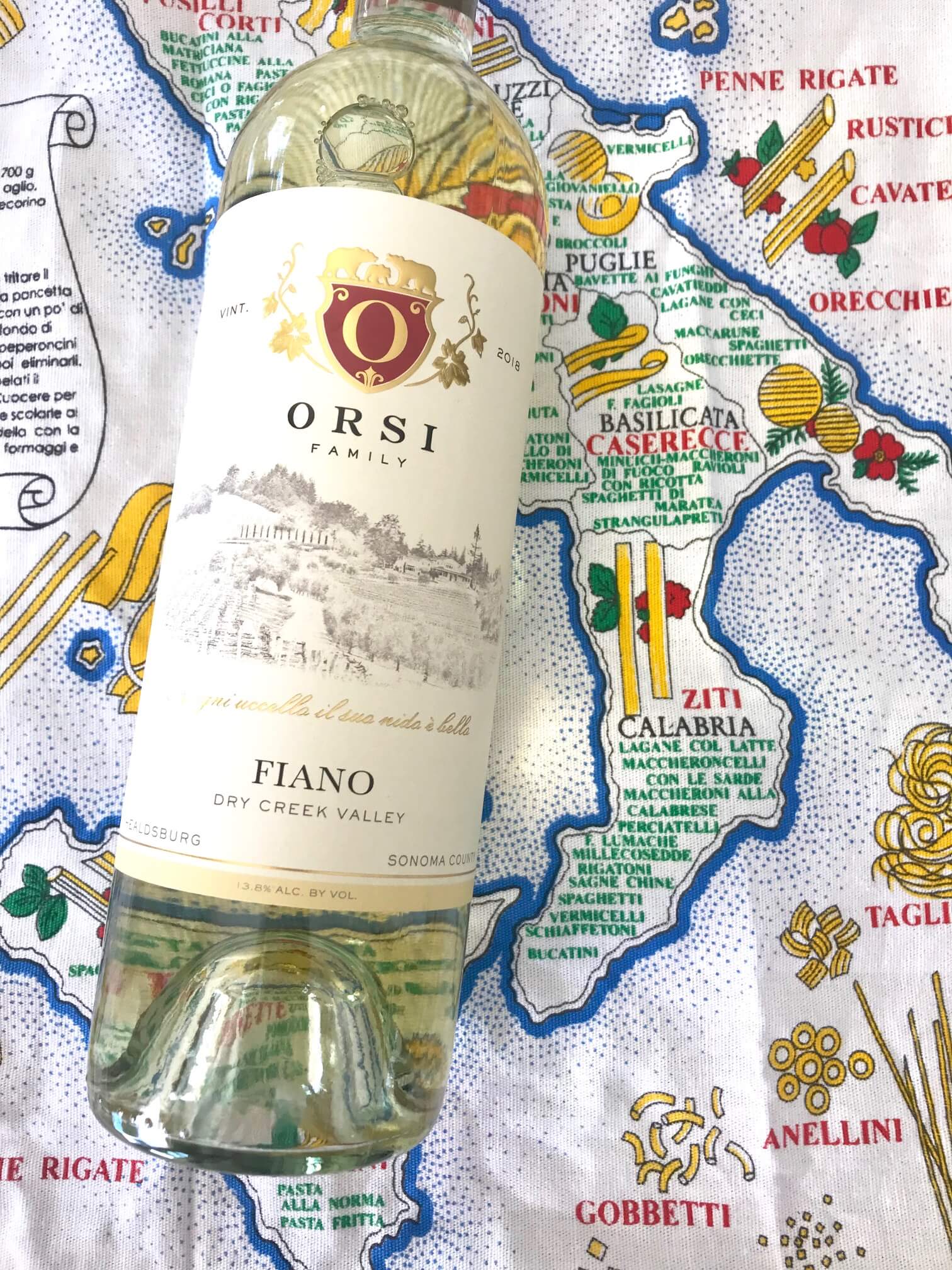 Fiano 2018 ($26) Similar to the Biancolella in that it's low production, less than one acre planted, and only 100 cases were made. It's dry but has just a touch of fruit disguised as sweetness. Aromatic with a fuller body, notes of tropical fruit, and somewhat smoky quality, it could easily pair with all types of food. But, grilled (or even baked) fresh fish would be ideal—just like the ones Mark Orsi caught the day of our wine chat (see photo at end of post).
"Dry Creek Valley has a great cool climate and looks just like Tuscany. If we pulled out the redwood trees and put in Cypress, you wouldn't know the difference. If the success of what we've already planted is any indication, we're on the right path." ~Orsi Wines via Twitter chat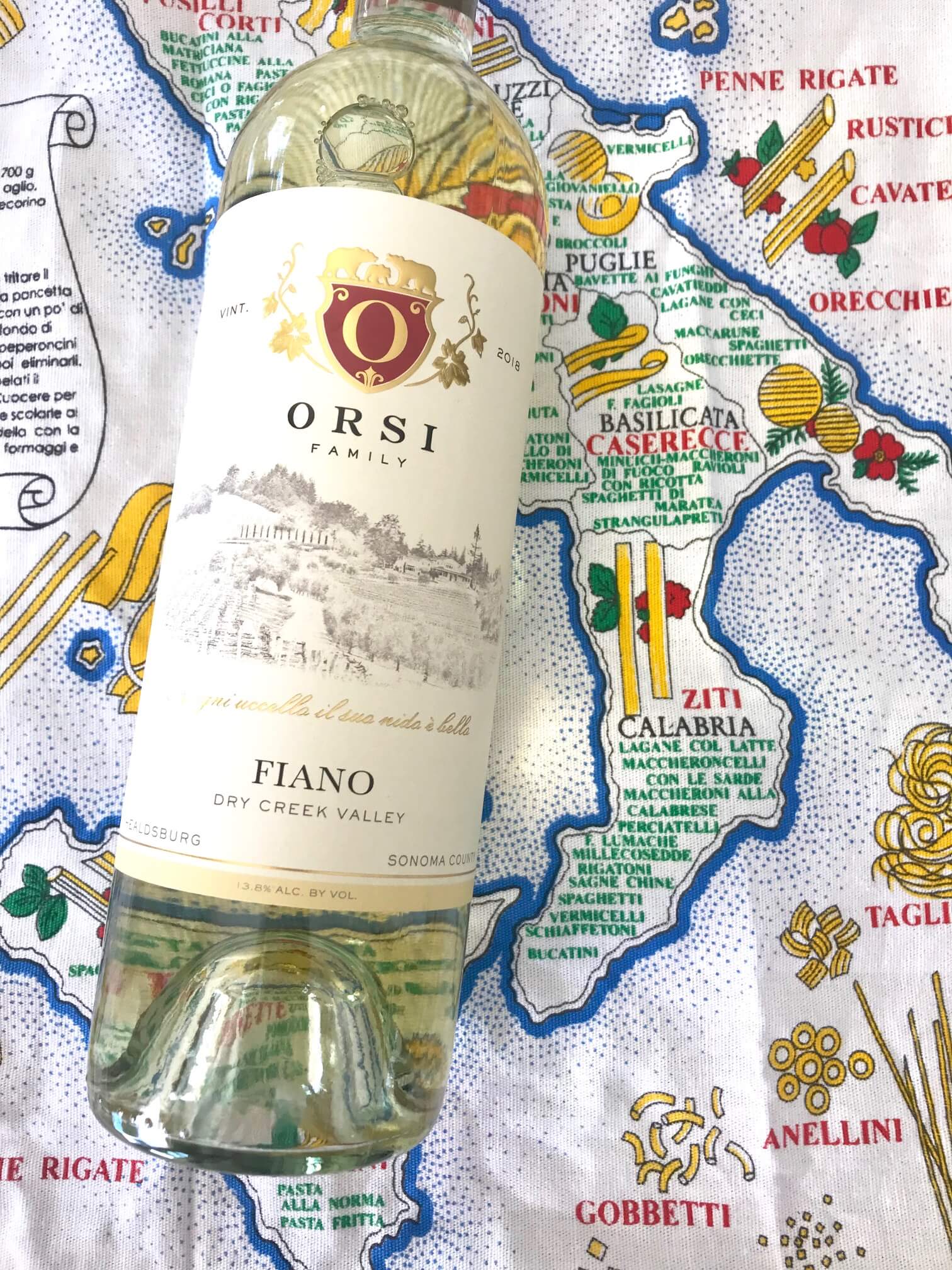 Sagrantino 2014 ($34) Native to Umbria in central Italy and often blended with Sangiovese, some expressions have massive, astringent tannins. No mouth puckering here, this 100% Sagrantino had firm, yet well integrated tannins balanced with mixed fruit, nice acidity, and herbs. I got an overall rusty cranberry quality (a good quality). Surprisingly smooth out of the bottle, with no decanting. Medium bodied, it could pair with anything from salads to hearty veggie burgers.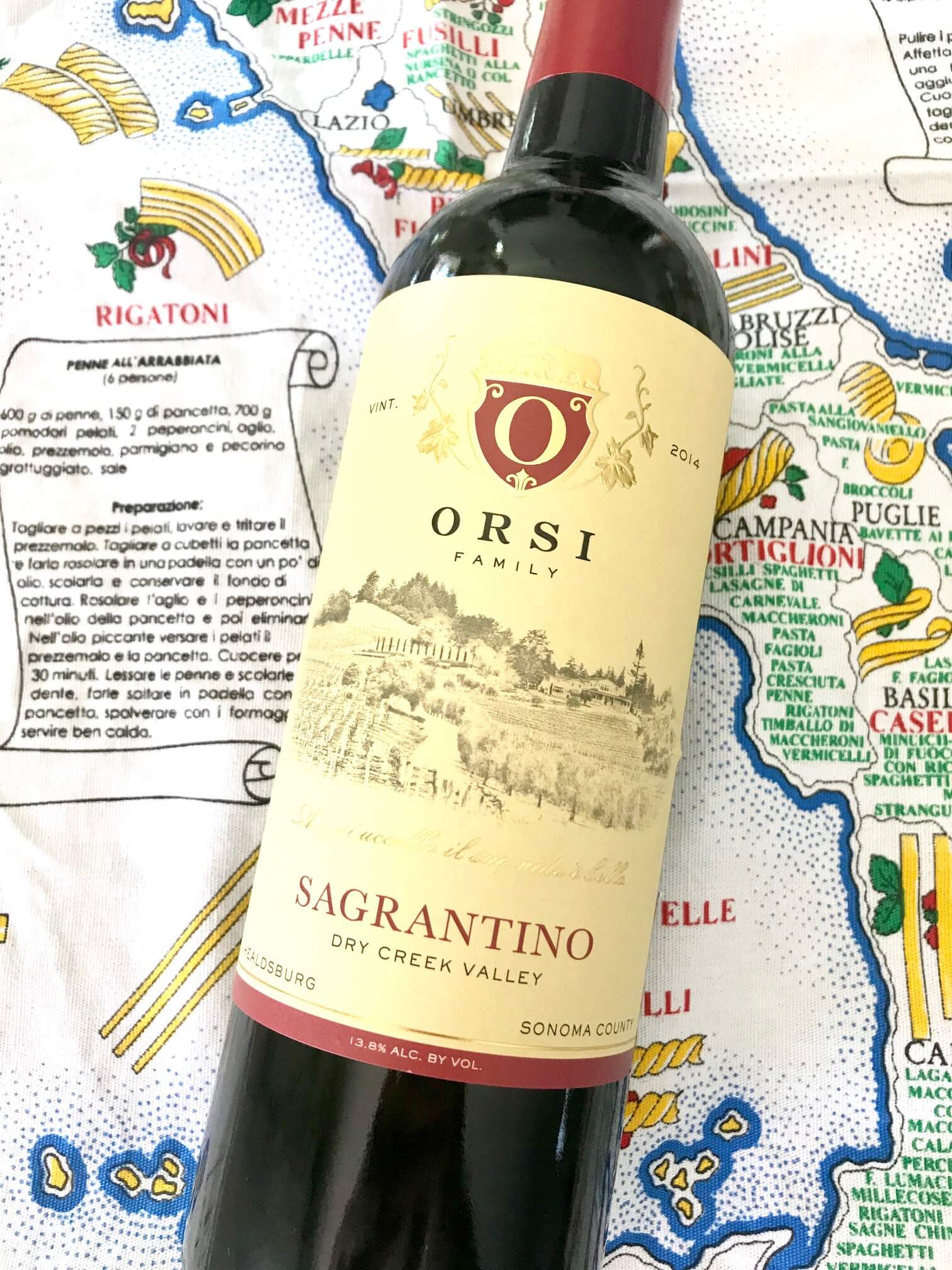 "Orsi Vineyards practice sustainable winegrowing methods. This ensures not only high quality wines but additionally creates a healthy environment for our families, employees and the community." ~Orsi Wines
Sangiovese 2015 ($28) A red grape most wine lovers are familiar with. Many may associate Italian-grown Sangiovese with Chianti. However, this grape grown in Sonoma was a savory forest full of roasted tomato and dried herbs. Black cherry saturates, followed by a beautiful balance and extra long finish. Deep brick red in the glass, I was pleasantly surprised at how different this was. Wine Enthusiast said the 2013 had a "sour cherry" quality, giving it 88 points, but the 2015 has nothing sour about it. It was savory goodness. Only 90 cases were produced, I highly recommend you get one of each of these wines.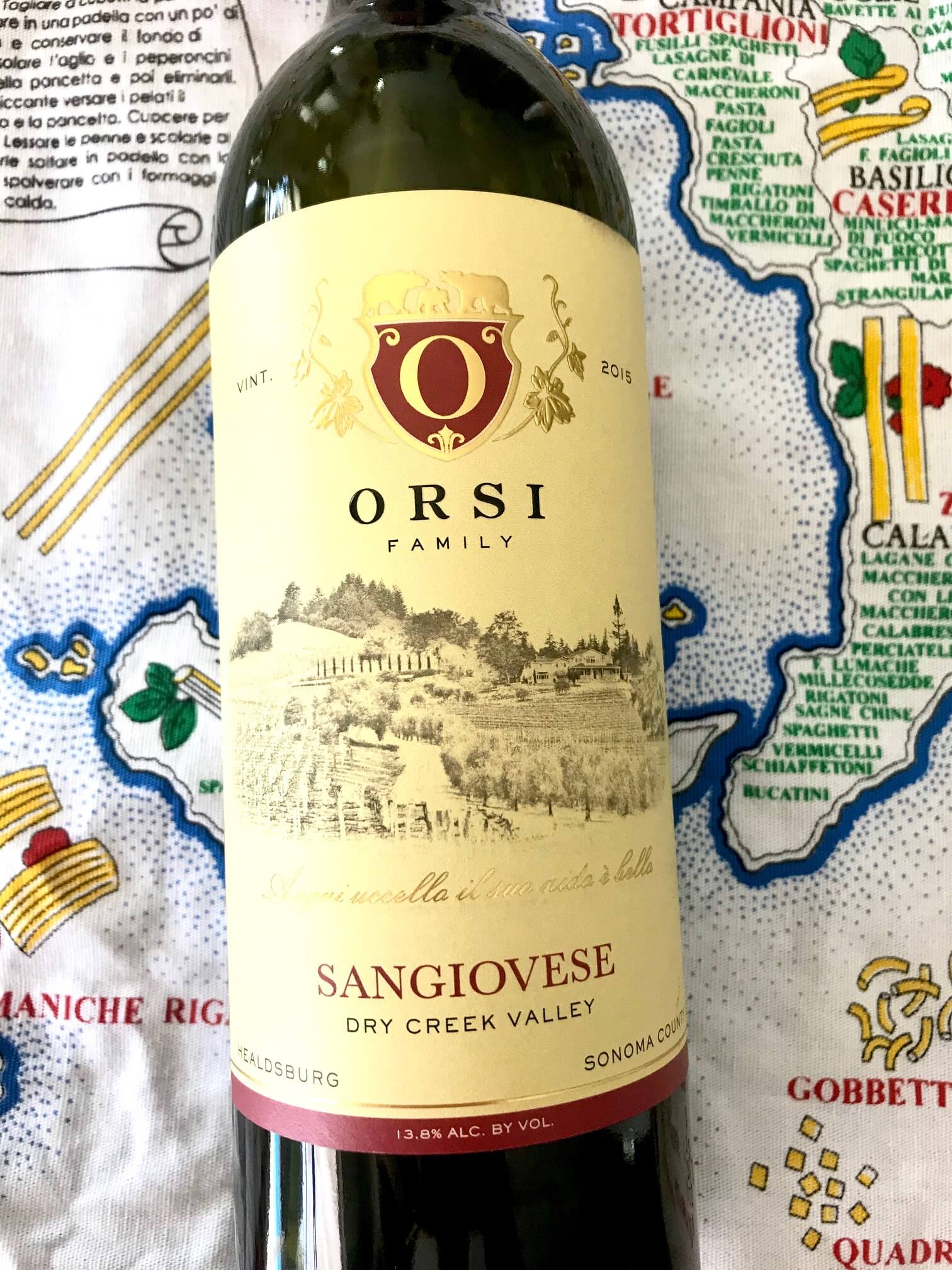 I was fortunate enough to sample these four Italian beauties thanks to the Orsi Family and Robert of The Larsen Projekt. We all participated in a Twitter wine chat—you can still go back and read about it, just type in #OrsiWines—along with other wine friends (wine writers and enthusiasts) on July 10th, and it's a great way to to feel as you're getting to know the people behind the labels. Bernie (Proprietor and Dad), Mark (son of Bernie and apparently a good fisher), and Dick Schultz (winemaker) have created some gems. The Orsi family seem like friendly people who have great respect for the environment as well as the wines they produce. Sustainable winegrowing methods not only create healthier wines, but are better for the environment.
Benefits of (Orsi Wines) practicing sustainable winegrowing:
Increases biodiversity within the vineyard ecosystem, helping wildlife as well as soil health
Avoids use of toxic pesticides, introducing beneficial insects for pest management
Use of cover crops and natural grasses to attract native insects
You may see chickens and sheep wandering around Orsi Vineyards. Sheep act as weed eaters and the chickens help control cut worms and other insects, protecting the vines without using chemicals
Nesting boxes for owls and bats have been installed, naturally controlling vine-eating rodents and other pests
Water conservation using deficit farming irrigation, and limited water supply forces the roots of the vines to search deeper for water
Makes for better tasting wine (not sure if this last one's a fact, but seems to be true with the wines I tasted;)
These are all reasons enough to support the Orsi Family and their beautiful Italian varietals grown with care in Sonoma, but the wine itself is reasonably priced and magnifico! Saluti!