While spending some time with friends in South Park, we decided to visit Salerno Winery (nestled in the hills of Ramona Valley, California, about a 45 minute drive NE of San Diego). It was an easy, quick day drive to Salerno, considering it was on a Friday, before a holiday weekend. A spacious patio surrounded by numerous, large pieces of art, grapevines and trees made for a scenic tasting spot. We tried the four reds horribly circled in black marker by my spouse: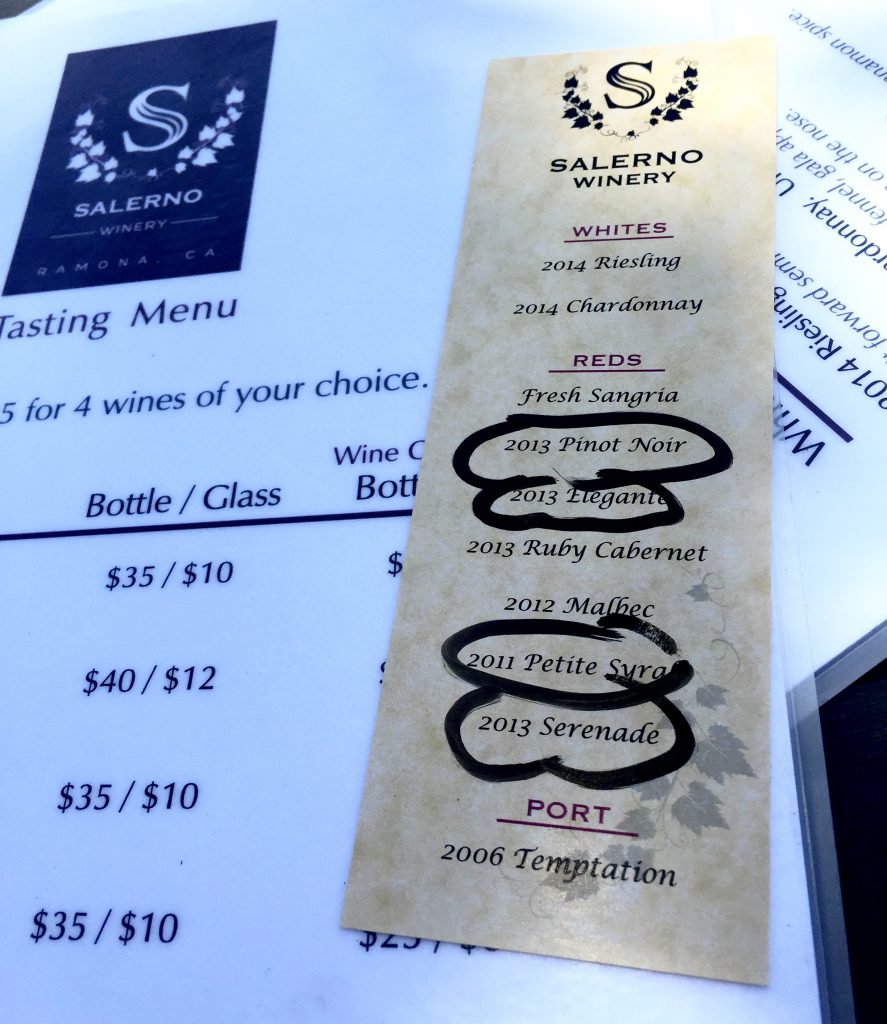 It was $15 for four tastings. Of the four reds we chose, our favorite was the 2013 Pinot Noir. It was earthy on the nose and light-medium bodied. While the others had strong tannins (which I normally don't mind) they didn't feel as balanced as the Pinot. With that being said, I truly liked all of them (not one single "bleh" tasting!;). Next time we'll try the Sangria too (I heard it was great!). My only complaint was that the glasses were spotty- we used a napkin I had in my purse to try to wipe away some of the dishwasher/hard water smudges before taking pictures, but it's still noticeable (didn't prevent me from enjoying the wine;). Just focus on the pretty view in the distance…
Below is another view from the central patio area. It sits slightly above the grounds, with gorgeous views of the rolling hills and trees. The large-scale art/sculptures are all around the property. We strolled around and felt like we were in an outdoor museum for adults.
Herman & Rose Salerno purchased the land for their winery in 1995 & released their first commercial wine in 2003 (a double gold winning Petite Sirah). The more I read about the Salerno's the more I wish I could've met them/visited when they were still running it. Herman, who sadly passed away this May at age 81, was not only an award-winning winemaker, but an opera singer as well! He was known for making his famous pizzas in their outdoor pizza oven while occasionally singing to his guests (how lovely!). I found a YouTube video of him singing at his winery in 2011. I love it: https://www.youtube.com/watch?v=jenbNnRLlHY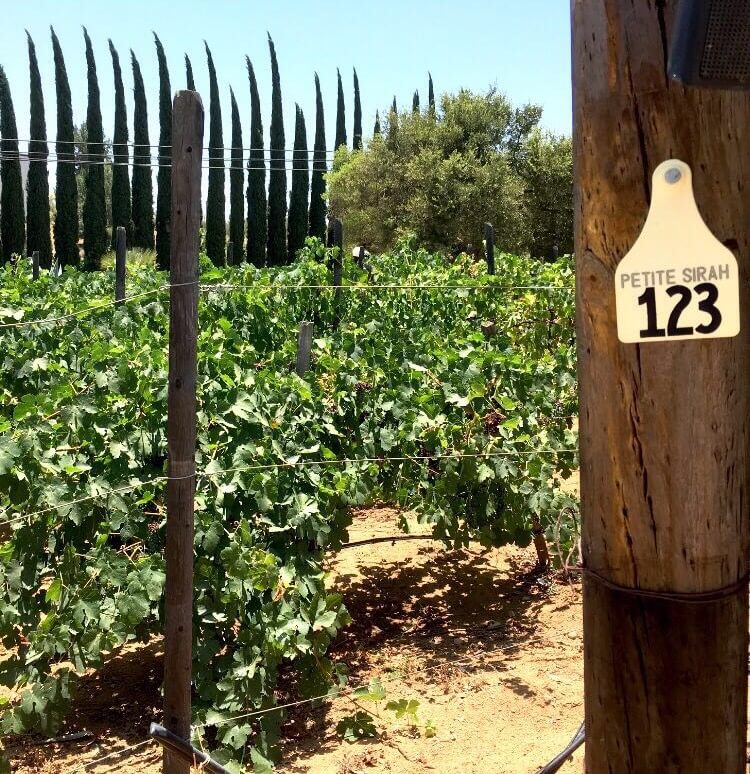 I read a review, where someone complained about it being $15 for the tasting (I also hear there are Groupon deals out there) but I felt it was reasonable, considering the views and all of the amazing large-scale sculptures to enjoy; including an artistic bocce ball court and life-size chess board by Mexican artist Fernando Pereznieto. It's even bigger/more amazing in person and the grounds seem like a great area for events/weddings.
Unfortunately for our timing, and due to the renovations, there was no food available (at all-no snacks-no cheese-nothin'). To be fair, their website did mention their kitchen was being upgraded and their guests were invited to pack their own picnic (pays to do your homework;). I plan on visiting again the next time we're in San Diego, when the renovations are complete and the kitchen is open. I feel they've received a lot of negative comments recently, especially from regulars who loved the Salerno's and how the winery "was". Change can be difficult, leaving many wishing for how things used to be. Perhaps this winery is just going through a transition phase? With Mr. Chaljon bringing in so much art and investing in this property, I'm sure it will bring in many new fans and win over the previous members. So, cheers to supporting small wineries and winemakers… cheers to the wonderful past, to Herman & Rose, for establishing this beautiful winery. Cheers to the art and to the new owner, Jaime Chaljon, who has added more than 30 pieces of his own collection, from world-renowned artists. I can only imagine the people who have been visiting this winery for years will love it just as much in the years to come. Cheers to the wine and this hidden gem of a winery in southern California. (Sorry, I got carried away with the Cheers;). Cheers.