As a red wine enthusiast, I rarely drink the bubbly, so this post will be for everyone like me—the ones who randomly grab a bottle for special occasions, classic New Year's Eve toasts, and made mimosas out of the mass-produced, inexpensive bottles (nothing wrong with that).
There's always something new to learn.
I'll admit, I'm not a champagne connoisseur. Some experts or savvy wine writers may cringe at this post, perhaps even feel a little sad about all the fantastic bottles and pairings I've been missing out on all these years. But, this post is for the novice—going back to basics, with helpful, or just interesting/random, and practical tips on all that is Champagne. And, learning is fun, right!?
What exactly is Champagne?
Champagne (the fizzy, bubbly, carbonated, type of wine served in those cute, dainty flute glasses) only comes from the Champagne region of France.
Champagne is made from these three grapes: Chardonnay, Pinot Noir, & Pinot Meunier.
Fact: If it's not made in Champagne, it's called sparkling wine.
In Italy, it's called Prosecco. Prosecco is made from the white grapes called Glera (formally known as Prosecco). In Spain, it's called Cava (made with the Spanish grapes: Macabeo, Xarello, & Parellada). Another bubbly type of wine is Lambrusco, an Italian red style, made from Lambrusco grapes.
Unless you're in the wine business, or have a lot of experience tasting different styles, it may all seem the same to you. Many people (incorrectly) refer to any carbonated wine as "Champagne".
"I only drink Champagne on two occasions, when I am in love, and when I am not." ~Coco Chanel
Drink the good stuff at the proper temperature.
All sparkling wine is served cold (36°-48°F). For the average ~$10 bottle you purchase for the sole purpose of mixing with orange juice or Chambord, you can leave it in the frig (most refrigerators are set at 35°F) and not worry about proper temperature.
For real Champagne, especially the vintage or pricier bottles, most will say the ideal temperature is cold, but not too cold (45-49°F).
You'll want to enjoy it at its best. If it's too cold, the aromas and flavors aren't detected as well.
Chilling: Using an ice bucket will chill it down quicker (about 30 mins) than the refrigerator (place 3 hours prior to opening). Speaking of opening, Wine Folly has a great video on how to properly open a champagne bottle!
Reading Labels & Knowing What to Choose.
It's important to try different styles to learn what you like and don't like. If you know you like beverages on the sweeter side, choose a bottle listed as Demi-Sec. If you prefer less sweet, choose an Extra Dry or Brut.
Here's a list of sweetest to dryest: Doux, Demi-Sec, Dry, Extra Dry, Brut, Extra Brut
Years ago, when I wanted to remember that "Doux" meant the sweetest—and I'm personally not a fan of the sweet stuff—I created the mnemonic: Doux is way "doo" sweet for me. You can use it if you want… (go ahead and mentally insert the nerdy & jazz hand emojis here).
Don't really care for wine/sparkling wine? Serious budget?
If you're "not really into wine" and all of your teeth can be considered gaggy sweet—and, if you love, just looove the super sweet stuff, go for the Asti Spumante. It's one of the sweetest sparkling wines made from the Moscato grape and budget friendly. Heading to the grocery store? Grab a bottle of Barefoot's Pink Moscato "Champagne" ($7-$9) and enjoy! Connoisseurs may shudder, but you should drink what you like and be happy (but remain open-minded to trying new styles!).
Some other terms to know:
Spumante = "sparkling wine" in Italian, and d'Asti means "of Asti" —a small region in Piedmont, Italy.
Frizzante = semi-sparkling wine.
Blanc de Blanc (white from white) = is made from white, Chardonnay grapes.
Blanc de noir (white from black) = is made from the red grapes, Pinot Noir and/or Pinot Meunier.
Wine gets its color from the grape skins, so white wine can be made from the pulp/juice of red/black grapes, the skins are just removed. On that note, rosé (or "pink") champagne gets its color from coming into contact with the grape skins for a short period of time, or by actually adding a little bit of Pinot Noir.
Why is Champagne so expensive?
It comes down to the history of the region, laws, association with luxury, quality, and because they use a traditional method —a meticulous, time-consuming, expensive process.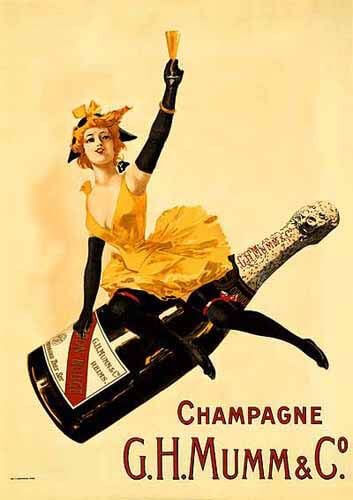 "You can get a whole bunch of Mumm's."
Remember the movie, Meet the Parents? That scene where Greg (Ben Stiller) stops in a convenience store for nicotine patches and wants to impress his future in-laws by buying a good bottle of champagne? He asks the clerk what their most expensive champagne is, and he replies, "Mumm's, it's on sale for $13.95." When Greg says he's looking for something better, in the $80 range, the clerk tells him, "You can get a whole bunch of Mumm's." That was funny…
Mumm is a well recognized brand from Napa, California, who uses the traditional method of making sparkling wine, and per their website:
"Our roots can be traced back to GH Mumm, the leading international champagne brand in France. Established in California in the late 1970s, Mumm Napa follows traditional wine making techniques of its French heritage to create the finest, hand-crafted sparkling wines. Our dedication to quality has been rewarded with accolades and awards over the decades."
Would you even know?
Would the casual (occasional, maybe few times per year) sparkling wine consumer know the difference between a bottle of Mumm-Napa on sale for $13.95, and let's say, another well known brand such as, Veuve Clicquot (average price of $40-$80 per bottle)? Hmm, maybe not.
With that being said, I purchased a bottle of California sparkling wine: Chandon Brut Classic. Total Wine had it on sale for $13.97. On the back of the bottle, it gives a helpful sweetness scale, with Brut being on the dry end (less sweet). How was it, you ask? It was fine. Tasted just like sparkling wine. It was light, crisp, and a bit sharp. I found the condensed bubbles to be refreshing and a pleasantly nice change from the bold, tannic reds that frequently saturate my taste buds.
Here are a few of the top names & examples of Champagne:
Moët & Chandon
Or, simply called "Moët" are the makers of Dom Pérignon—average price of $200 per bottle. And, who also just happens to have a royal warrant to supply champagne to Queen Elizabeth. They are also the founders of Domaine Chandon, a sparkling wine made in Napa Valley, California (the one I bought for $13.97). It would've been great to have a bottle of Dom and Chandon in a side by side taste test. Alas, #BudgetProblems.
"The back of the club, sipping Moët is where you'll find me." ~Big Poppa, Notorious B.I.G.
Bollinger
Affectionately called "Bolly" in Britain. An independent, family owned & operated champagne producer since 1889, they're popular with the James Bond movie franchise. I did not know this! I just found a James Bond 2009 limited-edition bottle on Wine.com for $199. There are tons of examples, but here's one: in Die Another Day, James Bond (Pierce Brosnan) asks for a bottle of 1961 Bollinger after being released from prison.
Lily Bollinger, who managed until 1971, is famously quoted as saying:
"I only drink Champagne when I'm happy and when I'm sad. Sometimes I drink it when I'm alone. When I have company I consider it obligatory. I trifle with it if I'm not in a hurry and drink it when I am, otherwise I never touch the stuff unless I am thirsty."
Louis Roederer
One of the last remaining independent, family owned Champagne houses. While "Cristal" —priced at $150 per bottle—isn't the only champagne they're known for, it's certainly popular and has been rapped about a lot. Vinepair has a great post on Jay-Z's best songs mentioning pricey beverages. If you want to know why Jay-Z no longer cares for Cristal, get the scoop here.
Krug
Krug is a legendary name in Champagne, established in 1843 by Joseph Krug. On Wine-searcher.com you can find bottles ranging in the $80-$90 range, but a vintage Brut may run you about $1,000.
Ace of Spades
Gets its name from the signature gold label, and is an Armand de Brignac brand of Champagne ($300 average cost per bottle). Or, get Jay-Z's limited release "Blanc de Noirs" at a big pimpin' price of $799 per bottle. Again, #BudgetProblems…
Here's some more info on "Dom"
Dom Pérignon ("Domm peri-nyon") is one of the most popular, well recognized names of Champagne. It's made with Chardonnay and Pinot Noir grapes, produced by Moët & Chandon, and named after the Benedictine monk, Dom Pérignon.
"Well, you went uptown riding in your limousine, with your fine Park Avenue clothes, you had the Dom Perignon in your hand, and the spoon up your nose." ~Billy Joel, Uptown Girl
Where can I buy this expensive, carbonated wine?
You can find bottles in local wine shops, Total Wine (where I found the lowest price/not their top quality to be $155), or from online retailers like Wine.com (where I found a 2006 vintage for $189.99). Keep in mind, the prices can vary with any wine depending on the vintage.
Why does vintage matter?
Vintage means the year the grapes were picked/harvested. When you hear someone say "excellent year" (preferably in a British accent) it means mother nature was good that year, producing ideal weather for the grape's growing season, resulting in excellent wine grapes being produced under the best conditions—thus creating the best, most expensive wine.
If your budget screams "I can't afford this!" and you rarely drink Champagne, but want to buy a decent bottle for your anniversary, it doesn't have to be Dom. Learning the sweetness levels (Doux-Extra Brut) will help you choose a bottle that suits your style and preference and you'll be able to pick out a $15-$30 bottle and enjoy it just as much.
Speaking of enjoyable, if you'd like to read a sweet, uplifting article on Laurent-Perrier Cuvée Rosé Champagne, please check out Dame Wine's post.
One more random note.
Lastly, what's with race car drivers? The celebratory shaking of Champagne and firing it like a water gun all over everyone? So wasteful! I actually found a great, interesting article explaining the origin of this (super wasteful) practice via GQ! I agree with Iggy, "Champagne spillin' you should taste that."