Altos Las Hormigas means "Stop Ants"
I'm always on the hunt for a decent, drinkable red for your everyday, daily drinking (for evenings too, of course, with dinner) that won't break the budget and is easy to find. Some have said, "It's impossible!" or "It cannot be good for that price!" I might've been the one who made those comments, but believe it or not, this 2013 Malbec is not only drinkable, it's very good with a humble $16.99 retail price. Unfortunately, it's not available at your local grocery store, but worth the trip (or website) to find it. I love supporting local wineries and small, independent stores, but there's nothing wrong with shopping the bigger chains once in a while. Luckily, my local Total Wine had it in stock.
The Hormiga… A Symbol of Good Luck?
This 2013 Malbec is produced and bottled by Altos Las Hormigas, which translates to "Stop Ants." As I've said before, it's hard for me to not like a Malbec from Argentina, and this is one from Mendoza is no exception.
According to their website, when the new vineyards were planted in 1996, the local ant population fed on them, "reducing months of man labor to nothing, all in a single night." Can you imagine? What a nightmare! But, one of the things (besides the wine) I love about the hard working people of this estate, is that they refused to use poison, finding natural remedies to divert the ant colonies from their newly planted vines. A big cheers to wineries and wine growers who respect the land and all the critters (even the pesky ants) who lived there first!
"In Argentina we have saying: "un trabajo de hormigas" or "a job for ants" which describes a humble, patient, and dedicated work. We decided to name our venture after the hard-working, team-playing hormiga, which is emblematic of our history and has become a symbol of good luck."
The Clasico 2013 is 100% Malbec with 50% being Estate grapes, aged for ten months in concrete after fermenting in stainless steel tanks for ten days. It's almost opaque in the glass, with a luring garnet rim. The color alone will entice your eyes, sending "you must drink this now" signals to the brain. Hints of pepper, wet stone, dark fruit, a bit of worn leather, and moderate tannins are followed by smooth finish.
Alto Las Hormigas Malbec stands out in its price range. And, I'm looking forward to trying other vintages, including their Reserva. Seek out a bottle or two from this winery and let me know what you think!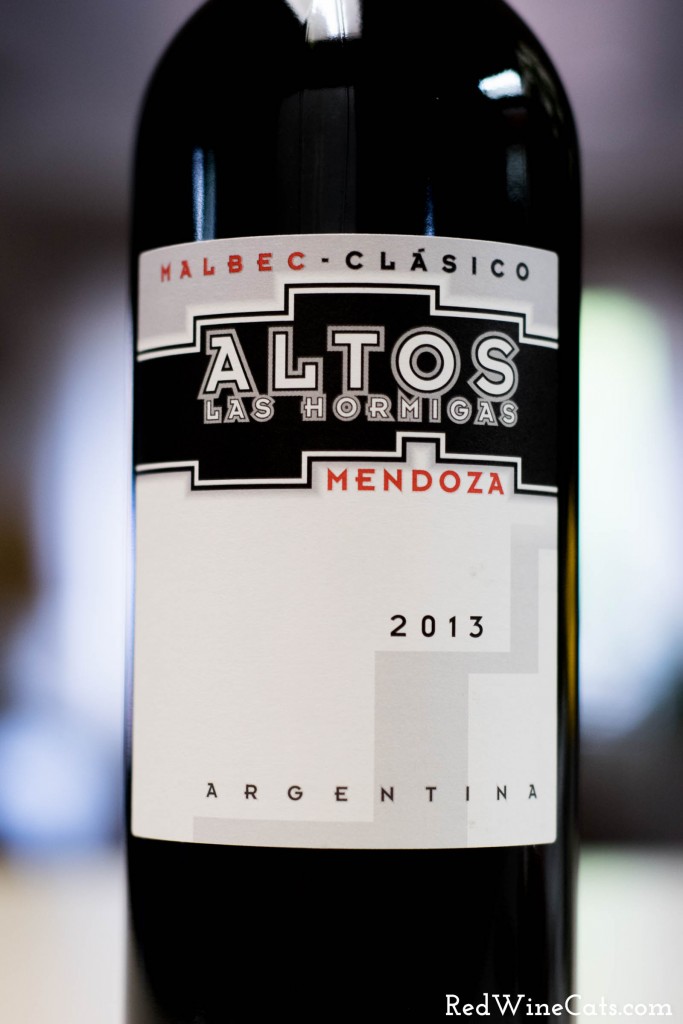 I owe a big thanks to Nick Berube (follow him on Twitter: @WineCommGuy) for suggesting this particular bottle, as I may have not tried it otherwise. I've found a lot of great wine through the wine enthusiasts, winemakers, and especially wine writers through Twitter. Happy to find new wines to support and love through these new wine friends!
Learn how to divert ants without harming them
After reading about Altos Las Hormigas diverting the ant colonies naturally, I was inspired to learn how to do this.  We have a lot of ants this time of year and with our cats running around, we don't want to use harmful chemicals. I found a nice write up on EveryDayRoots.com.
Geography & Fun Facts
Mendoza is in western Argentina, east of the Andes mountains, and is the heart of Argentina's wine country—where there are over 1,000 wineries (bodegas). Elevation is at 2,449 ft., with vineyards ranging from 2,000 feet to 4,700 feet above sea level.
It takes about 11 hours & 34 minutes to drive from Mendoza to Buenos Aires.
Argentina is the 5th largest wine producer in the world, with 80% from Mendoza—over 75% of the world's Malbec is grown here!
Cheers! Salud!