Box wine (boxed/cask wine) has been around for decades, but recently there's been a buzz surrounding this somewhat taboo form of wine container.  Is it making a comeback?  Was it ever popular?  I was initially against it, could barely make eye contact.  First of all, let's talk aesthetics:  it's a box, not a shiny, nostalgic bottle… inside the cardboard box, enclosing the wine:  a plastic bladder.  The boxed wine bladder (in Australia, they call it a goon bag) is less than desirable in appearance.
First word to come to mind:  Hospital.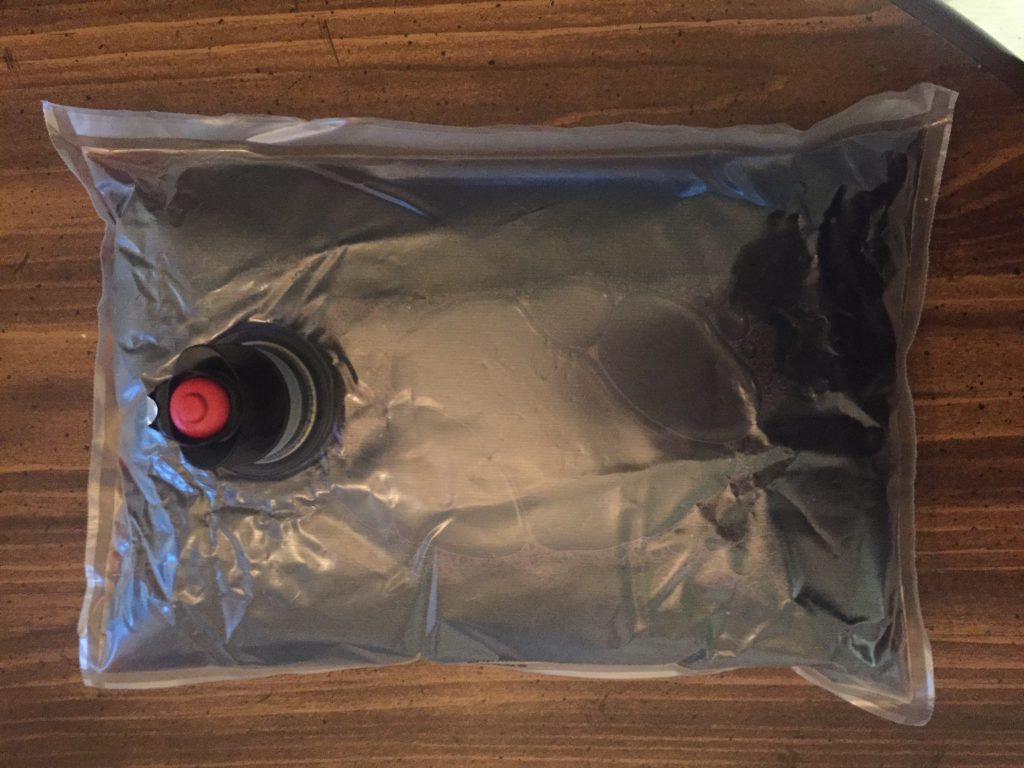 I apologize for that bladder picture.  Take a moment to shake it off if you need to.  If it helps, here's a picture of my little Weasel cat, and a real wine cork (at least it looks & feels real-you never know these days-could be partially synthetic) from a real glass wine bottle:  Isn't that better?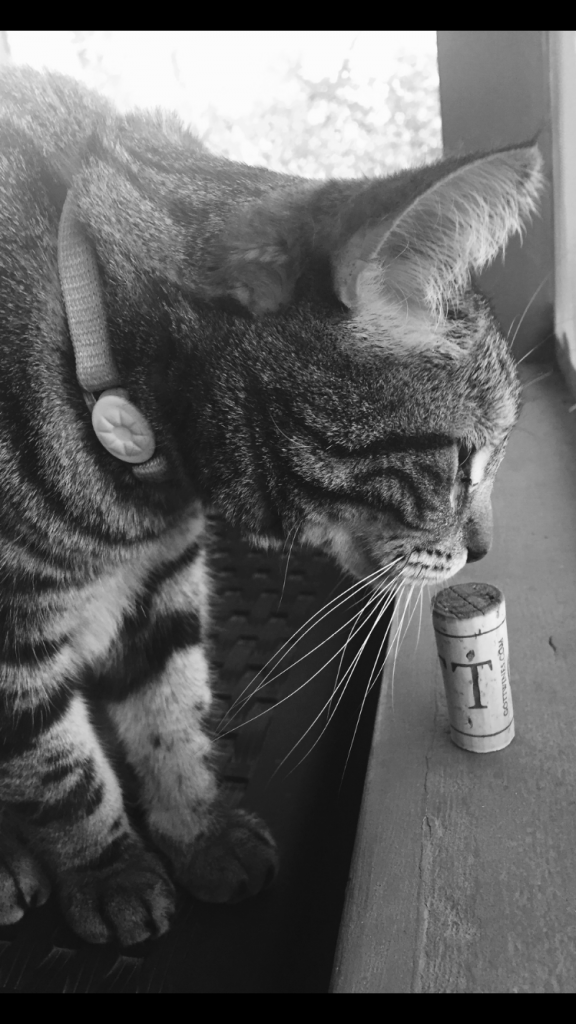 You're not supposed to pull the plastic bag (bladder) out of the box.  There's a perforated section on the side to expose the plastic tap, but I had to dissect my first boxed wine purchase: the 2014 Postulate, The Second, Cabernet Sauvignon.  It's aged in a blend of American & French oak for a minimum of two months, with 13% alcohol.  The design isn't bad at all…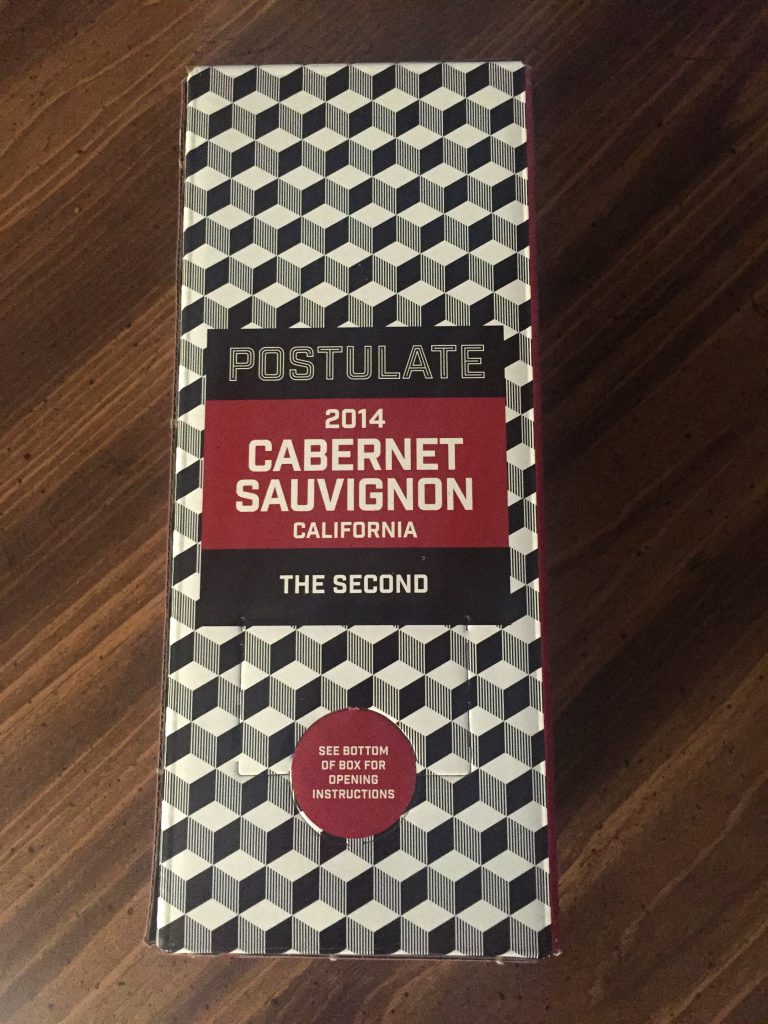 This particular box is a Trader Joe's exclusive, sourced from vineyards in California.  On cheapwinefinder.com, they describe it as fruit forward & the color being "an opaque blood plasma red."  See!  Hospital.  In my opinion, it wasn't opaque at all.   I can see right through you, wine imposter!  But, in all honesty, I've tasted worse inexpensive reds from glass bottles.  Summer is almost here… stock up on this now and use it for big batches of Sangria!  It would be great for parties and when it gets late, just pour it in a pretty decanter, add some pungent, sharp cheddar and everyone will be perfectly happy… besides, almost all wine tastes great with friends.
Pros:

*Cost!  It was only $7.99 (in CA, it's $6.99)
*One box = Two bottles of wine = $4 per bottle (many other brands contain the equivalent of 4 bottles)
*The bladder (inner bag) is BPA-Free plastic & can be recycled (shouldn't all plastic be BPA-Free!?)
*Stays fresher, up to a few weeks.  Only a few days with a glass bottle…
*It's smug free
*Environmentally appealing and is less likely to break if you drop it/good for beaches/picnics
*No cork taint
*They're big juice boxes for adults & perfect for making icy, fruity Sangria (if you like that sorta thing)
Cons:
*It's cheap/quantity over quality (in most, but not all products)
*It doesn't have a cork, so there's no cork to keep or write on (how would I keep my daily diary??)
*It doesn't age well (see your expiration dates people) due to the plastic being more porous than glass
*I guess you're supposed to refrigerate it after opening… even the reds (Boo!)
Overall, I'm becoming more open-minded to this form of wine storage and transportation.  I've heard great things about Wineberry and love their design/wooden crate looking boxes!  The romantic side of me still prefers and loves the glass bottle and cork.  Cork harvesting is done by hand and cork trees are one of the most amazing, living wonders of nature… but, with the magnitude of wine production and consumption in the world, maybe the real, natural cork should be kept for the premium quality wines with much higher price tags.  The screw caps, boxes and bladders may be the future of delivery for the masses… and, I guess I'll have to be o.k. with that.  Cheers!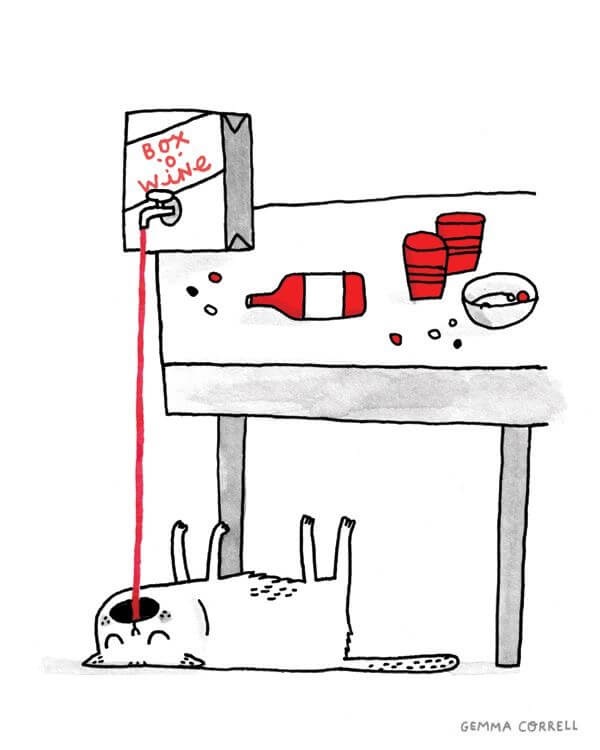 Cartoon picture by Gemma Correll!  Check out her cute drawings at:  http://www.gemmacorrell.com/