Have you ever tried a wine, really enjoyed it, and then discovered that the winemaker is adorably outgoing, friendly, and creates ultra cute social media posts while also being smart and informative? And, although you've never met her in person, you know you like her and this just might be your new favorite winery? Follow owner and winemaker Kerith on her entertaining Instagram account (often set to fun music, big smiles, and dancing) or when she's taking over Petaluma Gap's page, or when she's highlighting other local wineries and grape growers. Plus, she makes punchdowns and cleaning barrels look like pure bliss…
"We think that wine is elemental – elemental to a day well savored and a life well lived" ~Bruliam Wines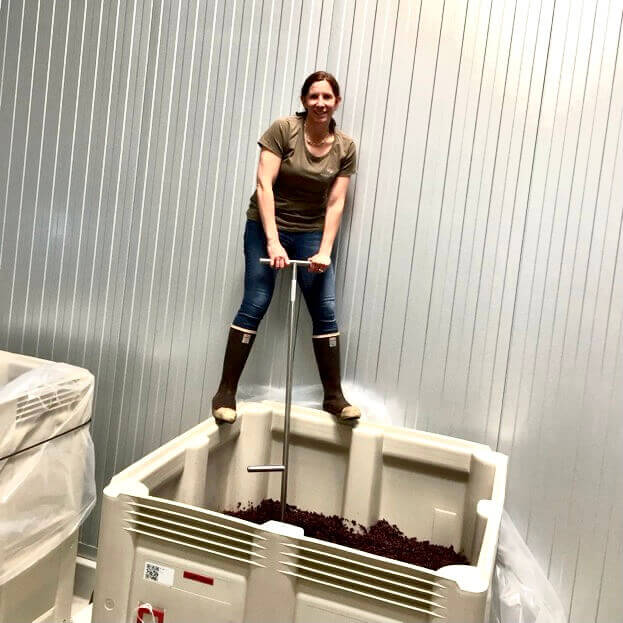 When Kerith Overstreet was young, her dad used to tell her she could be anything she wanted to be after medical school. So, she went to medical school and became board certified in pathology (piece of cake, right?). After two fellowships, she decided being a winemaker sounded like more fun so she enrolled at UC Davis to study enology. It's been over a decade now since her first harvest in 2008, and you'll find Kerith's wines, as well as her happy, positive energy infectious. She clearly took the right path. And, her dad will still tell everyone he knows to "drink beryllium" (he also makes amazing little cheese boards from retired oak barrels)!
"Yup, one part nerdiness plus molar equivalents of love and passion makes for great wine." Kerith, Bruliam Wines
The name Bruliam is a blend of her children's names, Bruno, Lily, and Amelia. Her logo (Bu) looks like an element from the Periodic Table of Elements while the dots on the label are for her kids—a single dot for Bruno and a fusion of two dots for her twins, Lily and Amelia. You'll also see her rescue winery dogs, Dexter and Chewie, on some of the labels as well. Bruliam is a boutique winery in Sonoma County, California filled with passion not only for creating beautiful wines, but for family and giving back.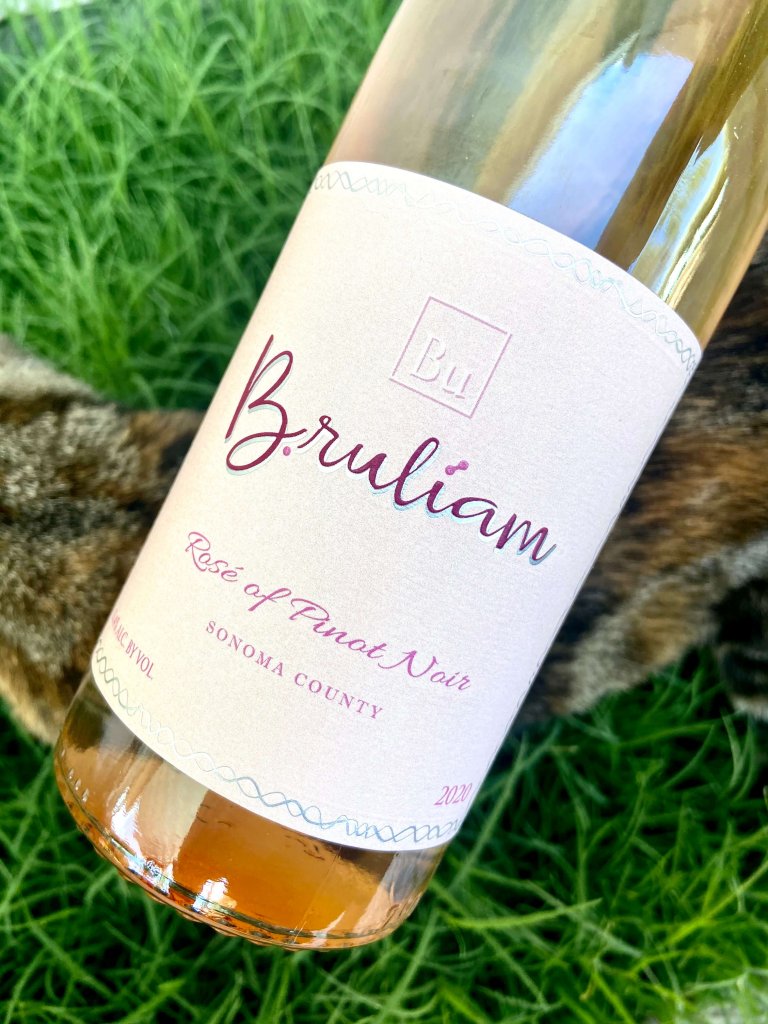 Female Owned and Operated
Kerith must have more hours in a day than I do, because she does it all. Owner and winemaker of Bruliam Wines, former doctor (she even put on old scrubs and has been volunteering to give Covid-19 vaccine shots in her community!), mom to three kids, and she somehow still finds time to create fun and informative videos on social media. Per her website, she also holds the titles: Chief of Grower Relations, Head of Marketing, Director of Sales, and Go-to Tank Sanitizer. She writes all of the copy for her website, labels, tasting notes, and tech sheets. She does everything herself (except spreadsheets) and you'll still find her smiling and baking a lemon pound cake from scratch on her Instagram account. So yeah, she definitely has more time than me… or better time management (or maybe it's the Bruliam). And, you'll never see a happier bunch of people on bottling day:
Bruliam 2020 Rosé of Pinot Noir
Tangerine sunshine in a glass, Bruliam's rosé is bright, crisp, and perfectly dry with a pretty balance and texture. Such a gorgeous sipper on its own or your new favorite foodie wine. Grapes are sourced from select vineyards in Sonoma County, where Kerith is deeply committed to the growers and their quality fruit.
100% Pinot Noir -blend from fruit sourced from Sonoma County winery partners
Aged 5 months in stainless steel and neutral oak
Sparkly, dollop of pink wax on top of cork added by hand
13.4% ABV
Limited Production
$25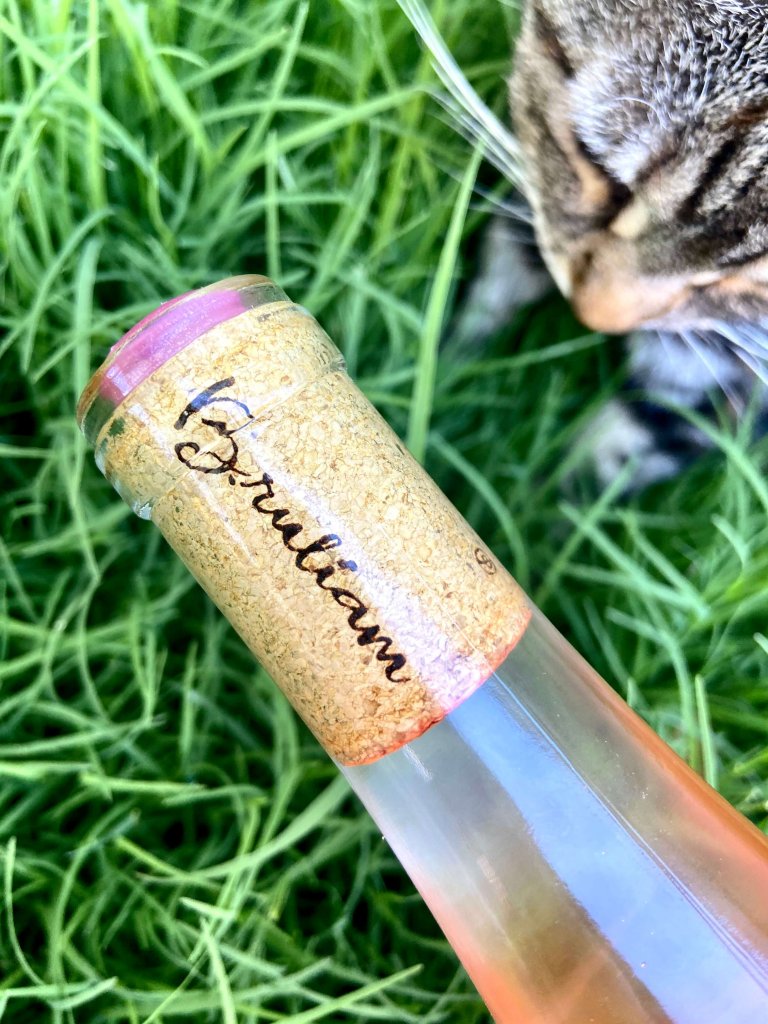 During a recent hour long #PinkSociety (fastest hour on Twitter) wine chat with Kerith, we discussed all things Bruliam Wines, all with a charcuterie theme. If you'd like to discover boutique, small, amazing wineries you may otherwise have never learned about (which would be tragic!;), please check out this inclusive, wine loving group out on Twitter.
Vineyards of Bruliam
Torrey Hill Vineyard
Bruliam's estate pinot noir vineyard is in the Russian River Valley, dating back to the 1960's. The name Torrey comes from the unique, endangered Torrey Pine trees found only in La Jolla, where Kerith and her husband Brian met when they attended La Jolla Country Day School.
"We met there in 10th grade, and yes, we were an undeniably cool bunch of fighting trees!"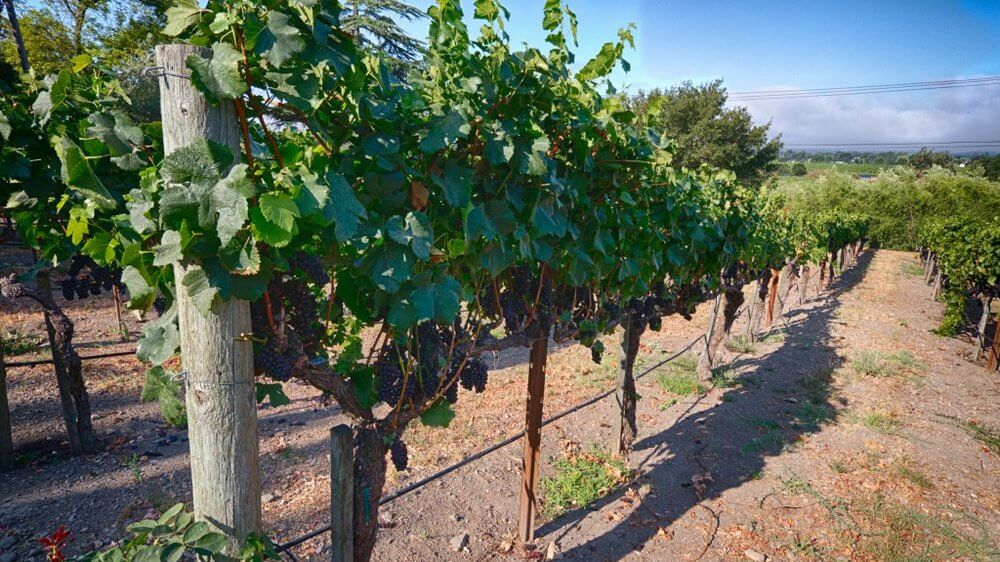 Gap's Crown Vineyard
Bruliam's oldest vineyard partner, Gap's Crown's fruit was her "golden ticket into Sonoma's most preeminent winemaking club" and where viticulture is said to be postcard perfect. Kerith may have bribed the vineyard crew with her homemade cupcakes (she believes in edible bribes!).
Soberanes Vineyard
According to Bruliam Wines, this vineyard put Santa Lucia Highlands on "every pinot pimp's map".  It's in the heart of the Santa Lucia Highlands owned by the Pisoni and Franscioni families, a friendship spanning three generations.
Working with the best grape growers in California, Bruliam is deeply committed to their fruit. This relationship is something of a sacred pact. ~Bruliam Wines
Sangiacomo Roberts Road Vineyard
It took two years after her first e-mail request to get her hands on some fruit from Mike Sangiacomo. Planted in the Petaluma Gap in 1998, this vineyard is 100% sustainably farmed and certified by the California Sustainable Winegrowing Alliance.
Rocky Ridge Vineyard
"The rumors are true. I stalked the Mauritson family for months to secure this fruit. It was a full time job. There are lots of them. This family has been procreating in Sonoma County since the 19th century." Kerith's stalking paid off with a handshake deal for this fruit (and she keeps baking biscotti for Chris's wife).
Heintz Vineyard
Kerith scored the coveted spot in the "Heintz Friends and Family" program when she met Mrs. Heintz one day while they were pouring wine side by side. During a casual conversation, they learned they both had twin girls, the same age! The "double double trouble" got her an in on this fantastic Chardonnay. Heintz Vineyard is known for producing exceptional quality fruit grown by 3rd generation farmer Charles Heintz, where he sells to a handful of "select, high-end California Chardonnay and Pinot Noir wine producers."
"I strive to craft world class wines that reflect vineyard site and impeccable farming, doing our grower partners proud." ~Kerith, Bruliam Wines
Bruliam Gives Back
Every year, two boxes of magnums are donated to charitable events. Recently they've done a fun campaign for their direct to consumers, asking people to submit they're favorite Bruliam wine bottle photos and if they win, they make a donation to the charity of their choice. Per Kerith, "It's really important to give back, but we want to share the love from all the different charitable organizations with the people who enjoy and drink our wines."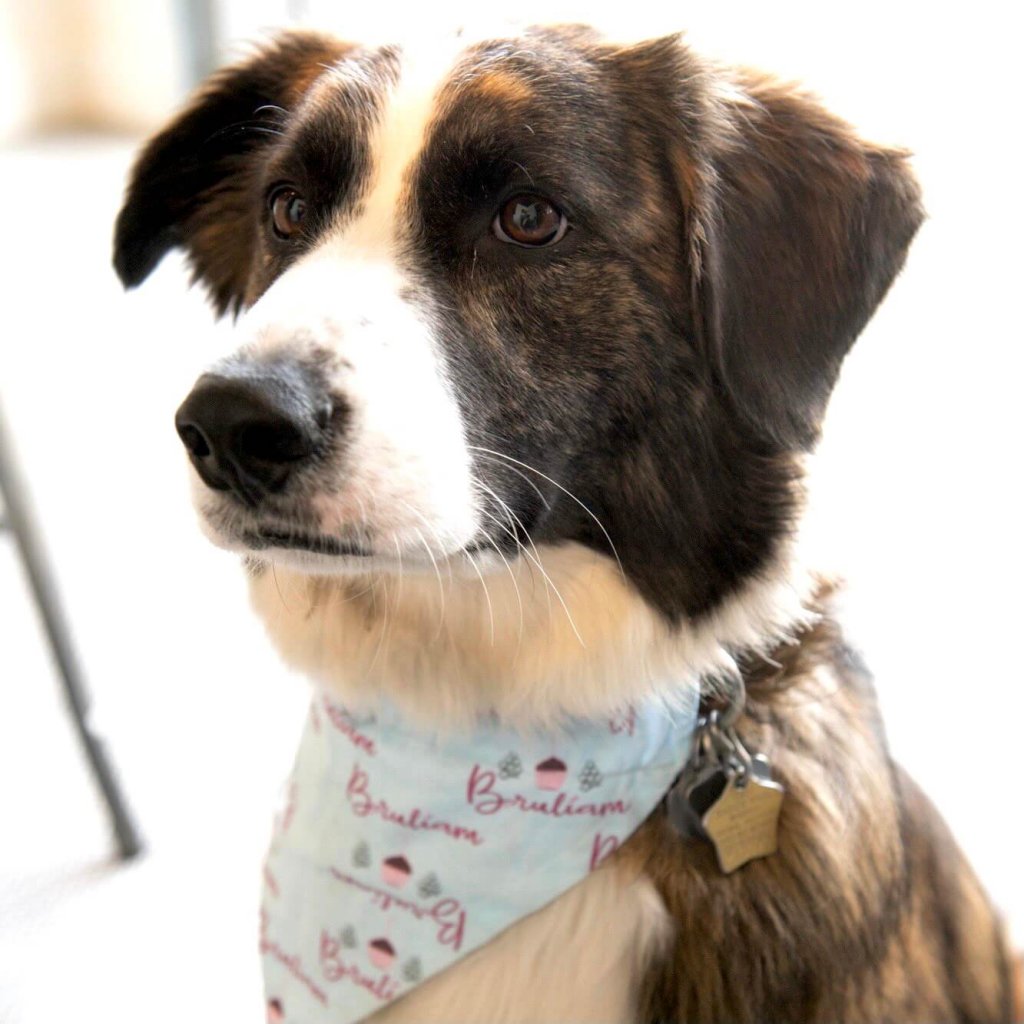 Get Your Wine-Loving Hands on Bruliam if you Can
Being a boutique producer of premium, single vineyard wines, production is low while quality remains high. You won't find her wines in your local Target (I know, what an inconvenience!) but if you sign up for the Bruliam mailing list, you'll have dibs on purchasing directly from the winery. Single vineyard Pinot Noir appears to be her specialty, along with a fantastic sounding Zinfandel and Chardonnay. If you happen to get your hands on this bright, juicy 2020 rosé of Pinot Noir, you won't be disappointed.