Have you visited Corner 103 in Sonoma, California? It's on the corner of West Napa Street and First Street West (103 West Napa Street) in historic Sonoma Square. Founder Lloyd Davis wanted to create an environment where people could come to learn about wine and enjoy tasting in a relaxed, non-intimidating atmosphere. And, his vision must've worked because Corner 103 was named "Best Wine Tasting Room in America" by USA Today. From the glowing reviews online, it sounds like the place to be (and on my extensive must visit list).
Lloyd opened Corner 103 in April 2015 after spending over 30 years in the banking and finance industry in New York. He was born and bred in Manhattan, and while he may miss a TRUE New York bagel and Broadway, following his passion for wine, he now calls Sonoma home.
For many, NYC is a tourist destination. For me, it's home! However even living there I was always in awe of the monuments around me, just like I am of the vineyards, iconic wineries, and history here in Sonoma. ~Lloyd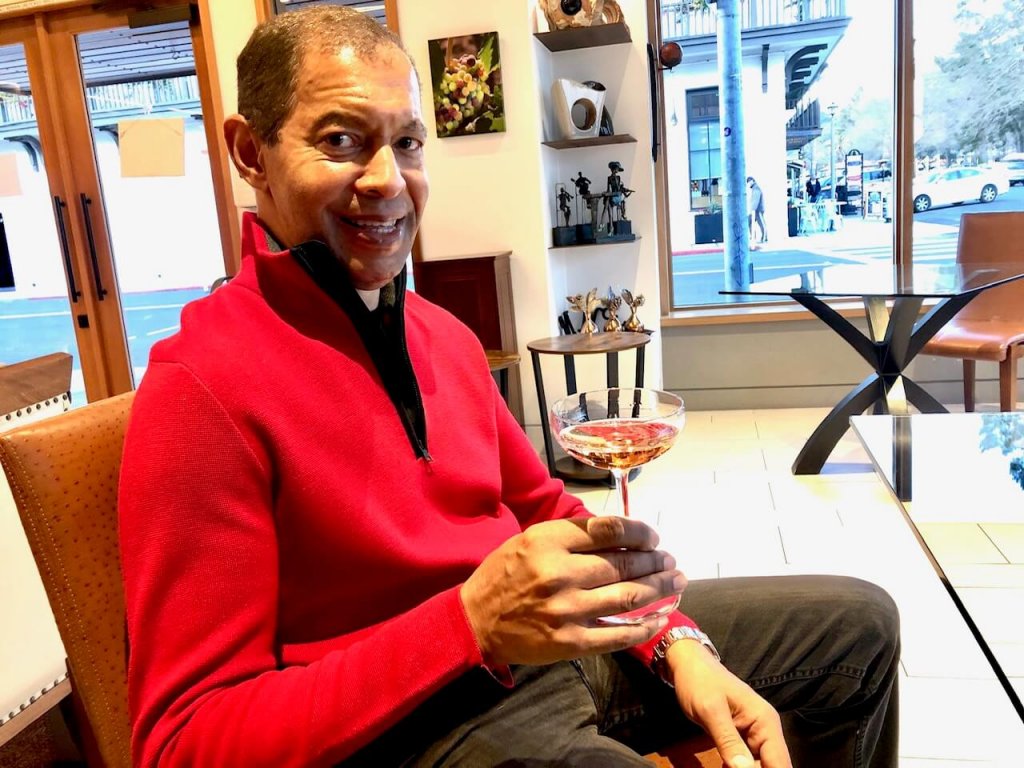 I Wanna Coupe Baby
Besides making each guest feel welcome and relaxed, Lloyd serves his sparkling wines in coupe glasses. When I heard this, and saw the photos, it inspired me to get out (and dust off) a vintage coupe I inherited from my grandmother Lanelle. I only have two and rarely ever use them, as I am always afraid I'll somehow trip over a cat and break them! Cats are silent, furry ninjas, suddenly appearing at your feet. But, I was extra careful as I didn't want to break my coupe (or hip), nor did I want to spill one single drop of this delicious, bubbly, sparkling rosé.
Here I go, here I go, here I go again (again?)
Girls, what's my weakness? (Wine!) ~Shoop, Salt-N-Pepa (edited version;)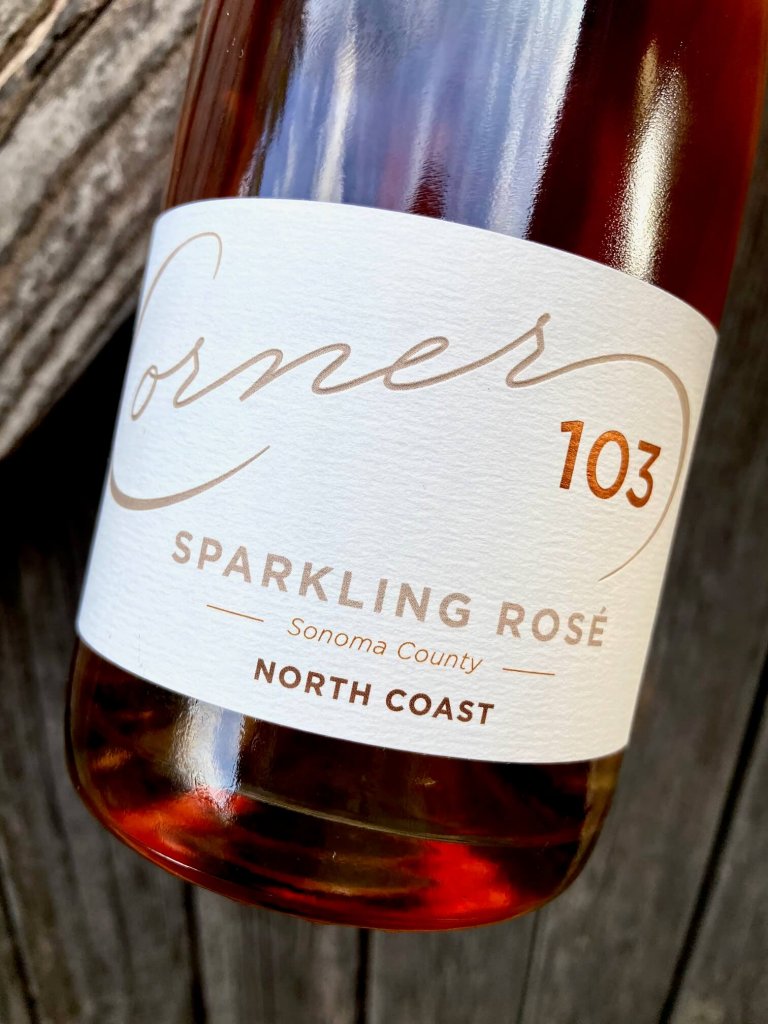 Corner 103 Sparkling Rosé
Made from a blend of 84% Pinot Noir, 12% Chardonnay, and 4% Pinot Meunier, this Gold Medal winning sparkling rosé has notes of ripe strawberries and pairs with feelings of happiness. It's dry, but has just a tiny touch of fruity sweetness, making it a universally palatable wine. Your sweet tooth, Moscato drinking friends will love it, as well as the bone dry cool cats. Serve it in a coupe, sip, and savor. Pairs well with rich sauces, soft cheese, seafood, fried, fatty foods, and day dreaming.
84% Pinot Noir, 12% Chardonnay, 4% Pinot Meunier
Made traditional method – methode champenoise
Harvest Dates – September 2016, 2017 and 2018
Disgorge Date – October 2020
12.5% ABV
North Coast Appellation
176 Cases Produced
Winemaker Ron Goss
$44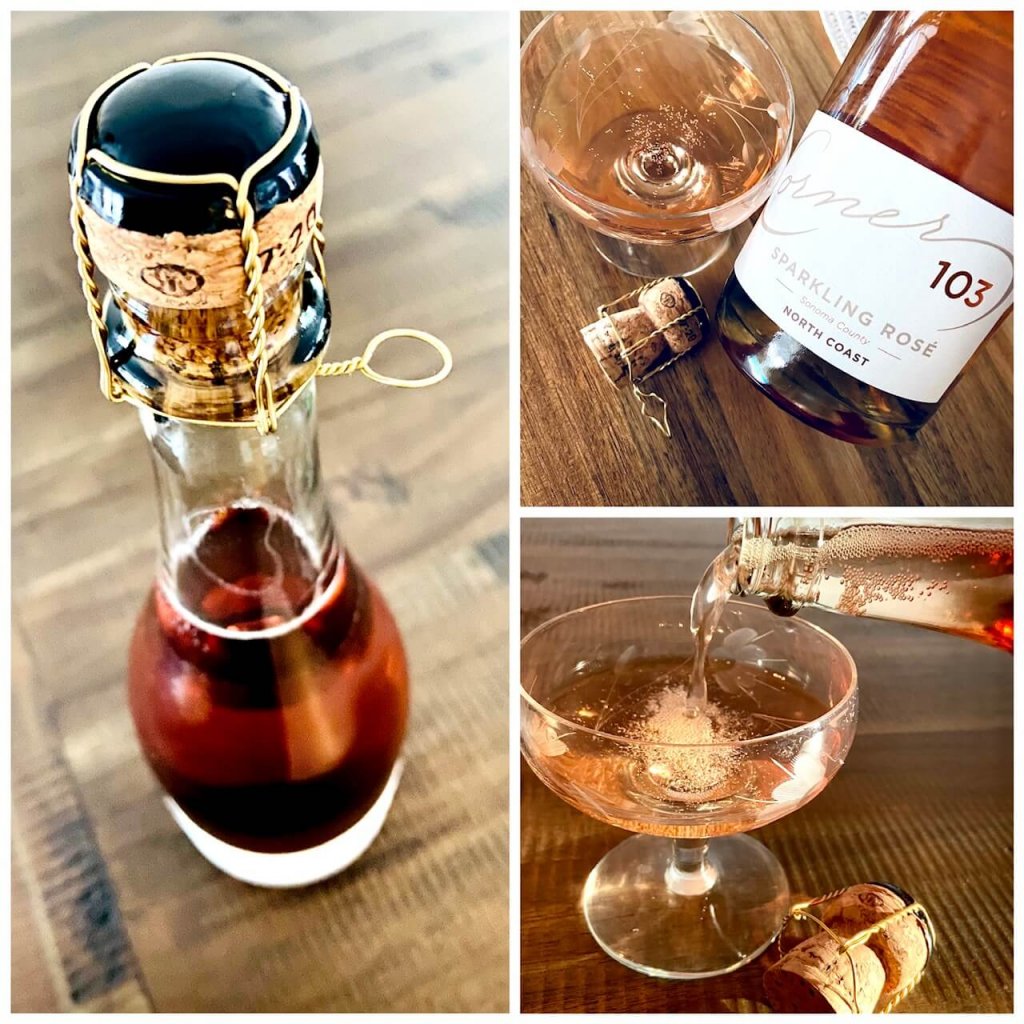 Black-Owned Business
I was fortunate to be able to sample this gorgeous sparkling rosé and join the Pink Society chat along with Lloyd and Sarah of Corner 103—to discuss all things their friendly winery, their wines, and being a Black-owned business. Per Lloyd, "As a Black-owned small business, my staff and I believe Black Lives Matter. It's tragic that it took the death of George Floyd, Ahmaud Arbery, Breonna Taylor and more to reveal it. Is the support we've seen biz wise sustainable in the wake of it? I hope so."
This past year I've seen much more mention (wonderfully so) of Black-owned wineries and businesses on social media. It's estimated that only about 1% of wineries in the United States are Black-owned, and hopefully that rises with more support and inclusion. From the farmers and grape growers, vineyard managers, artists, winemakers, winery owners, etc., diversity in life and wine is better and more vibrant.