Eden Rift's 2017 Estate Pinot Noir tastes like… remember that vacation you took and after walking and exploring all day you stopped at a small, street side restaurant you knew nothing about? No checking online reviews or studying the menu ahead of time, it just had a good feel to it. What was the name of it? It had soft amber lighting and All That We Perceive was playing in the background. You got lucky with a great patio table outside (weather was perfect) and with the content, positive vibes flowing, and zero expectations, you threw caution to the wind and ordered a random bottle of red. And, it ended up being so, so good. Kind of like that. Eden Rift Pinot Noir pairs well with mental vacations. I recommend at least two glasses (or cases).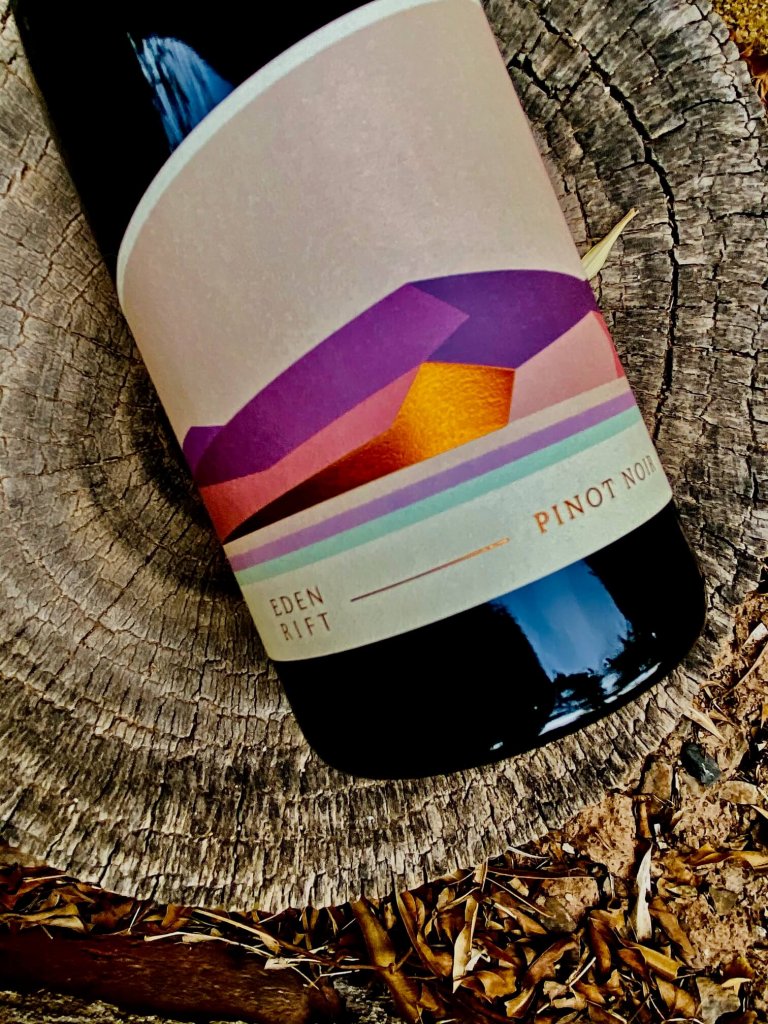 The Grapes of Rift
One of the oldest estate vineyards in California, Eden Rift is nestled next to the Gabilan (or Gavilán meaning "sparrow hawk" in Spanish) Mountain Range in the Cienega Valley AVA. Thanks to the Monterey Bay being twenty miles away, their grapes, especially Pinot Noir, enjoy a cooling maritime influence.
Cool air off the ocean is drawn and funneled through the Gabilan and Santa Lucia mountain ranges, moving down the valley with increasing force as the day progresses. The ocean air acts as a natural air conditioning system that mitigates the rise in temperature from north to south and extends the growing season, allowing for slow, gentle ripening. ~A Taste of Monterey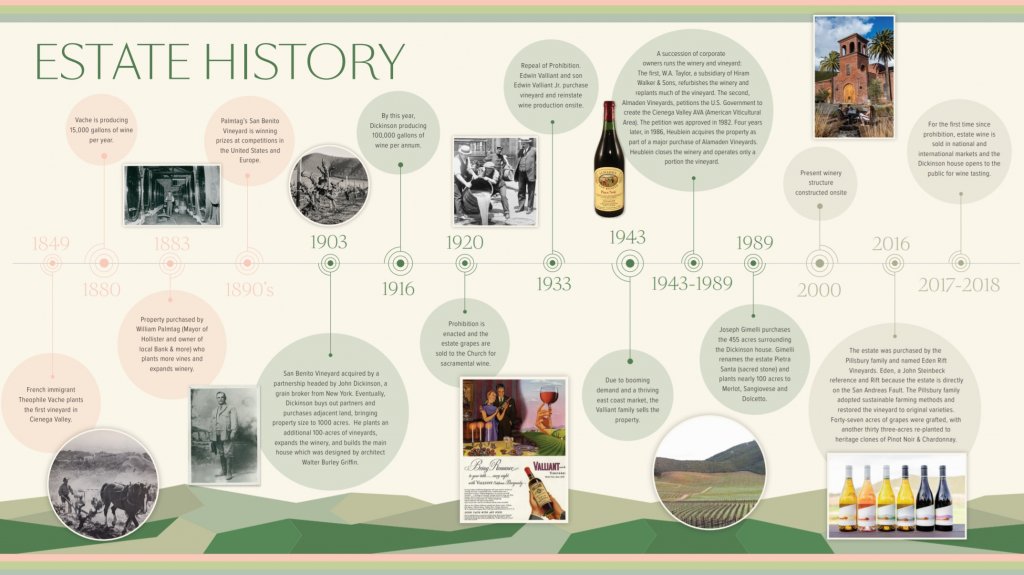 Thriving in Inhospitable Soils
It's all about the soil at Eden Rift. Per Proprietor Christian Pillsbury, one of the distinguishing characteristics is their unique soil of dolomite and limestone. They're on one of only two bands of limestone available to vineyards in California. Not all grape varieties do well in this type of soil, but Pinot Noir and Chardonnay seem to shine.
Pinot Noir and Chardonnay seem especially simpatico to this estate site, and it is through these two transparent varieties that we have found the most honest and pure expression of terroir at Eden Rift. ~Eden Rift
Of their 120 vineyard acres, the majority planted is Pinot Noir, followed by just under twenty acres of Chardonnay. Two acres of historic Zinfandel sit right next to the Dickinson House, three acres of Pinot Gris, and lesser amounts of Grenache, Syrah, and Mourvèdre—all thrive in "nearly inhospitable" soils.
"The land is so much more than its analysis." ~John Steinbeck, The Grapes of Wrath
Farming Practices
Since acquiring the estate in 2016, with respect for the land and history, Eden Rift has implemented several positive farming practices. Their cover crop is "going wild" this year, replenishing the soil with nitrates and nutrients, while organically keeping pests under control and helping with water retention.
Organic Gyspum added to help leach salts, which helps improve microbial activity, increasing availability of nitrogen and phosphorus
Organic Compost allows for better nutrient and mineral uptake in the vines, and better water holding capacity
Organic cover crop consisting of bell beans, peas, vetch, and barley, helps fix nitrogen and adds more organic matter back to the soil
Organic fungicides and no use of Round Up
Weather stations and sensors help regulate and minimize water use
Currently working on Sustainability certification
"This house, this land, has passed through various courageous, hard-working hands. It's daunting to walk lockstep through history with these earlier pioneers. I'm just keeping my head down, trying to restore this property and vineyard mindfully so that it can reveal all of its historic and natural glory." ~Proprietor, Christian Pillsbury.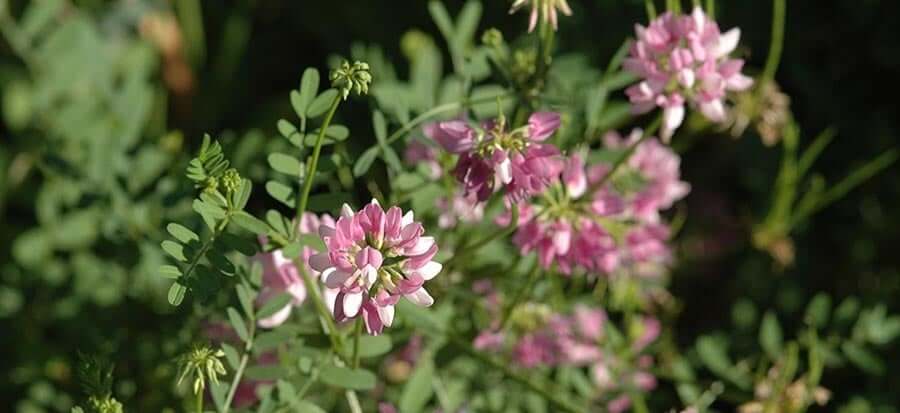 Terraced Pinot Noir
Terraced blocks of Pinot Noir are unique. From their Q-Block, 6.3 acres of 100% Calera clone, they make a single varietal called Lansdale. Q-Block is the highest block on the estate, reaching 1,600 feet. Per Christian, "There are a precious few acres of terraced pinot noir in California, because to be honest, it's incredibly expensive and difficult to farm, but the quality is off the charts."
The oldest vines at Eden Rift are their head-trained block of Zinfandel, planted in 1906. The Dickinson Block, planted right next to the Dickinson House, has survived prohibition, two world wars, several owners, and is part of the Historic Vineyard Society. Designed by famed architect Walter Burley Griffin, the Dickinson House is also where wine tastings will resume when we can all go visit them again post-pandemic.
"We want the vineyard to remain healthy and vibrant for another 170+ years." ~Eden Rift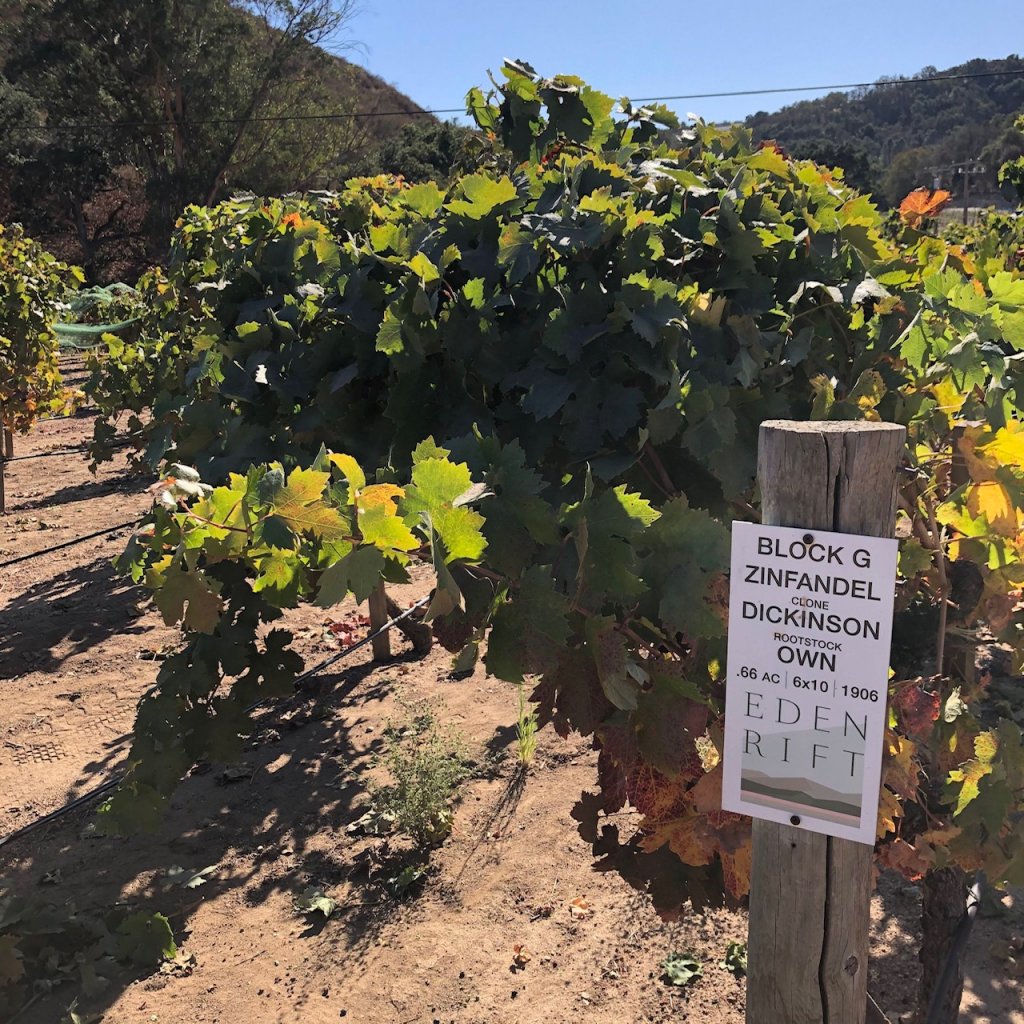 The name Eden Rift is a reference to East of Eden author John Steinbeck and to the San Andreas Faultline, which runs directly through their property. Steinbeck, also the author of The Grapes of Wrath, was born in Salinas and lived in Monterey County, also known as "Steinbeck Country". Rift in the calcareous soils as a result of the fault, impact the minerality in their wines.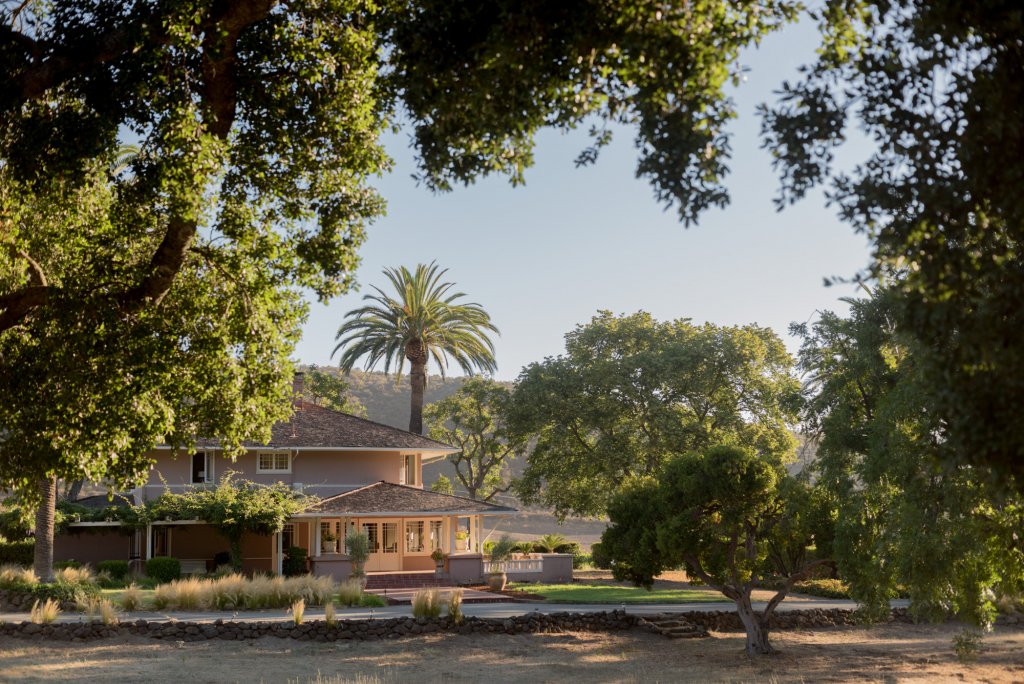 Eden Rift Vineyards 2017 Estate Pinot Noir
The 2017 Estate Pinot Noir is said to be the voice of Edin Rift. Made from three clones, all uniquely trimmed and harvested, the combination makes for a beautifully balanced bottle of wine. Per winemaker Cory Waller, of the three clones, 777 has more fruity characteristics and aromatics, with an up front mouthfeel. The 115 is the mid palate, whereas 828 is floral and fragrant, providing good finish and structure. They do about 2-3 punch downs per day, use all native yeasts, and are "pretty hands off" allowing the wine to give its most natural expression. Vineyard Manager Sandy Matthews also has some great informative videos on their Instagram page.
100% Estate Pinot Noir
14.2 ABV
Whole cluster fermentation with native yeasts
Aged 11 months in French oak (20% new)
91 Points- Wine Enthusiast
91 Points- Robert Parker
$48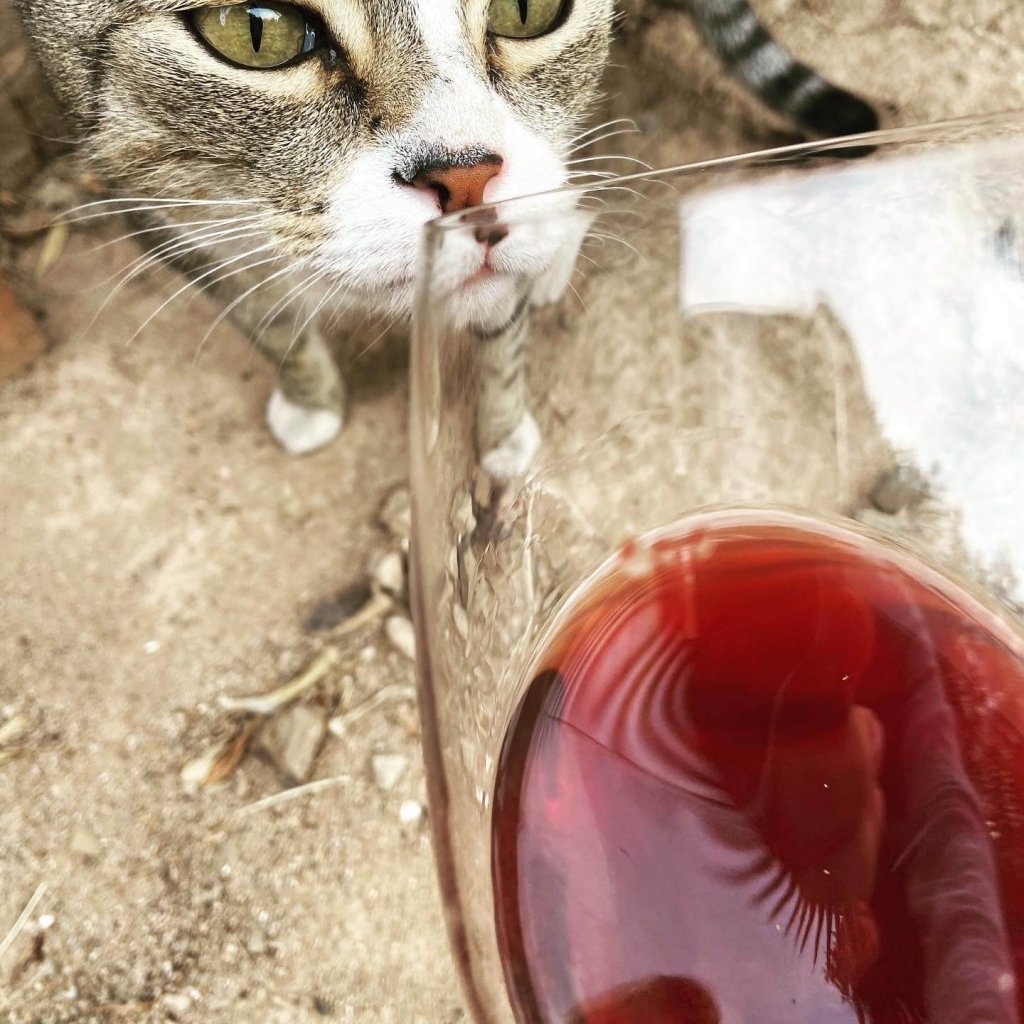 Wine Magnet
During a recent hour long Pink Society wine chat (where we're all wine magnets) with Eden Rift, the theme was refrigerator magnets. Per Amy Vogt, head of sales and marketing, in regards to the magnets, "We share photos of our families, wedding invitations, really important moments for us… and we feel like that relates to wine because a special bottle of course can be shared (with friends and family) and it kind of transports you back to the vintage or trip, or day you purchased the bottle on… it transports you back in time." With Eden Rift's property being one of the oldest vineyards in California, their wines, rich with history, can definitely transport you to a happy place in time.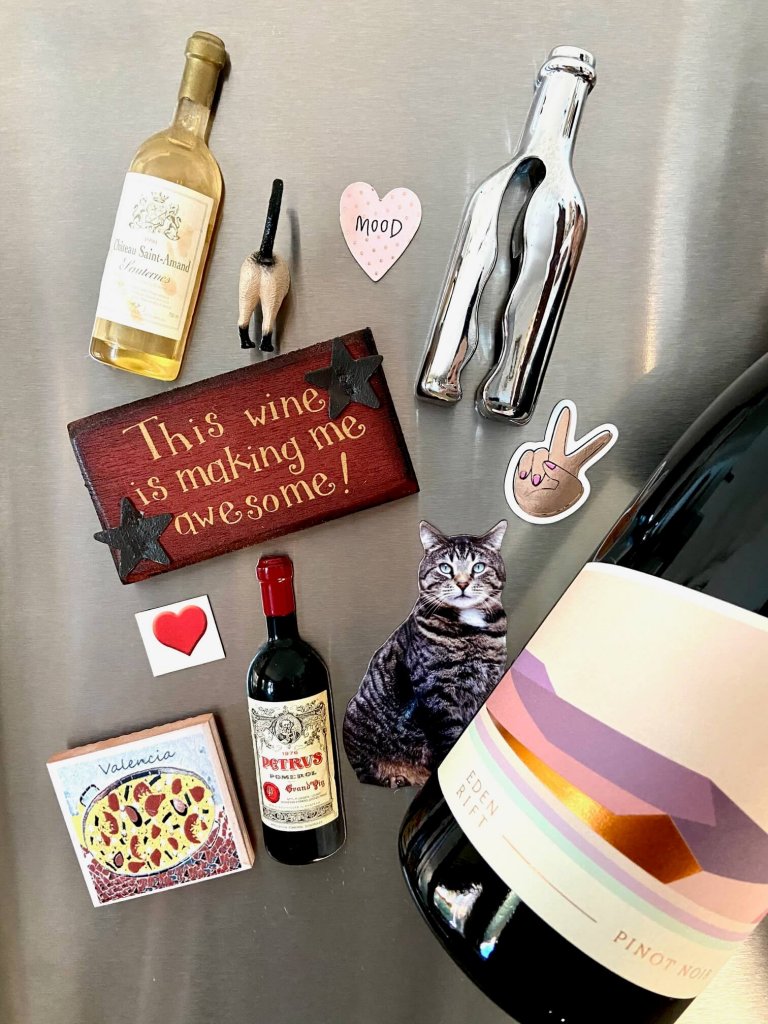 Pinot Worth the Splurge
I opened this bottle (sample courtesy of Eden Rift and The Pink Society) at 56°F, the temperature my tiny wine frig is set at—perfect for Pinot! Did not decant, and truly was pleasantly surprised at how much I liked it from the first sip. Pinot is known for being food friendly, but it was such an enjoyable, smooth sipper on its own.
"There is more beauty in truth, even if it is a dreadful beauty…" ~John Steinbeck, East of Eden
Truthfully, the majority of California Pinot Noir I've tasted and purchased in the past has been budget-friendly, in the $15-$30 range (with splurges here and there, of course). And, the vast majority of them have been, well, let's say a bit thin and lackluster for me. I find, generally speaking, people either love Pinot with a cult-like following, or they've had too many "so-so" examples and might likely choose a Cabernet or Zinfandel in the same price range as a safer bet. At $48 for Eden Rift's flagship Pinot, it is a bit of a splurge (their Lansdale single varietal is $78). But, I wouldn't hesitate to purchase from Eden Rift if the time and place called for a special Pinot (time and place could easily be my couch on a Tuesday… yes, we all need bigger wine budgets). Loved the balance of bright fruit, rich cranberry, savoriness, and overall balance. The quality and flavor is well worth the price, and expresses how delicious Pinot Noir can be.
"In the souls of the people the grapes of wrath are filling and growing heavy, growing heavy for the vintage." ~John Steinbeck, The Grapes of Wrath