We hear the word sustainable in the world of wine often. Merriam-Webster defines this "as of, relating to, or being a method of harvesting or using a resource so that the resource is not depleted or permanently damaged." Some would argue sustainability in wine is just as, if not even more important than organics in terms of long-term environmental impact.
Sustainability in Practice (SIP) Certified is the gold standard for sustainable vineyard and wine certification, challenging growers and wine producers to review, implement and amend practices that impact the earth, its people, and future generations while offering buyers and consumers a trustworthy seal that guarantees conscientious quality. ~McIntyre Vineyards
There are numerous certifications a winery can choose to have. The three basics are: Organic, Sustainable, and Biodynamic. Each has their own unique principles and guidelines, often overlapping each other. If you take time to do a little research the next time you purchase a bottle of wine, you may read on a winery's website that they have all of these practices in place but may have not gone through the expense of the official certification (this is common in the Natural Wine community). They put in the effort, time, and hard work because its the right thing to do.
The basic concepts behind each certification are listed below, however it is not an exhaustive list:
Sustainable – Reducing waste, environmental protection, energy and water conservation. Example: SIP Certified
Organic – Grapes grown organically, additives are organic (no GMO's, synthetic ingredients, sulfur). Example: USDA Organic
Biodynamic – All about the health of the soil. Like organics, no pesticides are used. Biodynamic also has sustainable methods. Holistic, even spiritual approach to farming, using natural fertilizers (even buried cow horns). Example: Demeter Certified Biodynamic
SIP Certified Sustainable
One certification process, SIP, began in California's Monterey and Santa Barbara counties in 2008. Beginning with 3,700 acres, today there are over 43,600, extending to vineyards in Michigan. Steve McIntyre of McIntyre Vineyards in Monterey County's Santa Lucia Highlands AVA is a founding member of the Central Coast Vineyard Team, and his vineyard was one of the first properties to become SIP Certified.
SIP Certified wineries go over and beyond, extending to ethical business practices—including health and wellness of employees. Wineries who care about their farm workers as much as profit, are wineries we need to be supporting.
SIP Certified is a rigorous sustainable vineyard, winery and wine certification with strict, non-negotiable standards based on science and expert input, independent verification, transparency and absence of conflict of interest. ~SIPCertified.org
Perhaps we should think more about the bottles we choose to purchase. Do we go for the cheapest, easiest to find label, where more times than not it may be full of unnecessary additives and chemicals? Or do we support farmers and wineries who choose to not use an assortment of pesticides and herbicides, polluting not only the water supply, but the natural habitat around them for decades to come? Using sustainable practices, which helps the entire environment, including the beneficial insects, birds, health of the soil, plants, and air quality is something to think about the next time you open a bottle.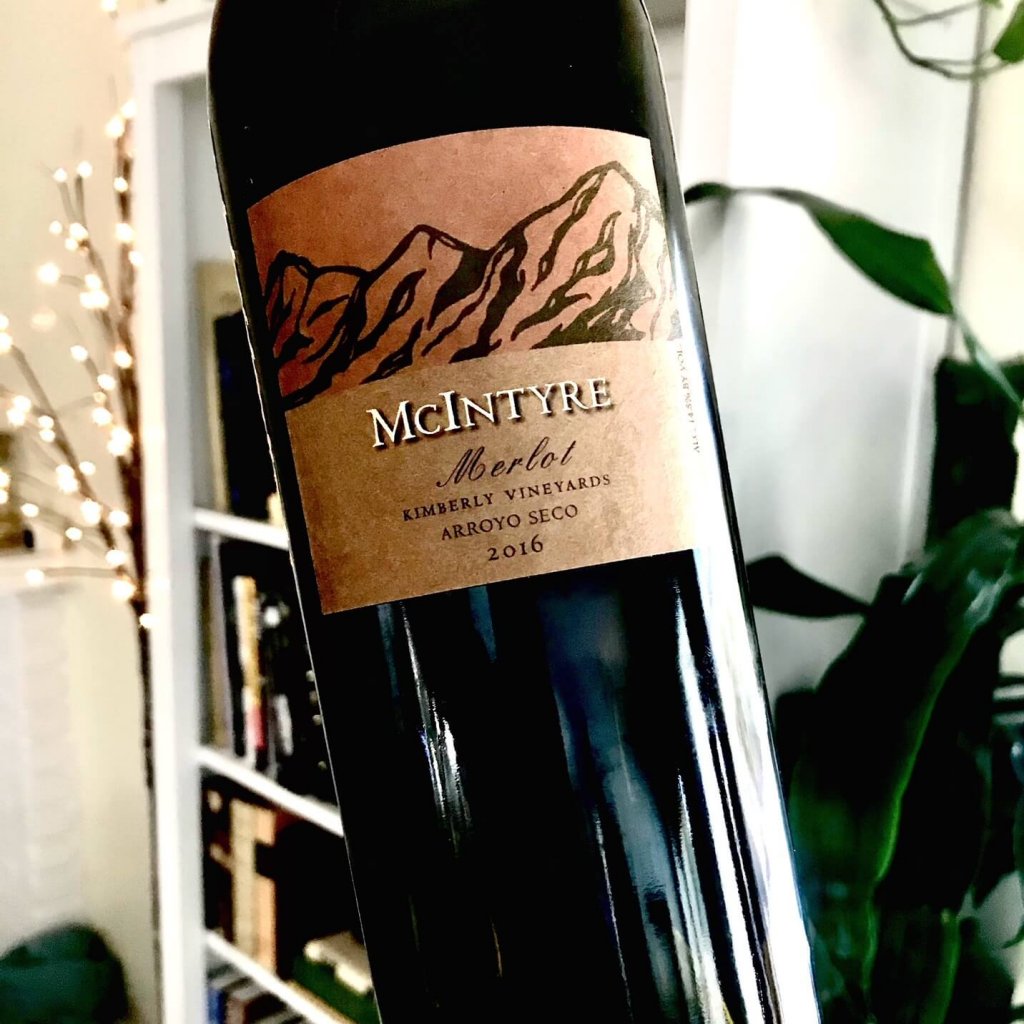 McIntyre Family Wines – 2016 Kimberly Vineyard Merlot
100% Merlot
Arroyo Seco AVA
SIP Certified
Kimberly Vineyard – Named after Steve's wife, 81 acres of Merlot, 20 year old vines, Clone 181, 110R rootstock
Winemaker: Byron Kosuge
13.8% ABV
250 Cases Produced
$25
Decadent Merlot, velvety tannins, rich black and blueberry, and a hint of licorice. This is a bottle you can hold on to for several years, but I loved it now. McIntyre Family Vineyards is a smaller production winery in Monterey County's Santa Lucia Highlands. They're situated in the "sweet spot" of this AVA, with what Steve calls a "Goldilocks-climate".
"Seriously though, this bottling would put Miles on Team Merlot." ~Dezel, My Vine Spot
From McIntyre Family Vineyards
Being SIP Certified shows our dedicated to the 3 P's of Sustainability: People, Planet, Prosperity. We are committed to our '3 P' approach, ensuring that both natural and human resources are protected. Here are a few of their sustainability efforts:
Social Responsibility – Offer competitive wages, medical insurance, training, and education because each worker is a valuable resource
Water Conservation – Regularly monitor soils, plants, and weather, irrigating vines only when needed and we measure water used in the winery to prevent waste
Clean Water – Keep water clean by growing grasses to reduce erosion and filter storm runoff and filter winery water for reuse
Safe Pest Management – Introduce beneficial insects, attract raptors, and plant enriching cover crops to keep vineyards healthy
Energy Efficiency – Use alternative fuels and energy sources like solar and wind, minimize tractor use reduce our carbon footprint, and use insulation to increase energy efficiency
Habitat – Create wildlife corridors to give animals access to traditional watering holes and food, helping to maintain biodiversity
Business – Have sound business practices with a long term view to treat our employees and community with care for generations
Third Party Audit – Adhere to SIP's strict Standards through third-party documentation and onsite inspections
Improvement – Annually update our farming and wine processing Standards as Best Management Practices evolve with new science, technology and research
A Chat with Kristen McIntyre and the Pink Society
During a #PinkSociety chat on Twitter this month, Kristen, Steve's daughter, did a series of videos (you can find them @TasteMcIntyre) and chatted along answering questions during an hour long discussion on all things McIntyre wines (with a crazy socks theme). Per Kristen, they produce about 6,000 cases per year, but as with many wineries, this year has been a challenge and 2020 will be a little less. They make "ageable wines, traditional in style, with a minimalistic, hands-off approach."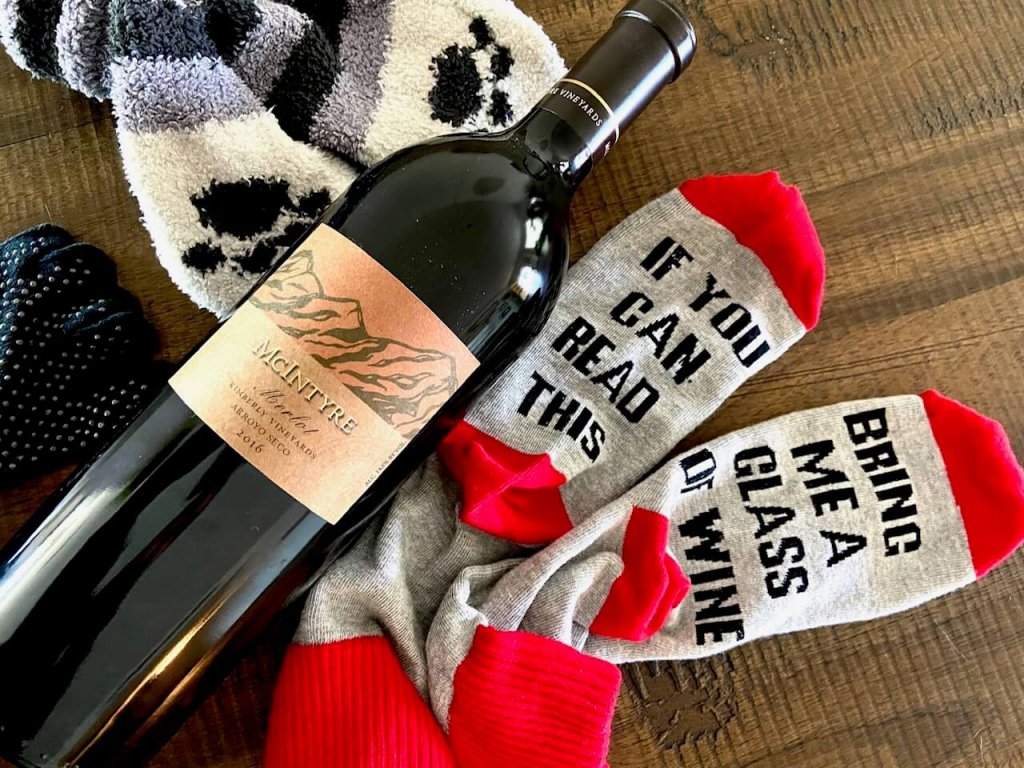 Find McIntyre Wines online, or visit them at their Tasting Studio
169 Crossroads Blvd.
Carmel, CA 93923
Phone: 831-626-6268
Inquiries: taste@mcintyrevineyards.com
"I always wanted to be a rock star, but it didn't work out. So, I became the next best thing: a grape grower. While the idea of playing 'Margaritaville' seven nights a week at a tiki bar in Lahaina has a certain appeal, I think overall I made the right choice." ~Steve McIntyre