Do you have someone in your life who you consider just beautiful, inside and out? They're of course visually appealing, but once you get to know them, and all of their wonderful qualities, you can't help but find them even more beautiful? If that special someone was a bottle of wine, he/she/they could be in the form of Endless Crush, a perfectly pleasant rosé of Pinot Noir from Inman Family Cellars in Sonoma's Russian River Valley. Kathleen Inman, winemaker and owner, originally created this wine as a gift for her husband on their anniversary, to celebrate their "endless crush" (how sweet is that!?).
"The wine continues to be a reminder that the romance of life and the romance of wine are constantly intertwind." ~Kathleen Inman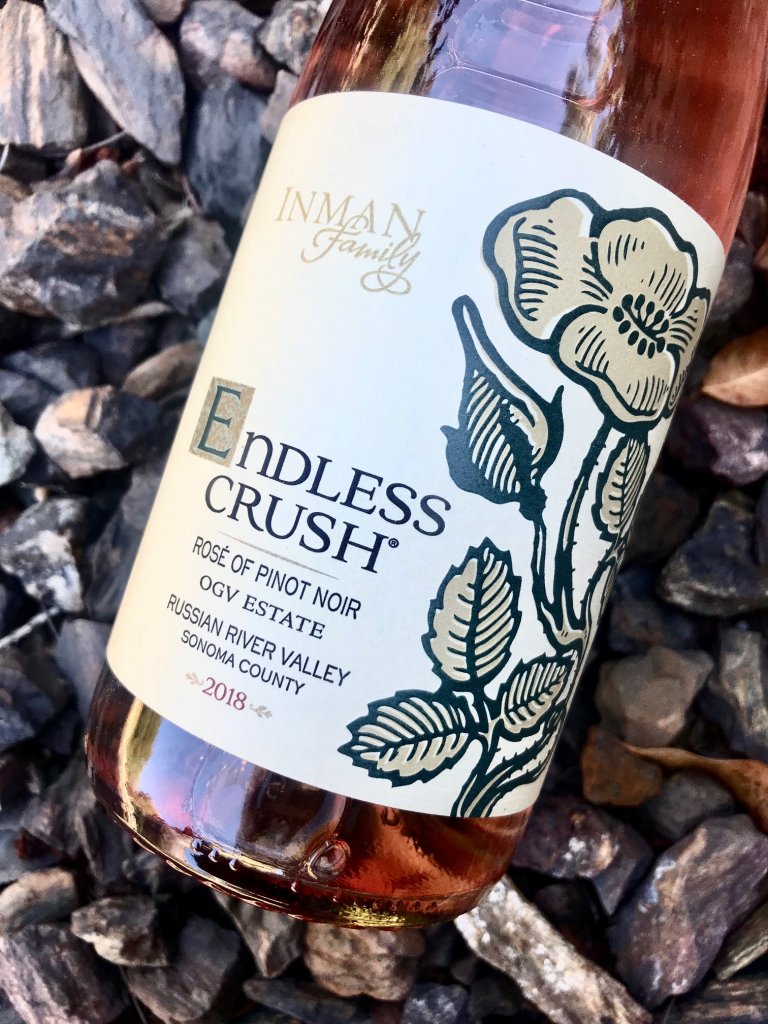 Wine Crack
The 2018 Rosé of Pinot Noir is made from 100% estate grown Pinot Noir. Kathleen's customers have referred to her rosé as "wine crack" and I can see why. Watermelon and strawberries play well together with such a smooth balance of clean mineral notes and aromatics that'll make your olfactory senses happy dance. Perfectly dry, with only 12% ABV, it's a food friendly wine or easy sipper on it's own. Their previous vintage was given 94 Points by Wine Enthusiast! ($38)
Speaking of food-friendly, I read that Kathleen is also a talented chef whose "farm to table culinary expertise is legendary." Kathleen, if you're reading this, I am available to taste your wine and eat your food anytime. Let me know if you need a new personal assistant/best friend.
"We prefer natural clarification to excessive fining; all filtering is done using crossflow which is not only gentler on the wine but gentler on the environment (no diatomaceous earth to be mined or disposed of in landfill." ~Kathleen
Reasons to Crush on Inman Family Cellars
Inman Family Cellars is what you want a California winery to be. For me, that begins with being not only sustainable, but being kind to the land and all living creatures. Pet peeve of mine: Unnecessary Chemicals! It's amazing how many wineries still douse their vineyards with Round Up.
"Not only do I think organically farmed grapes, whether certified or not, can produce superior wines, I know that by farming in this way we are minimizing our impact on the environment." ~Kathleen, on her "Eco-Ethics"
They do so much at Inman, that I've listed just some of the environmentally responsible aspects of their winery:
They use "sensitive farming" techniques
Fermentation begins with natural yeasts, only using organic yeast nutrients when necessary
Water, acid, enzymes, or tannins are never added
Fruit is picked earlier to maintain acidity and naturally lower alcohol levels
Natural Pest Control- providing homes and resting places throughout the vineyard for owls and other birds of prey to help with pests
Tasting room uses all solar power, repurposed waste water program, countertops made with recycled glass, all wood cabinets are made from an old barn
First publicly available, privately owned vehicle charging station
No Round-Up used!
Four-Course Compost Program uses organic fertilizer from San Francisco hotels, restaurants, and residences, as well as other natural soil enhancements
Meet Stella, the Winery Cat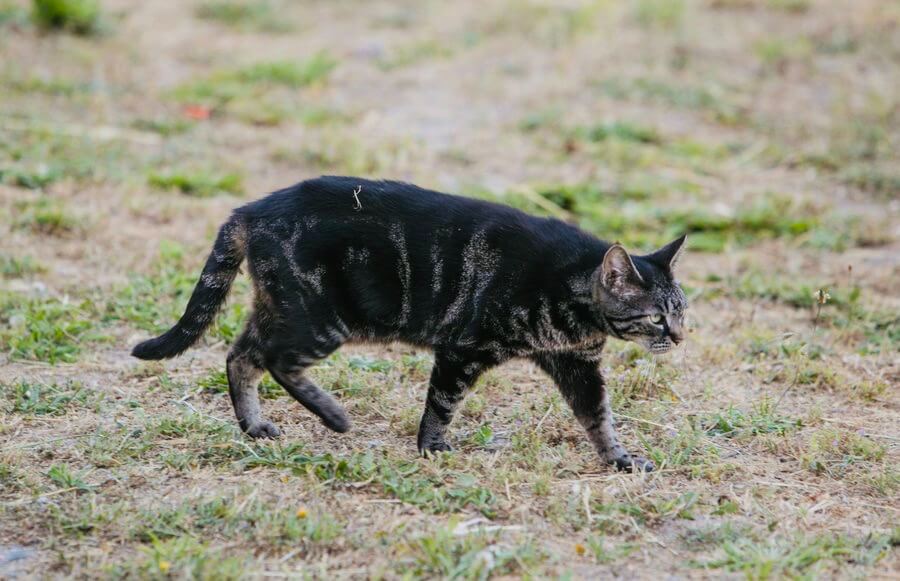 Where to find Stella, and Kathleen's wines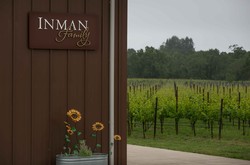 Location: Olivet Grange Vineyard, 3900 Piner Road, Santa Rosa, CA, at the junction of Olivet and Piner Road. The tasting room is open Thursday – Monday from 11a.m. to 4p.m. for wine sales. Wine tastings are by appointment only.
I was able to sample and learn about Inman Family Wines thanks to The Pink Society. Hosted by the #PinkSociety (anyone can follow along, please join us!), we chatted with Kathleen via Twitter on February 7th. What a fun way to learn more about the people and practices (and winery animals;) behind these passionate, smaller producers! All opinions are my own.