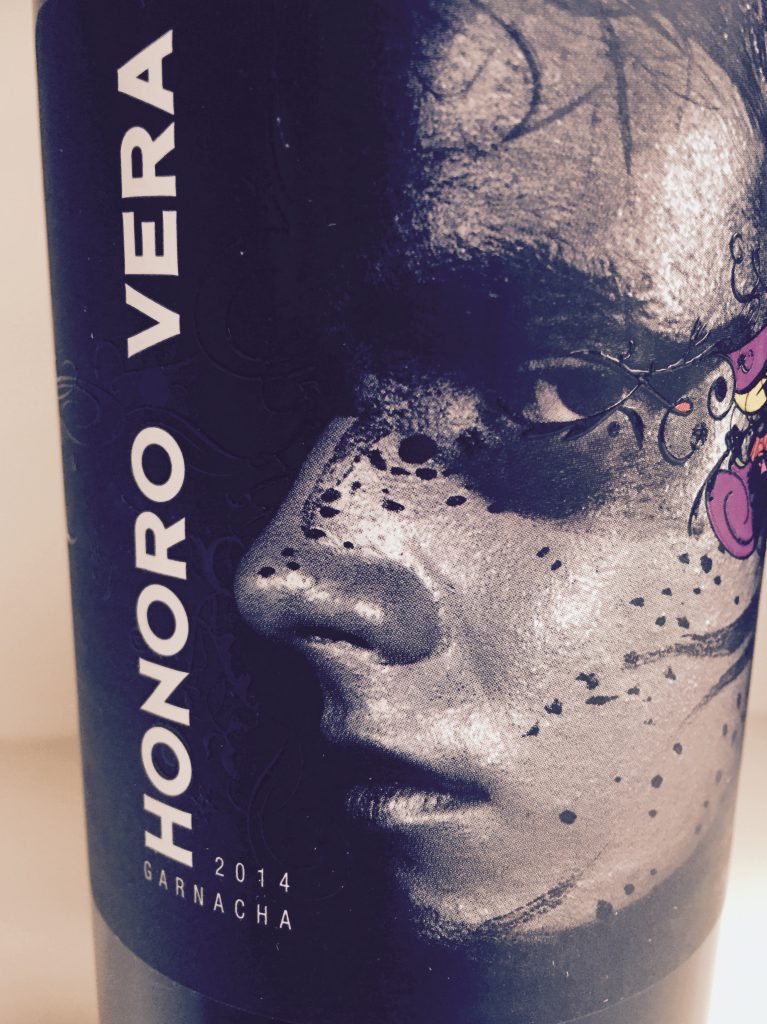 Honoro Vera is a humbly priced Garnacha, produced by Bodegas Ateca (fourth generation of the Gil Family), in the Calatayud region of Spain.  Per Maria (their awesome Export contact, who was  kind enough to email me back & forth) the names of their wines represents their family.  Vera is the surname of the grandfather on the mother's side of Miguel & Angel Gil.  Their mother was Rosario Vera, so they named a brand of wines after her (and Juan Gil-see my post on the very good, Juan Gil Monastrell!). I appreciate Maria clarifying that for me because the label is eye-catching and I was wondering who this Vera was!  The artistic label is meant to attract all types of wine lovers.  Per Maria, "the winemaker wanted to elaborate a Garnacha for all consumers, not a chick wine nor an old taste style.  The face means that.  No matter the genre, no matter the age, it is something calling you from the eye of this androgynous person."  And it works.  And, at $7.99, it's surprisingly very good.  In October of last year, Reverse Wine Snob labeled it as a $7 sensation, recommending you Bulk Buy for "off the charts flavor for the dollar scale" (I agree!  I wish I had read his post sooner;).
I found this bottle through a new app called Wine Value Ratings (I heard of WVR through Twitter & it's creator, & fellow wine enthusiast: Steve Roebuck @RoebuckSteve1).  Per their website, they integrate the price of a bottle and its ratings from your favorite critics to establish a "WVR" number.  The lower the number, the better (Honoro Vera Garnacha scored a 0.09, a low score/good price/rating). I enjoyed this Garnacha… it was medium-full bodied, with spicy, dark fruit and a bit of pleasant tartness at first.  May be best to decant for about an hour (if you can wait/we didn't;).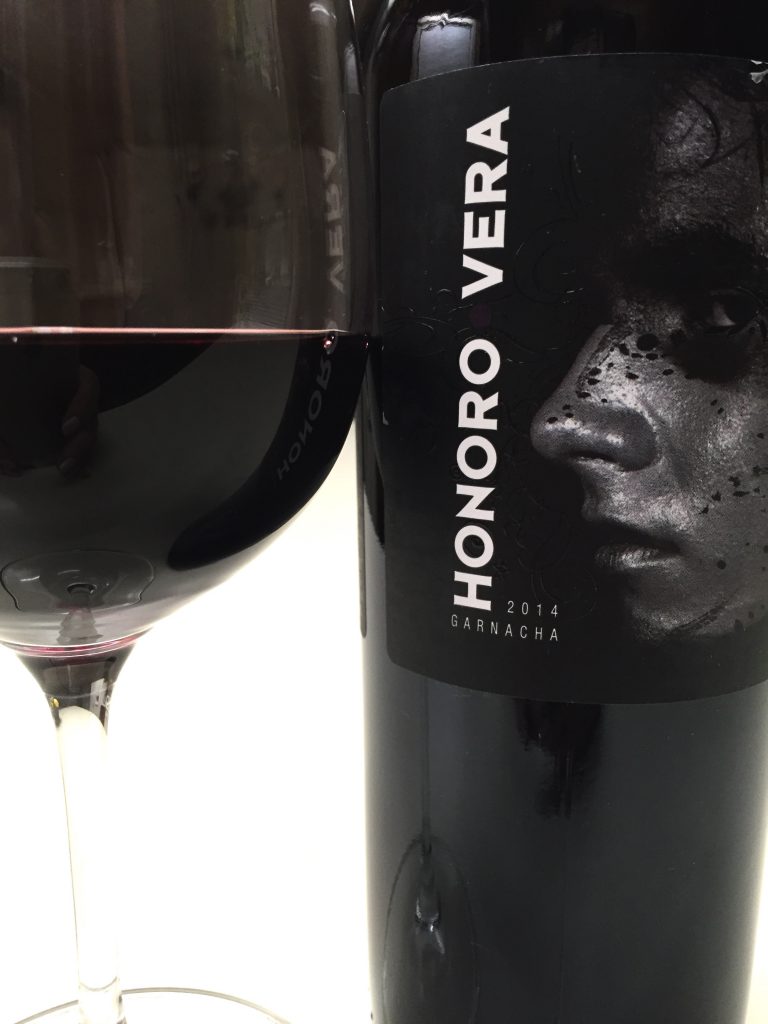 Without reading any positive reviews, or seeing that this particular bottle scored well,  I may have hesitated to try it, assuming it may not be particularly drinkable at that price point (it didn't taste like it was under $10!).  This is where an app like this can be great for finding new wines to try.  Also, if you're the type to choose wines based on their high scores from top wine critics/reviewers, you will find it useful; as it's a sorting and searching tool, finding the best value of wine, given its price and quality.  It was easy to use, I downloaded the free app, typed in Garnacha, and found this 2013 Honoro Vera.  The app links to Wine.com, where I signed up for a full year of free shipping (you pay a little more up front, but it's worth it if you order more than once, as shipping fees can add up).  My shipment arrived in four days, with printed stickers and labels (for those of you who are organized).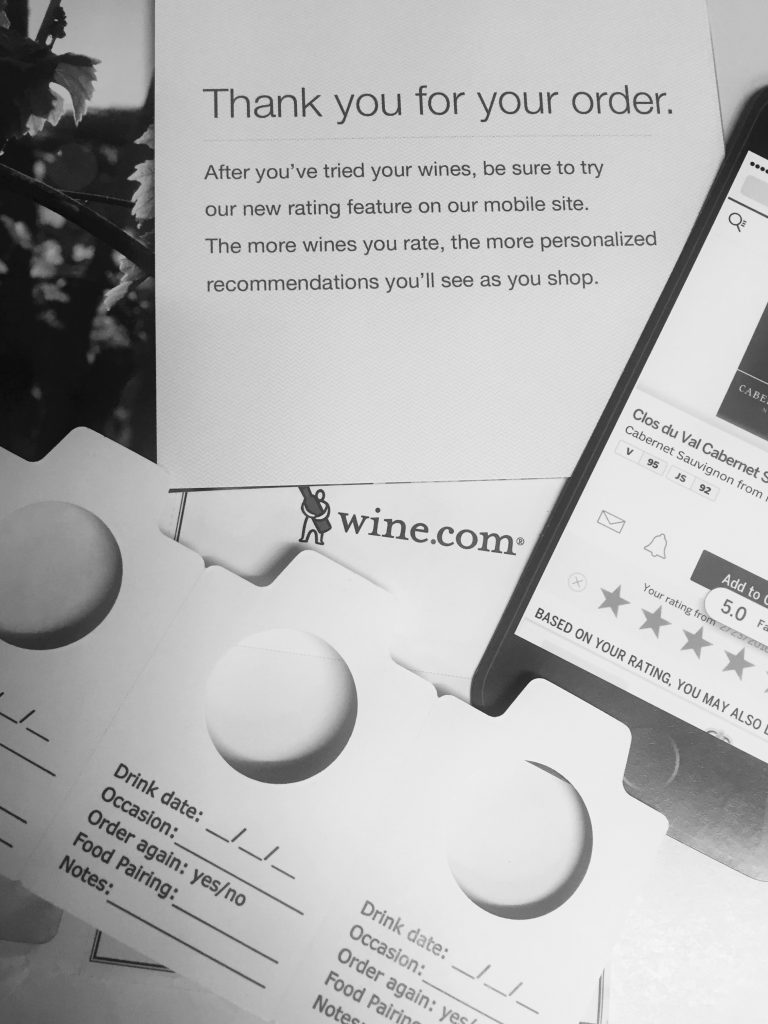 Overall, the WVR app worked great & I'd definitely use it again (& buy more of this Garnacha!) It was a good experience and easy to use.  Over the years, I've become a fan of ordering wine online (unless you're in a pinch and need one right away, of course).  It's a way to save on time, energy, gas and roaming overwhelming isles in large wine stores (especially for those new to wine, an app like this can really help).  Plus, an added bonus:  The shipping box doubles as cat entertainment too!  Cheers!