Golden Bordeaux is all about Sémillon and its versatility.
Age worthy and certainly not just a dessert wine, this sweet style of Bordeaux gives enchanting aromas of jasmine, sweet almond oil, candied oranges, ginger, honeysuckle, and ripe mango. Their gorgeous shades of gold remind me of desert sunsets, marigold flowers, and honey.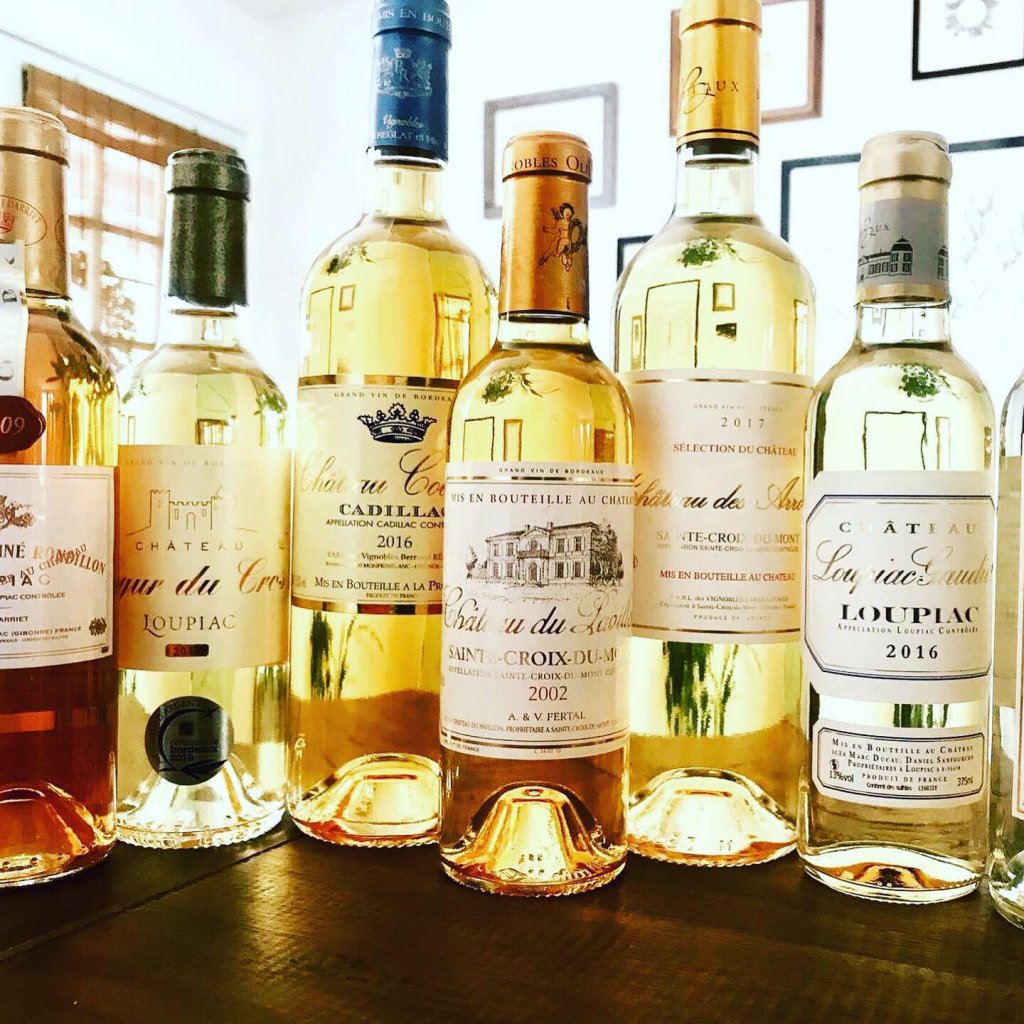 Sweet and Savory
Golden Bordeaux can be sipped on and savored as a dessert wine at the end of a meal, or in the beginning as an apéritif (or anytime, really). Try pairing them with dried fruit, candied ginger, and savory charcuterie boards with blue cheese or gorgonzola. Per Jean K. Reilly, MW, you should serve them "as cold as you can" (she even freezes ginger candy and uses them as ice cubes in the glass!). These sweet gems even make the word "rot" sound noble.
Leave it up to the French for making something beautiful from fungus
Noble Rot
Noble Rot is a good type of fungus called Botrytis Cinerea. This mold begins to form on grapes, such as the thin-skinned Sémillon, in the right conditions. Moist, cool mornings allow Botrytis to grow, while warmer, dry afternoons prevent the bad kind of fungus (grey or bunch rot) from ruining the grapes. Harvesting grapes with noble rot is time consuming and labor intensive. Some vines may be only partially affected, so each plot is hand-picked and may need to be harvested multiple times.
Noble Rot also creates the great, sweet wine Tokaji from Hungary and Riesling from Germany.
Some wines from this region are notoriously expensive, like the Premier Cru Supérieur ("Superior First Growth") estate Château d'Yquem. Right Bank appellations, such as Cadillac, Ste-Croix-Du-Mont, and Loupiac (examples below) have excellent quality, value, and are much more accessible.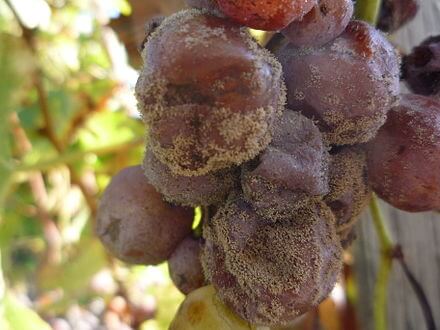 Sweet with mouthwatering acidity
Wines made with noble rot are sweet and rich, while maintaining good acidity. Sauternes, a popular wine from the Sauternais region of Bordeaux is made primarily with Sémillon, most often with a small blend of Sauvignon Blanc and Muscadelle grapes — just like the ones I sampled during the virtual Snooth wine chat this month, led by Jean K. Reilly, Master of Wine.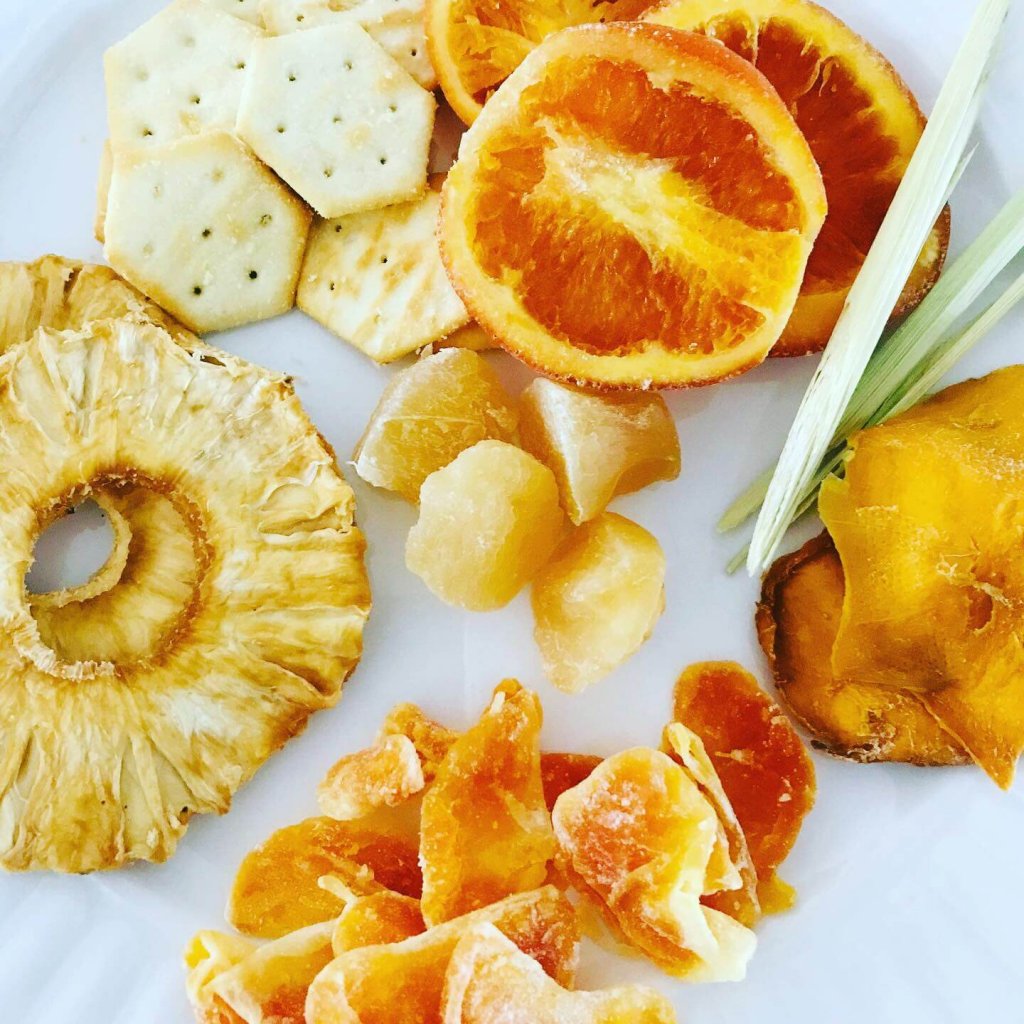 Golden Gems
In order from dryest to sweetest, I've highlighted main speaking points of the Right Bank Golden Bordeaux — however, each is deserving of much more depth, as they all have rich history and stories behind them. If you'd like to read much more detail, please visit Snooth, where you'll find each bottle listed below the video portion of the chat, highlighted in red.
The record for the most expensive white wine sold was a bottle of 1811 Château d'Yquem in 2011 for $117,000
The entire theme of this Golden Bordeaux chat was to highlight their versatility, incredible quality, and value. The golden hues are simply a beautiful, added bonus.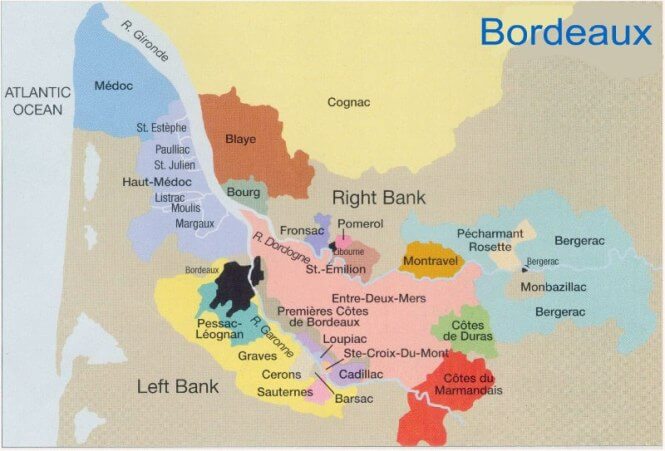 "These wines have a very special place in my heart" ~ Jean Reilly, MW
Château de Marsan Bordeaux Moelleux 2017
Moelleux roughly translates to "soft" in that this style is more of an off-dry style, and smells more like a white Bordeaux than a sweet one with botrytized aromas.
Citrus and grassy nose with some fresh white flowers, this tastes just slightly sweet.
Not currently imported, but I hope it will be, as this is a bottle I would happily purchase.
Stayed beautiful in the refrigerator for an entire week after opening.
Family owned, Sustainable
Noted: The sweeter it is, the longer it will last in the refrigerator (these bottles can last 1-2 weeks easily, after opening.
Château Majoureau Doux 2018
Small appellation on the right bank of the Garonne River.
Little botrytis with gentle aromas — a bit of white flower, orange, and tropical fruits.
Not currently imported.
Family owned
Try pairing sweet wine with BBQ, Asian Food, and Fried Chicken!
Château de Marsan 2015
This appellation is fairly new, in 2011 they created the Premieres Cotes de Bordeaux, dedicated to sweet wine only.
Citrus aromas, lightly sweet, and paired well with gorgonzola crackers from Trader Joes. The sweet and salty combination is wonderful.
$40
"Sweet wine and cheese is proof there is a god" ~Jean K Reilly MW
Château Le Arroucats Sainte Croix du Mont 2017
Sainte Croix du Mont is a very small appellation, the "big cheese" in this sweet wine region with gravely slopes and low yields.
Mango and dried fruit aromas. Beautiful, luscious flavors of candied orange.
I thought this tasted very sweet, in a hauntingly good way.
$17
Tip: Serve dessert wine as dessert (don't try to pair it with sweet dessert)
Château Loupiac Gaudiet 2016
Loupiac is sandwiched between Cadillac and Sainte Croix du Mont.
Clay limestone soil.
Aromas coming from Botrytis is becoming more powerful — sweet almond, honeycomb, and even ginger candy.
$17
"It's the acidity that keeps these wines refreshing"
Segur du Cros Loupiac 2017
Jean began talking about this wine by adding frozen candied ginger to her glass of Segur du Cros… which led to the discussion of proper serving temperature: "Serve them as cold as you can!" You want them icy cold and the frozen candied ginger does not dilute the wine like ice cubes would.
Exotic aromas, nice balance of acidity and sugar, with flavors of dried nuts and fruits.
Not currently imported
Château la Rame Sainte Croix du Mont 2016
Sainte Croix du Mont has an ancient, unique soil consisting of crushed oyster beds. According to our host, you'll hear a crunchy sound walking around the vineyards, with shell fragments millions of years old.
There's an added minerality to these wines.
Tropical fruit and candied nose and interesting to try with the candied, dried orange slices.
$30
With sweet wines, especially the premier ones, you don't get one bottle per vine, you only get one glass. This is why some of these wines are so expensive and exclusive.
Château du Cros Loupiac 2016
Blend of 90% Sémillon, 5% Sauvignon Blanc and 5% Sauvignon Gris.
Sauvignon Gris adds more spiciness and aroma.
Average vine age is 65 years
More concentrated botrytis and sweetness.
A suggested pairing is fried chicken.
This wine can age for 30 years, in which there will be more savory aromas.
$21
The more acidity in the wine, with higher sugar acting as a preservative, the greater aging potential
Château Cousteau Cadillac 2016
Cadillac is not related to the car, but there is a fun story about the history of the name and how it relates to the region in France and Detroit
This wine is crisp, fresh, with lemon and dried tropical fruit aromas.
Paired with the dried pineapple rings.
$18
They're golden gems in a region famous for their red wines and out of reach, famously expensive Sauternes.
Château Dauphine Rondillon Loupiac 2009
80% Sémillon, 20% Sauvignon Blanc
Complex nose, layers of exotic spice
Minerality brings freshness, with orange notes, sweet almond oil, and toasted coconut.
$23
Dried lemongrass can be added to the glass as a garnish
Château du Pavillon Sainte Croix du Mont 2002
Estate known for having steep hillsides
80% Sémillon, 18% Sauvignon Blanc, 2% Muscadelle
A lot of tropical fruit and citrus on the nose
Try with dried mandarin orange slices
Super aromatic and densely sweet, high acidity
Could age another 30-40 years
Chateau du Pavillon -high quality, recognized as among the best in the region
Not currently imported

Explore Your French Senses
Thanks to Mark Angelillo of Snooth, and Jean K. Reilly, MW, for this great discussion on "Exploring Your French Senses" with wonderfully sweet wine samples (and great snack pack of dried fruits from Trader Joe's). Truly eye opening chat on the the sweet side of Bordeaux with savory pairing ideas. You can find more information about these wines by reaching out to Snooth, as well as following Sweet Bordeaux US on Facebook, Twitter, and Instagram. #ExploreYourFrenchSenses