Theopolis Vineyards is a small, hand-crafted winery in California's Yorkville Highlands. Less than a two hour drive from Napa, this AVA is known for its rugged elevation and medley of soils, including gravel, red clay, and old brittle rock.
There are only about 50 appellation-designated artisan wines that are produced annually from Yorkville Highlands grapes; each made in very limited quantities. ~YorkvilleHighlands.org
After moving to San Francisco from Texas in the 80's, owner and founder Theodora F. Lee was introduced to the world of wine through her law firm mentors. Having a dream of owning and farming her own vineyard, she purchased "sheep land" in 2001 and planted Petite Sirah.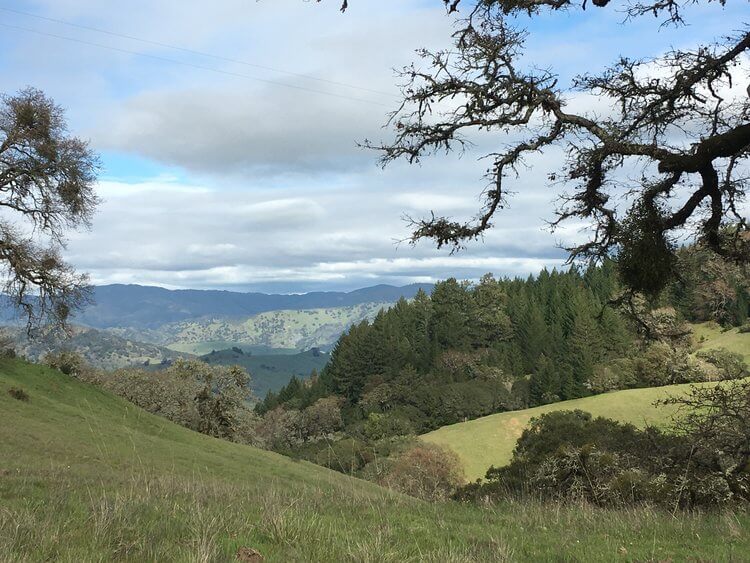 Of course, it must've been no easy task transforming sheep land into a successful, beautiful, fruit-bearing vineyard. Several viticulture classes at UC Davis, years of hard work and awards later (including Best in Class, Double Gold, and 90 plus Points) her wines speak for themselves.
"I grew up in Texas and learned to drive a tractor at the age of eight, so farming was in my blood." ~Theodora R. Lee
Initially she prepared the land to farm, grow, and sell the fruit. However, when Robert Parker gave grapes from her first harvest 96 Points in 2006, she founded Theopolis Vineyards and began producing her own wines. Not bad for a trial lawyer from Texas who didn't even drink wine growing up. She's now "Theo-patra Queen of the Vineyards" and creates award-winning Petite Sirah, Pinot Noir, and Symphony.
"I didn't drink wine (growing up) because my dad used to take old wild Muscadine and make wine and if you've ever tasted that you wouldn't drink wine either." ~Theodora R. Lee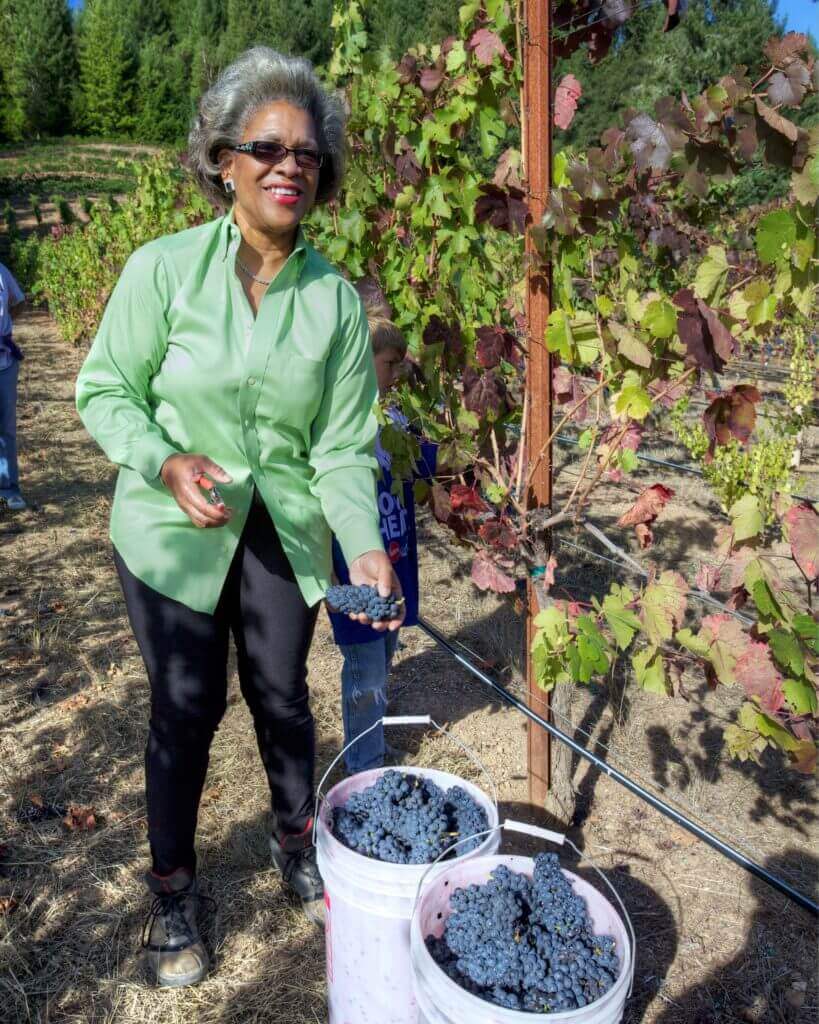 Go-Getter
In addition to being a grape grower, winemaker, and winery owner, she's a trial lawyer and senior partner at Littler. If that weren't enough, she's also a settlement commissioner, AAA certified arbitrator and mediator. How she finds the time to also be a contributing writer to law publications, and Co-Chair the Board Development Committee for the Board of Directors of the YMCA of San Francisco… (the list goes on!). Anyone else feel like they should be doing a lot more right now? Please visit Theopolis Vineyards and read her bio. It's as impressive as her wines.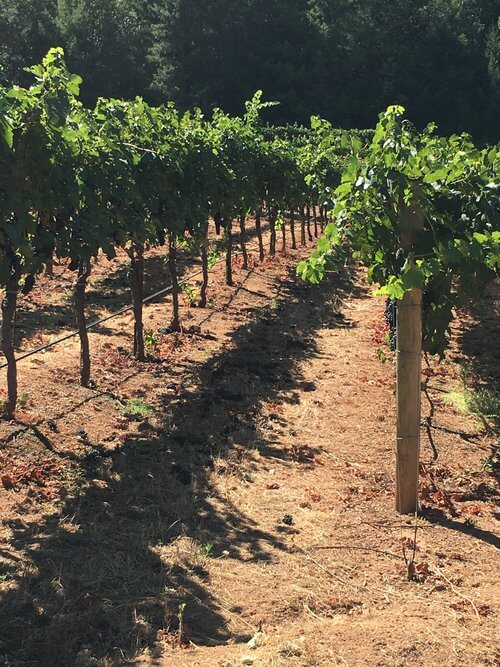 Theopolis Vineyards 2017 Petite Sirah
Right out of the bottle good. Just one of the reasons it's hard to not like Petite Sirah. Your friends or family members who declare they "don't really like wine" will like this wine. Palate and universally friendly, tannins aren't too astringent, acid not too tart, and the round, full-bodied texture makes it wonderfully drinkable.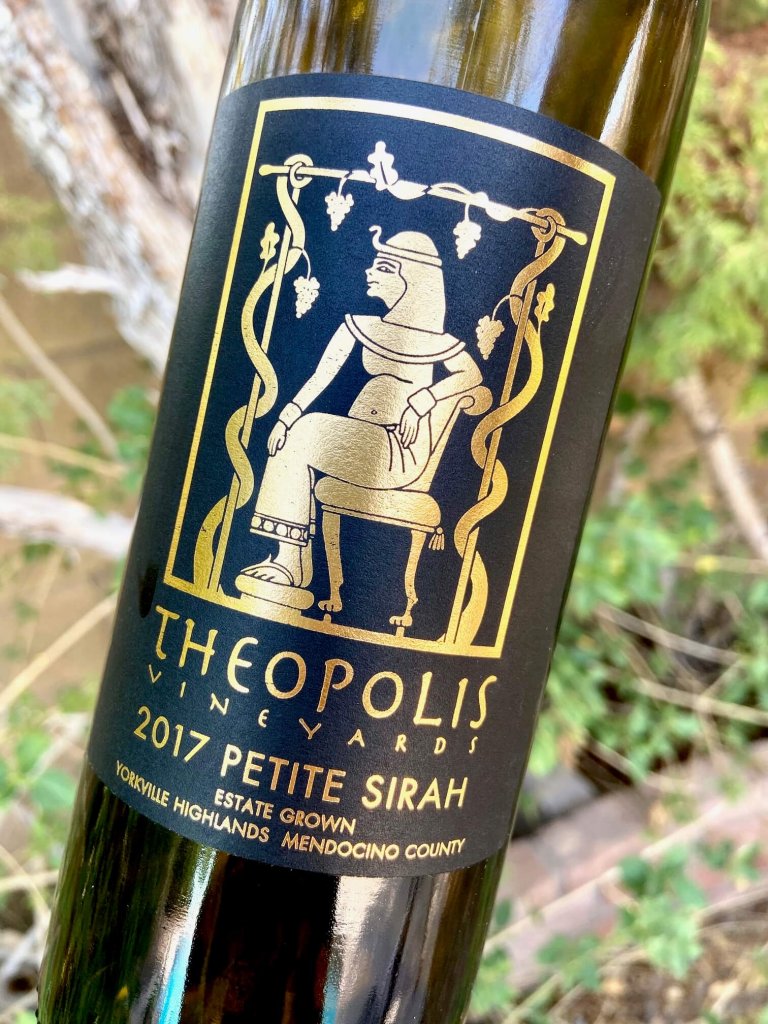 It'll Give You Wine Mouth
Estate grown, it's what you want in a Petite Sirah. Balanced acid, just enough to keep it from feeling jammy, with silky moderate tannins. Age worthy, but drinks lovely right now. Mixed ripe fruit, chocolate, prune, sweet cigar smoke, and round, full body. Opaque, almost black, deep purple in the glass. Hold it to the light, you'll see a ruby glow along the edges. If you don't brush your teeth, the dense pigment will stain your biofilm like disclosing solution. Make sure to exfoliate your dry lips and wear a clear, unscented, unflavored lip balm too. This will give you Wine Mouth for sure! Unfined, unfiltered goodness.
100% Estate Grown Petite Sirah
13.9% ABV
Fermented in 0.75 ton bins, manual punched down
Aged in 44% new and 66% neutral French oak for 20 months
Unfined and Unfiltered
216 Cases Produced
96 Points 2019 San Francisco International Wine Competition
91 Points Wine Enthusiast Editor's Choice
$39
Theopolis Vineyards 2017 Yorkville Highlands Symphony
Symphony is an aromatic, beautiful white wine. Smells like optimism. Aromas of tropical mixed fruit, with fresh peach, white flowers, and even a little petrol. Lovely balance, medium viscous body, and just the right amount of acidity to keep it bright without being tart. Perfectly dry, with pronounced juicy fruit disguised as a subtle touch of sweetness. If you're a fan of dry Riesling (also a great, food friendly white wine with petrol notes) and enjoy the roundness of a California Chardonnay, you'll love this.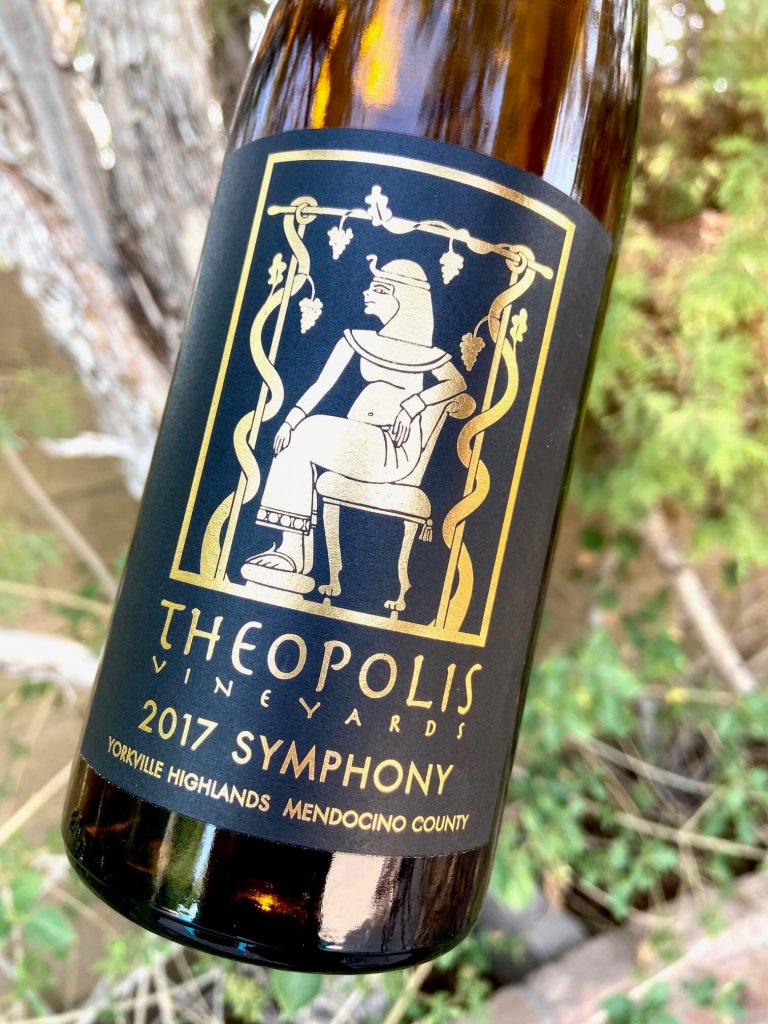 100% Symphony
Fermented in Stainless Steel
13.4% ABV
93 Points Gold, 2019 North Coast Wine Challenge
Silver 2019 San Francisco Wine Competition
Silver 2019 Sunset International Wine Competition
100 Cases Produced
$22
Symphony is an "Olmo grape" created by Harold Olmo in 1948 by the crossing of Muscat of Alexandria and Grenache Gris. The late Harold Olmo was a professor of viticulture at UC Davis, grape breeder and geneticist. Of the 29 grape varieties and 2 rootstocks commercially released, one of his most popular is Ruby Cabernet (cross of Cabernet Sauvignon and Carignan). Symphony is still a lesser-known grape varietal, mainly used in blends.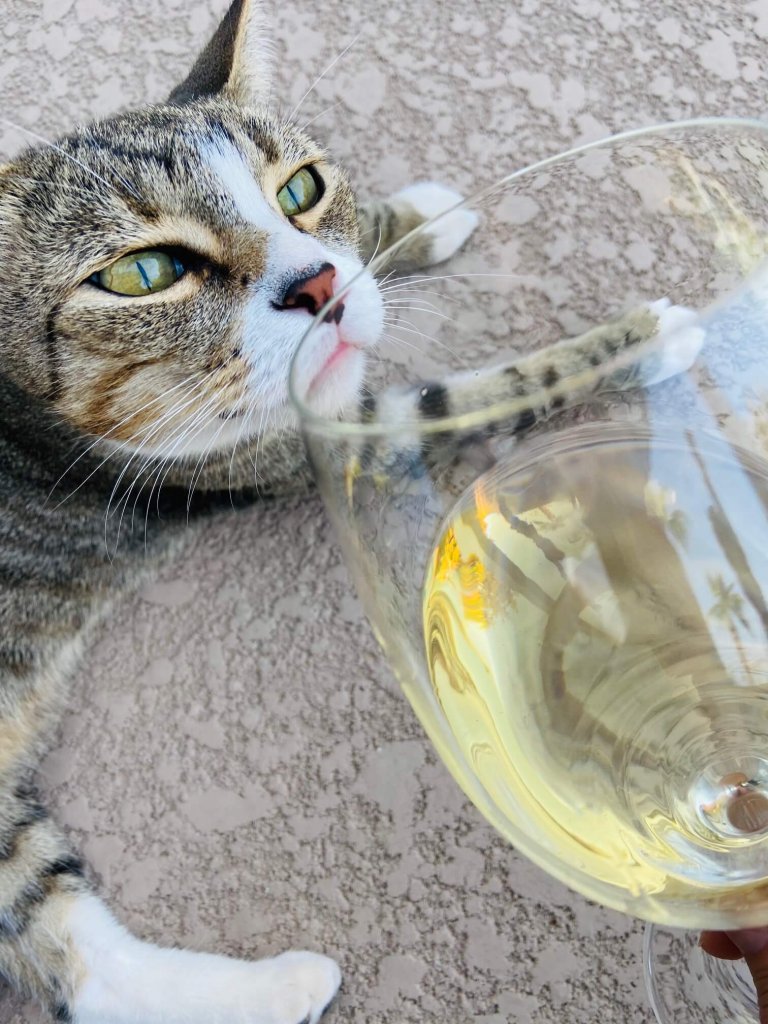 Black Owned Business
Thanks to the #PinkSociety (find them on Twitter for new wineries to learn about and love @thepinksociety_) for these two samples, and shining a light on smaller, privately owned wineries— much deserving of our support. One of the questions asked and discussed during the wine chat on Twitter, September 17th, was the topic of being a female black winemaker and business owner. When asked her opinion on how sustainable the popularity and success of black owned business is, especially this year with the Black Lives Matter movement, Ms. Theodora Lee stated, "I believe everything has ebb and flow, I'm optimistic we can continue this trend, because once the general population tastes the wines produced by black owned wineries, they will realize how very good they are, and continue to consciously buy from black owned businesses." Sales spiked this Spring, but have since decreased since June, but she remains optimistic.
"Compare it to the farm to table movement… people didn't care where they ate, once they learned about it, the movement continued. And, I am hoping the Black Lives Movement will continue and we can have justice, racial justice, and equity for all." ~Ms. Theodora F. Lee
Honoring RBG
In honor of one of her legal "sheroes", Justice Ruth Bader Ginsburg, and to show gratitude to her legacy, Theopolis Vineyards is donating proceeds from The Honorable "Notorious RBG" Three Pack of wine to the American Bar Foundation—one of Justice Ginsburg's favorite charities. If you'd like to place an order, please visit Theopolis Vineyards and support them if you can.
"Fight for the things that you care about, but do it in a way that will lead others to join you." ~Justice Ruth Bader Ginsburg