All red wine lovers have either experienced the attractive red wine lip stain themselves (or as it's commonly called: Wine Mouth) or they've had the pleasure of gazing upon someone else's. It happens to the best of us and is right up there with "you have something in your teeth."
Most friends are kind enough to tell you when there's a clingy piece of oregano in plain sight. But, no one likes to tell us we have the wine lips! It's only later, when we get a glimpse of them in the mirror and think "Oh gawwd."
Dry Lips = Wine Mouth
When we have dry lips and we're drinking red wine, the potential for the wine lip is there—a weird, semi-sticky deep reddish-purple stain that makes itself comfortable, silently mocking you as you speak.
Red wine gets its color from the grape's skin. Anthocyanins are colored, water-soluble pigments. They're also found in other purple, red, and blue fruits and vegetables, as well as some flowers.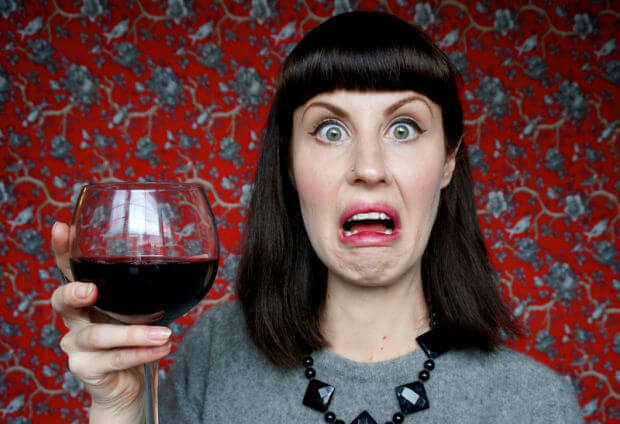 Tips to Avoid Wine Mouth
Exfoliate Your Lips Daily
Exfoliating dry lips is especially important before an event or dinner where you know you'll be drinking or tasting red wine. There are some fancy (and fairly costly) lip scrubs out there you can purchase, but just using a soft, cotton wash cloth to gently scrub your lips while showering works fine. Also, if you apply a generous amount of a Vaseline/Aquaphor type ointment on your lips and use a Q-tip to exfoliate, it will grab the dead skin & leave them feeling soft and smooth.
Natural alert: If you prefer using only natural products, Alba Botanical has a petroleum-free version called Un-Petroleum Jelly, which looks and works just as well as Vaseline-type ointments.
Try a DIY Sugar Scrub
There are tons of recipes online (Pinterest is a good resource) but my favorite is this simple and natural one:
Add a small pinch of brown or white sugar in a little bowl, drizzle some honey, drizzle some olive oil, and voilà—a non-toxic, sweet tasting, inexpensive lip scrub!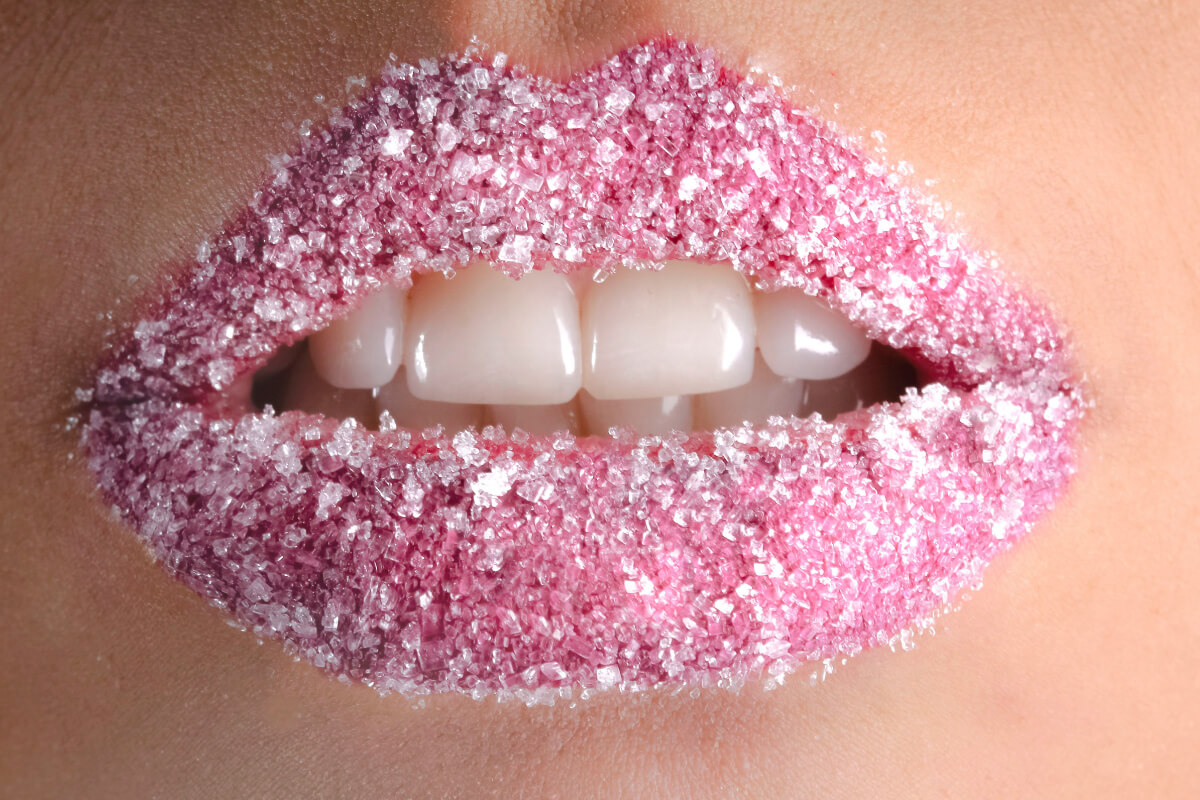 Moisturize!
Wearing any type of lip moisturizer will help prevent the lip stain/ring. When lips are dry, the dead skin will absorb any staining substance. Keep them moisturized, especially when sipping on wine. Classic, unscented ChapStick or Burt's Bees type balms work great. And, for those who need to wear color, try a long-wearing, smudge-proof lipstick with a clear top coat. Fragrances of all types should be avoided when wine tasting!
Wine Glass Lipstick Tip: Try to sip from the same spot on your wine glass to avoid having a smudgy lipstick mess all around the rim of your glass.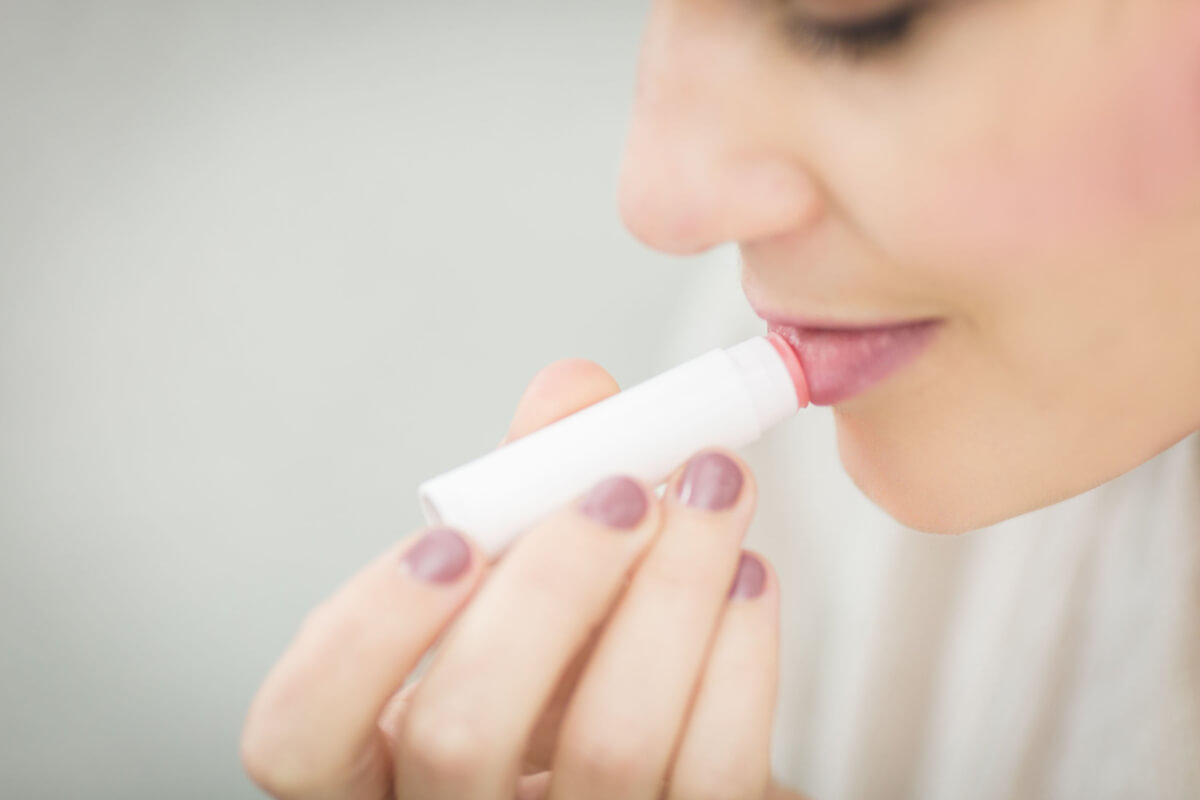 To brush or not to brush your teeth before wine?
Brushing with a minty toothpaste right before drinking wine makes everything taste off. Have you ever brushed your teeth and taken a sip of orange juice? Similar conflicting, off-putting taste bud confusion happens with wine.
However, if you are one of those (you know who you are) who tend to skimp on your oral hygiene, you should at least brush with plain water before consuming wine in public. If you've ever noticed someone's teeth looking quite purple and stained while drinking red wine, it's not because of the wine. The fuzzy plaque (biofilm) attached to the teeth can also absorb pigment, just like flaky skin on dry lips. It's like disclosing solution!
Water always helps!
While drinking/tasting wine, keep water or sparkling water handy. Swishing and drinking water in between glasses or sips of wine is not only good for you, but good for your teeth. It'll help keep you hydrated while minimizing the duration of sugary and acidic beverages on the enamel.
Petite Sirah is one of the most highly pigmented, lip/teeth staining wines!