To all of my thousands (perhaps tens of thousands by now?;) of followers and patient readers, I apologize for the lack of new content for a while.  Someone (really mean) hacked my blog and started sending spam from it.  So, now I'm back and ready to write about some vino tinto!
I like wine.  No, I take it back… I love wine.  I pretty much love all reds, with the exception of port.  It's too sweet.  At least that's what I told myself years ago when I tried my first one (I have no idea if it was considered good/fair/quality).  Portugal is well known for their port wines, so it's my goal to learn more about this region and try more of their reds; maybe I'll even learn to appreciate port and find one to rave about.
Last night we tried Foral (not a port;), a 2009 Portuguese red, found at a local wine store in the $10 range.  It's produced in the Douro region of northern Portugal from a blend of local grapes. It wasn't bad… a bit tart at first, could've been decanted to help open it up, but we didn't.  Lots of earthy, forest floor notes, dark fruit (not sweet at all, which I did like).  Overall, for the $10 range it was certainly drinkable and the finish was pleasant.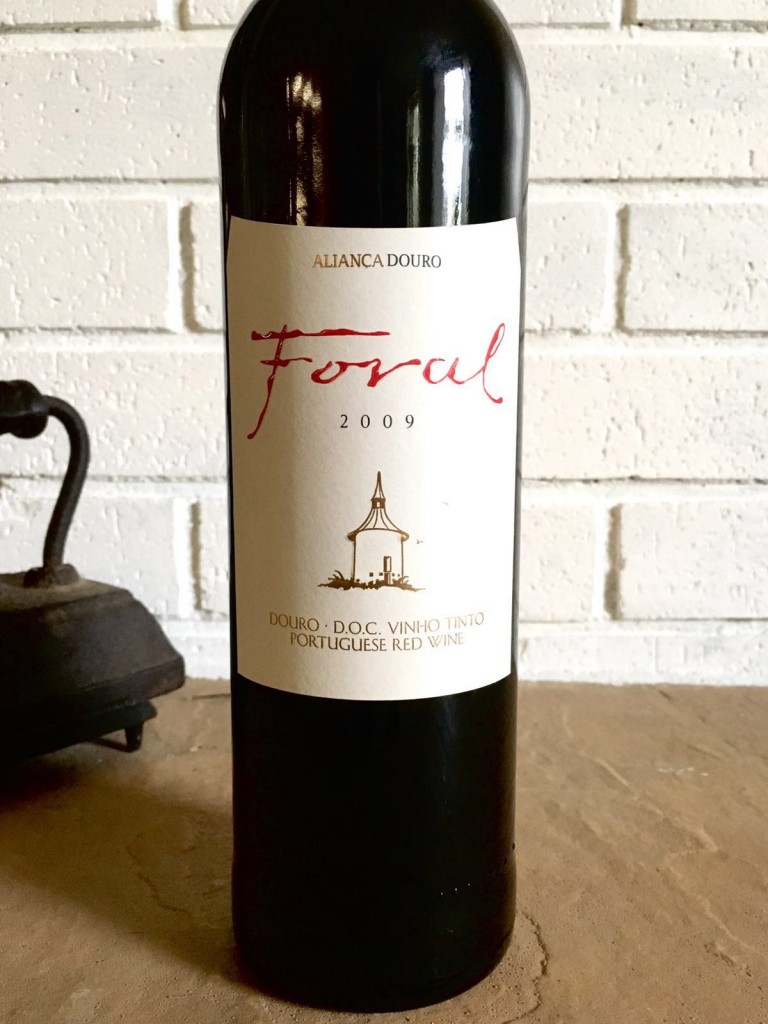 Some thoughts on Wine & Wellness…
The idea of wellness focused resorts and wine country appeal to me.  I've never visited a wellness resort; we usually like to stay off the beaten path, sometimes casual AirBnB's, just to try to get more of a local experience, but Six Senses in Portugal's Douro Valley is calling my name (Miiistyyy, Miiiiiistyyy, come stay heeeeere.)  A beautiful landscape to relax, with a nice balance of local food/exercise, add a wine library to the mix = dreamy/perfect!?  One of the perks of being able to enjoy wine and being a foodie, is having the health to keep enjoying it, and life in general.  If I could sit around, drink wine and consume excessive amounts of cheese and fresh bread all day, you bet your sweet port I would.  Alas, it's not the best for you unless you remain active and keep a good balance (yawn, I know… but it's true). Six Senses has all levels yoga, a 24,000-square-foot spa, forest walks, hikes, something for everyone.  They have a wine program with daily tastings held in their wine library (they state the "Wine Library & Terrace" is the heart of the resort!) or you can do private local wine tastings with the resort's sommelier (who I will become best friends with).  If anyone has been there (they have great reviews on TripAdvisor) I'd love to hear any comments/suggestions!
Madeline Puckette at Wine Folly http://winefolly.com/update/madeline-puckette-wine-folly/ has a fun article on her trip to Portugal and her site is great for wine basics as well!  If you're on Twitter, Frankie Cook has interesting posts and Portuguese wine reviews as well.  You can follow him @frankstero.
***You've got to see the pictures of Six Senses though, it looks so gorgeous:  http://www.sixsenses.com/resorts/douro-valley/destination
Some random facts about Portugal:
1.)  It is a country on the Iberian Peninsula, in SW Europe, bordered by the Atlantic Ocean and Spain.
2.)  Lisbon is the capital (about a 5 hour drive from the Douro Valley wine region).  Porto is the second largest city, after Lisbon, and where "port" wine gets its name.
3.)  It has as the 8th largest vineyard acreage in the world.  Some of the main (red) grape varieties of Douro are the black grapes:  Bastardo (also called Trousseau Noir- most famously used in port wine), Mourisco tinto (also called Marufo- primarily planted in Douro DOC and also used for port wine), Tinta Roriz (also called Cencibel, more commonly known as Tempranillo in Spain- which is added to red blends, like our bottle of Foral).
4.)  You can fly from Lisbon to Madrid in a little over an hour, or take "The Night Train" (Guns N Roses is now playing in my head) which takes 10 hours- leaving at 10p.m.- arriving in Madrid at 8a.m.  The flight to Barcelona is 1 hour, 45 mins.  You're so close to Spain, why not go there too?
5.)  The Douro (pronounced DOH-roo) region (most famous for port wines) is named after the Douro River, which is 557 miles long.
6.)  Portugal is the world's largest supplier of cork and is home to the world's oldest cork tree, The Whistler (I love old trees almost as much as wine and this one tugs on the heart strings).  It's over 200 years old and in 1991 set a record-breaking cork harvest; over a ton of bark!  The bark of this amazing tree is stripped away ever nine to ten years and it takes at least 25 years before a new cork tree can be harvested.  This is all done by hand (sharp axes) of workers who specialize in removing cork, called Extractors.
Touriga Franca, Tinta Barroca, Tinta Amarela… don't those grapes sound lovely?
Cheers, have a happy day… or evening.
One of our wine cats, Mervin (Mervie, Mervino, etc.), wild jungle lion, catcher of lizzards, hiding under the fern: