If I hadn't joined Twitter to connect and learn from all the other wine lovers, I more than likely wouldn't have known about Cabernet Day (it seems every day is a designated day for something/anything!). Who came up with this? Per my extensive online research (Wine Folly's site came up first and the info seemed legit), it was:
"Rick Bakas, the NoCal native and twitter guru, came up with the idea of #CabernetDay back in 2010. It's grown ever since and is on the Thursday before Labor day each year."
So, there you have it, this year it's Thursday, September 1st. Wow, September already? Where did this summer go? As of July, we found ourselves back in relentlessly sunny Arizona, so I'll tell you where my last two months went: Hibernating in the air conditioning!
It may be too hot for wine shipments, but too hot for Cabernet? No. Nope-a-roo. It's never too hot for red wine! Some may disagree, but it's the truth! Speaking of truths, one of my favorite bottles under $50 is from Mi Sueño (Spanish for "My Dream") Winery, in Napa, California. I tried my first bottle of Mi Sueño years ago at a restaurant in Scottsdale, AZ. I immediately fell in love… it was big and full-bodied, but so nicely balanced. The tannins from the Cabernet dominant blend were strong, but not overpowering. I remember there being quite a bit of sediment and wasn't bothered at all, nor did I ask that it be decanted. I just enjoyed it.
Cabernet Sauvignon ("cab-er-nay saw-vin-yawn") is one of, if not the most well-known, and most planted red wine grape. It's a cross between Cabernet Franc & Sauvignon Blanc and originated in Bordeaux, France around the mid-1600's. Cabernet is the main grape used in famous Bordeaux blends (e.g., Château Margaux's famous blend: 75% Cabernet Sauvignon, 20% Merlot, and 2% each of Cabernet Franc and Petite Verdot). These blends fetch hefty price tags, compared to other regions.
Fun Facts:
*A 1973 Cabernet from Stags' Leap and a 1973 Chardonnay from Chateau Montelena (both produced in Napa Valley) beat the top Bordeaux Chateaus in the Judgment of Paris, a famous blind taste test in 1976. A bottle of each is on display at the Smithsonian's National Museum of American History.
*The movie Bottle Shock was released in 2008, and is (very loosely) based on this infamous 1976 competition.
*After watching the movie, Jason Corcoran, a software engineer, bought a bottle of 1973 Chateau Montelena Chardonnay for a whopping $11,325, completing his collection of all 20 "Judgment Wines." I couldn't find how much he paid for his '73 Stags' Leap, but on Wine-Searcher.com, there's a 2013 "40th Anniversary" bottle going for $5,189.54.
These winning bottles were game changing in the wine industry—not only highlighting the California wine industry—but giving all regions a reason to believe they could also produce the world's best wines. No one, especially the French, believed a wine from California could possibly win…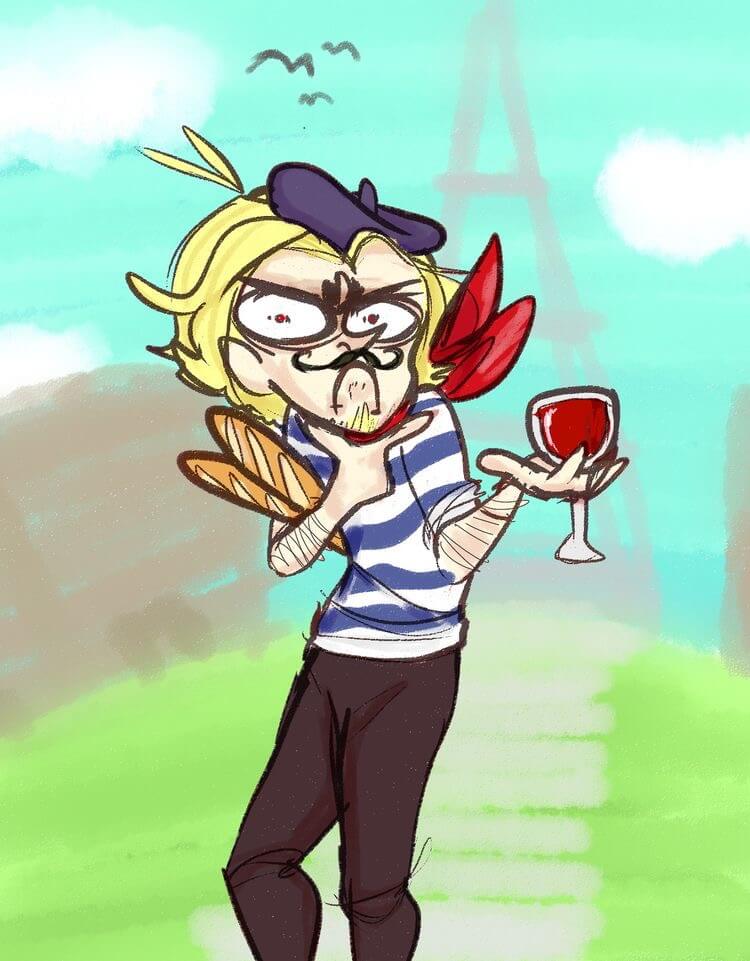 Bordeaux is known for its renowned and quality wines. The average price of a bottle from Chateau Margaux is around $1,500. Here's a detailed (and cute) wine map of France by EdvinUncorked (she also has some cute drawings/cards on Etsy!):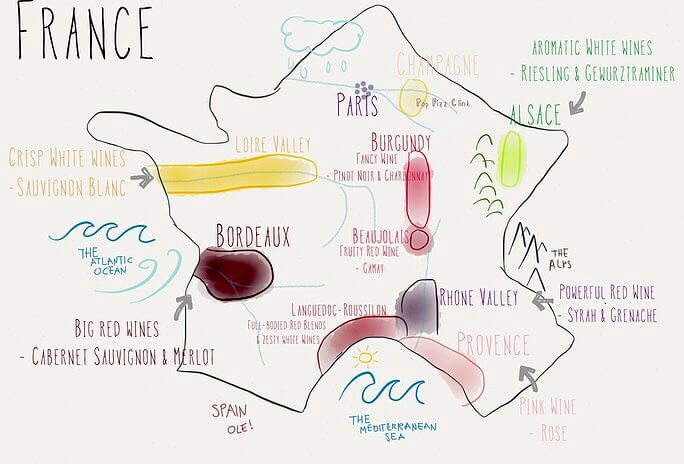 Cabernet is a medium-full bodied, dry red wine. It has lots of interesting characteristics. For me, I love when Cabernet has suede-like tannins, dark fruit/black cherry & black pepper/earthy qualities. I want to take a sip and be transported to a dark, moody cellar… some jazz in the background, Sarah Vaughan? Ageing oak, hints of funky, musty, woodsy notes dancing in the air. A really good bottle can take you places, can't it?
Hope everyone enjoys a soul singing bottle on Cabernet Day. Cheers!
Everyone! Everyone who loves cats and wine, you need to go to PeteTheCat.com and check out all of the super cute art (like the borrowed Cat-bernet Sauvignon image above/featured image)! Even if you're not a cat lover (weirrrrrd;) you will love James Dean's art. It's playful and fun and there are so many themes (not just cats;). The cat/muse in his art is based on a real, black cat he adopted, named Pete. It's beyond sweet. Anyone who adopts and adores pets is deserving of their art being bought & appreciated.